Bernard Hickey argues the Government is making no progress in rebalancing the economy - if fact he suspects we are still going backwards. Your view?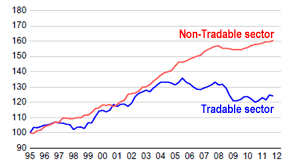 By Bernard Hickey
Finance Minister Bill English Bill English made a habit of brandishing one chart in his first few years in the job.
It showed how the 'good' tradeable sector, which includes the productive sectors that export and compete with imports, had languished through the mid to late 2000s under Labour at the expense if the 'bad' non-tradeable sector, which includes government, financial services and real estate.
It was a very useful tool to help him argue for a re-balancing of the economy.
It powered the 'Big Tax Switch' of 2009 that encouraged saving by increasing GST and reduced incentives for residential property investing by changing the tax rules around property depreciation.
The theory was great. New Zealanders would save more, reducing the need for imported foreign capital. We would also invest less in rental property and more in 'productive' assets that generated export returns or competed with imports, improving our trade surplus and further improving our ability to pay our way in the world, which we haven't done for a while.
Nice theory. Except it hasn't worked out in practice. The chart was noticeable by its absence in the minister's Budget presentation last week. It shows the 'tradeable' portion of the economy has kept declining since the National Government was elected in 2008 and is now back to levels last seen in 2002.
Since the government's election the New Zealand dollar has averaged around 75 USc. Businesses have struggled to expand exports, particularly of manufactured exports.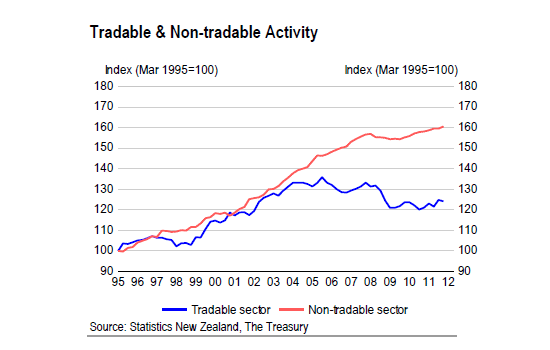 Instead, the same old things have been happening. The government has continued to expand, in part because of the Christchurch earthquake rebuild, and also because of a rise in unemployment and pensions payments. Also, the real estate sector has started to warm up again over the last 18 months, particularly in Auckland and Christchurch.
One obvious measure of this is the measure of lending growth.
Back when National was elected there was NZ$162 billion worth of mortgage lending and NZ$83.4 billion of business lending.
Since then mortgage lending has risen 7.5% to NZ$174.6 billion and business lending has fallen 7.2% to NZ$77.4 billion. The government and Reserve Bank have done nothing to reverse these trends.
Last week our banks approved mortgages worth NZ$1.22 billion,which was the highest since mid 2007. Banks are falling over themselves to offer deals, discounts, high loan to value ratios and high multiples of loans to income.
It's amazing how much people can borrow when interest rates are at record levels of 5% with little prospect of sharp rises any time soon. Many new borrowers without memories of 11% unemployment and 10% interest rates are believing the soothing words of their bankers about the sustainability of their debt levels.
Realestate.co.nz figures show asking prices jumping in May to record highs. An ASB survey of investor sentiment shows rental property is again the most popular investment for most New Zealanders.
All this is happening as the government itself forecast in its budget that New Zealand's current account deficit will widen to 6.7% of GDP in 2015/16 from a forecast 4.2% of GDP this year as our demand for capital to go on spending spree outpaces our ability to pay for it.
The rebalancing has not happened.
If anything, it's gotten worse.
When will the Finance Minister and the Prime Minister change their strategy to actually discourage yet more rental property investment and encourage more investment in exporting. And when will they realise that the exchange rate does matter?