Here's my Top 10 links from around the Internet at 1 pm today in association with NZ Mint.
We welcome your additions in the comments below or via email tobernard.hickey@interest.co.nz.
See all previous Top 10s here.
My must watch today is #5 on China's mafia state. A fascinating explanation from John Garnault. 
1. 'Just like the Weimar Republic' - Greek economist Aristides Hatzis writes at FT.com that Greece's political and economic landscape is a reflection of Germany's Weimar Republic of the early 1920s when economic collapse and social unrest led to the rise of both Fascism and Communism.
Hatzis writes about how Golden Dawn candidates physically abused a Communist party candidate on a talk show, but all of them still got elected.
He points out that extremist parties of the left and right got 41% of the vote in the weekend elections.
He worries about a breakdown in law and order and a return to some sort of military dictatorship.
The piece is titled: 'Back to the 1930s: the hammer, the sickle and the swastika.'
Despite the narrow victory of a centrist party in Sunday's vote, almost every day extremist violence breaks out in Athens and beyond. Neo-nazis against immigrants, anarchists and leftists. Anarchists, ultra-leftists and other fringe groups of the nationalist-populist camp against riot police, mainstream politicians, journalists, liberal intellectuals, even artists. Add to this a surge in crime and rising tolerance of violence and you have a clearer picture of today's Athens. Does it remind you of anything?

That's right. Greece's situation recalls the Weimar Republic. Violence (and its banalisation), hate, rage, polarisation, fear, despair and resignation. As for the police, it has already taken sides: neo-nazis won by a landslide in polling stations where officers were assigned to vote.

The electoral results demonstrate the dangers to the Greek democracy. The centre-right New Democracy party may have edged ahead, but the parliament, for the first time in Greek history, will be full of extremists. Besides the neo-nazis and a Stalinist communist party there is Syriza, whose leader is a fan of Mao Zedong, Fidel Castro and Hugo Chávez. It is difficult to find a notable dictator, even among the great butchers of the 20th century, without a steady following in the Greek parliament.
2. Greece vs Germany - Hilariously, Greece will play Germany in the Euro 2012 quarterfinals this weekend.
Here's the Monty Python version, which is even funnier.
3. 'Why the young should welcome austerity' - Here's Niall Ferguson stirring things up in an opinion piece at BBC.
He makes some useful points about the scale of the inter-generational inequity now built into government spending tracks and the need for better accounting for these in published government accounts.
I'm a fan of Ferguson's analysis, but I think he's wrong when he says that sovereign default and hyperinflation is inevitable. More likely, I reckon deflation and endless money printing Japanese style is inevitable. Ferguson seems congenitally opposed to government spending to try to kick-start growth. We can't just let it happen to us. I don't believe our economy will never grow ever again or that we've hit the resource limits forever. We just have to invest to come up with new ways to use the same resources more efficiently.
Here's his thoughts, which are fascinating on the problem. He doesn't have a solution.
According to the International Monetary Fund, the gross government debt of Greece this year will reach 153% of GDP. For Italy the figure is 123%, for Ireland 113%, for Portugal 112% and for the United States 107%. Britain's debt is approaching 88%. Japan is the world leader, with a mountain of government debt approaching 236% of GDP - more than triple what it was 20 years ago.

Now, often these debts get discussed as if they themselves are the problem, and the result is a rather sterile argument between proponents of "austerity" and "stimulus". I want to suggest that they are a consequence of a more profound malfunction.

The heart of the matter is the way public debt allows the current generation of voters to live at the expense of those as yet too young to vote or as yet unborn.

"Society," says Burke, "is indeed a contract. The state is a partnership not only between those who are living, but between those who are living, those who are dead, and those who are to be born."

In the enormous inter-generational transfers implied by current fiscal policies we see a shocking and perhaps unparalleled breach of precisely that partnership.

I want to suggest that the biggest challenge facing mature democracies is how to restore the social contract between the generations. But I recognise that the obstacles to doing so are daunting. Not the least of these is that the young find it quite hard to compute their own long-term economic interests.
4. Germany is not so safe - Satyajit Das writes at Naked Capitalism that Germany is not as safe as everyone thinks.
Germany's greatest vulnerability is its financial exposures from the current crisis. German exposure to Europe, especially the troubled peripheral economies, is large. German banks had exposures of around US$500 billion to the debt issues of peripheral nations. While the levels have been reduced, it remains substantial, especially when direct exposures to banks in these countries and indirect exposures via the global financial system are considered.

The reduction in risk held by private banks has been offset by the increase in exposure of the German state which assumed some of this exposure. This was done either directly or indirectly through indirect support of various official institutions such as the European Union ("EU"), European Central Bank ("ECB"), the International Monetary Fund ("IMF") and specially bailout funds.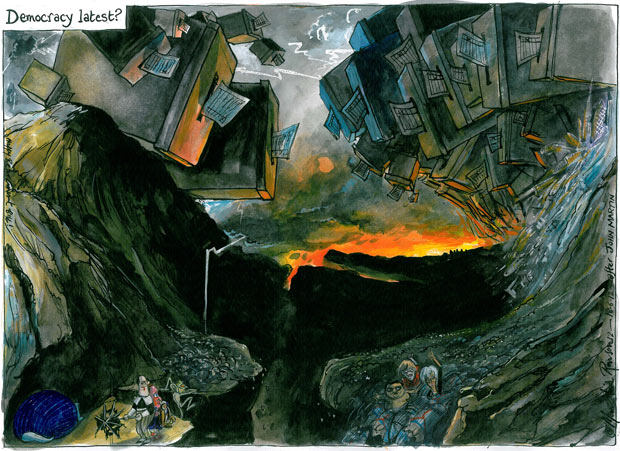 5. Is China becoming a Mafia state? - Sydney Morning Herald and Age China correspondent John Garnault speaks here in April 2011 about China's leadership transition and the nature of its endemic corruption. It's well worth a watch.
He talks about the China Communist Party's links to triads and a how a neo-feudal society in concert with the mafia has developed.
The stories are startling and fascinating. He says local governments had to switch from taxing grain in 2004 to stealing land with the help of mafia.
Does New Zealand and do New Zealanders really understand what is going on in China. Are we sure the incoming wave of investment from China is not just a fancy version of money laundering and bolt hole construction? See more here in John Hempton's piece I linked to last week. 
He talks about Bo Xilai's crackdown on the Mafia. Bo Xilai has since been shut down and put in prison earlier this year.
But Garnault remains optimistic, largely because of the increasingly free movements of information and the rising incomes of the rural poor.
6. Free Advice for Gerry Brownlee - Canterbury University economist Eric Crampton has written a useful piece of advice for Gerry Brownlee on how to solve Christchurch's rental crisis.
He says Gerry should firstly assess the scale of the problem by looking at the bond data at the Department of Building and Housing.
Then announce that you have instructed Christchurch Council via your Powers As Grand Poo-Bah to allow home owners to build self-contained flats into their current properties. This is the single best thing you can do to get properties on-stream quickly and at reasonable cost. Why?

You need to sort out insurance messes to build new houses. Anybody building a flat into his currently owned and insured property already has insurance; the coverage just extends.
Building new greenfield or substantial brownfield developments requires sorting out infrastructure. That takes time. A whole bunch of individual homeowners each putting in a small flat spread out across the city does not. 
If I'm right about heterogeneity mattering, then who is better placed to figure out which parts of town need more rental accommodation than homeowners in those parts of town who can see what's going on with rents and availability in their neighbourhood?
It is a policy that costs nothing if there actually is no housing crisis. I'm sure that more than a few folks in government remember the big push last winter that led to a pile of unused rented caravans meant for the homeless. 
It's scaleable and only scales to the extent that property owners expect there to be real demand for the properties. 

It's a policy that works if it's needed, isn't a bad idea even if it's not, and is a good political move in either case relative to denying the existence of any kind of housing availability problem.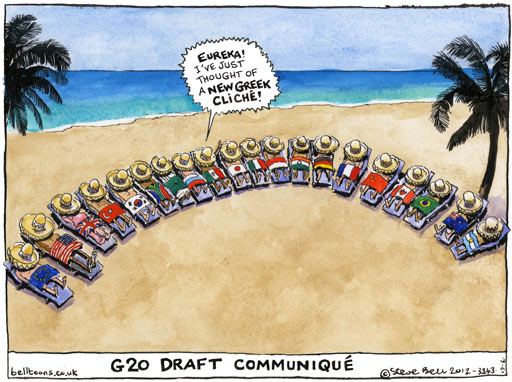 Compared with 2008-2009, when policymakers had ample space to act, (monetary and fiscal authorities are running out of policy bullets or, more cynically, policy rabbits to pull out of their hats). Monetary policy is constrained by the proximity to zero interest rates and repeated rounds of quantitative easing. Indeed, economies and markets no longer face liquidity problems, but rather credit and insolvency crises. Meanwhile, unsustainable budget deficits and public debt in most advanced economies have severely limited the scope for further fiscal stimulus.

Using exchange rates to boost net exports is a zero-sum game at a time when private and public deleveraging is suppressing domestic demand in countries that are running current-account deficits and structural issues are having the same effect in surplus countries. After all, a weaker currency and better trade balance in some countries necessarily implies a stronger currency and a weaker trade balance in others.

Meanwhile, the ability to backstop, ring-fence, and bail out banks and other financial institutions is constrained by politics and near-insolvent sovereigns' inability to absorb additional losses from their banking systems. As a result, sovereign risk is now becoming banking risk. Indeed, sovereigns are dumping a larger fraction of their public debt onto banks' balance sheet, especially in the eurozone.

To prevent a disorderly outcome in the eurozone, today's fiscal austerity should be much more gradual, a growth compact should complement the EU's new fiscal compact, and a fiscal union with debt mutualisation (eurobonds) should be implemented. In addition, a full banking union, starting with eurozone-wide deposit insurance, should be initiated, and moves toward greater political integration must be considered, even as Greece leaves the eurozone.

Unfortunately, Germany resists all of these key policy measures, as it is fixated on the credit risk to which its taxpayers would be exposed with greater economic, fiscal, and banking integration. As a result, the probability of a eurozone disaster is rising.

And, while the cloud over the eurozone may be the largest to burst, it is not the only one threatening the global economy. Batten down the hatches.
8. China abandons role of global engine - Bloomberg Businessweek reports on the real problem for New Zealand and Australia: China won't ride to our rescue again.
Premier Wen Jiabao has an unspoken message to his Group of 20 counterparts in Mexico today: This time, don't count on a growth bailout from China.

In the depths of the 2008 credit crunch, Wen's 4 trillion yuan ($586 billion) fiscal injection over two years and 17.6 trillion yuan credit surge helped prop up the global economy. In China, it fueled a property bubble, stoked inflation and amassed bad debts that Fitch Ratings says weakened the banking system.

"The government is trying to strike a better balance between stabilizing growth in the short term and adjusting structure in the long term," said Peng Wensheng, chief economist in Beijing at China International Capital Corp., who worked at the International Monetary Fund and Hong Kong's central bank. Total stimulus this year may be less than one- third the size of the 5.4 trillion yuan fiscal and monetary firepower of 2009, Peng said.

Investment is more strategically focused than the efforts that year that helped cushion everyone from Australian iron-ore exporters to General Motors Co., which saw its Chinese sales soar 67 percent as it coped with bankruptcy at home. Of some 818 billion yuan in projects recently approved, 55 percent were for clean energy or subsidies for fuel-efficient cars, according to Australia and New Zealand Banking Group Ltd.
9. 'Euro collapse would define our era' - So says Larry Summers in the FT.com.
You betcha Larry.
Here's his view, which is pretty much the official one in America.
A eurozone collapse would be a disaster that might define our era. Its prospect must focus the minds of all at the G20 summit on action. Non-Europeans must persuade Europeans that the rules change when the stakes rise. The ECB's credibility will mean little if there is no longer a common currency.

Setting the right precedent seemed far more important 24 hours before Lehman's collapse than 24 hours after it. Now is the time for radical cuts in the rates charged by official creditors to European sovereigns; for a willingness to subordinate official debts; and for expansionary monetary policies in Europe that prevent deflation and encourage the growth that can create jobs and reduce debts. Only if the system is preserved can its future be debated.
10. Totally Jon Stewart on JP Morgan's huge losses and Jamie Dimon's large powers...