First home buyers made up 37% of housing purchases in September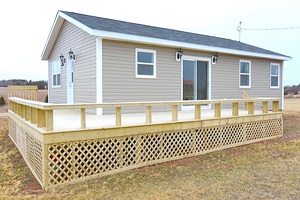 First home buyers were slightly less active in September, with fewer of them buying a property, although on average those who did buy paid slightly more for them and took out a slightly bigger mortgage.
According to the latest Reserve Bank figures, mortgages were approved for 2233 first home byers in September, down from 2481 in August. Interest.co.nz estimates their average purchase price was $674,479, up from $661,304 in August.
The average size of the mortgages approved for first home buyers in September was $561,129, with 31% of those low equity mortgages where the buyers had less than a 20% deposit.
The average size of the low equity mortgages approved to first home buyers in September was $630,277.
Overall, first home buyer activity has been relatively stable since March, with comparatively small variations. First home buyers' share of the total housing market has remained at 37% since June, after peaking at a record high of 39% in April and May this year (these figures only include sales that required a mortgage).
Interest.co.nz has been compiling statistics on first home buyers since the beginning of 2017. Between January 2017 and September 2023 first home buyers' share of housing sales has increased from 21% to 37%.
However that growth in first home buyers' market share is mainly the result of less activity by other types of property buyers, such as investors and existing home owners selling one house to buy another property.
As the table below shows, activity by first home buyers has been less volatile than the market overall, although it does follow the usual seasonal trends.
The comment stream on this story is now closed.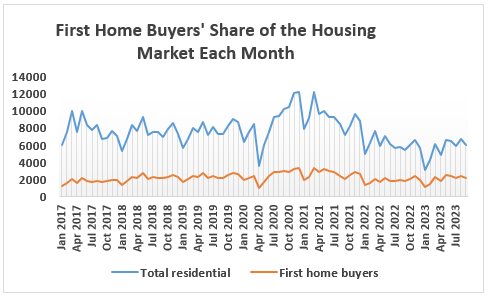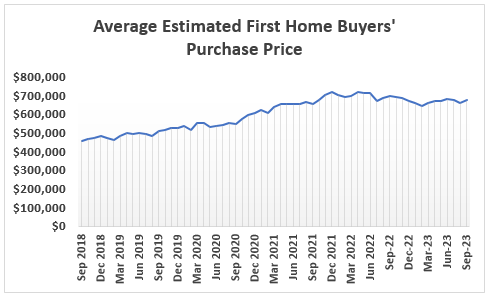 You can have articles like this delivered directly to your inbox via our free Property Newsletter. We send it out 3-5 times a week with all of our property-related news, including auction results, interest rate movements and market commentary and analysis. To start receiving them, register here (it's free) and when approved you can select any of our free email newsletters.