Annual rent increases range from $7 a week in Dunedin to $130 in Queenstown-Lakes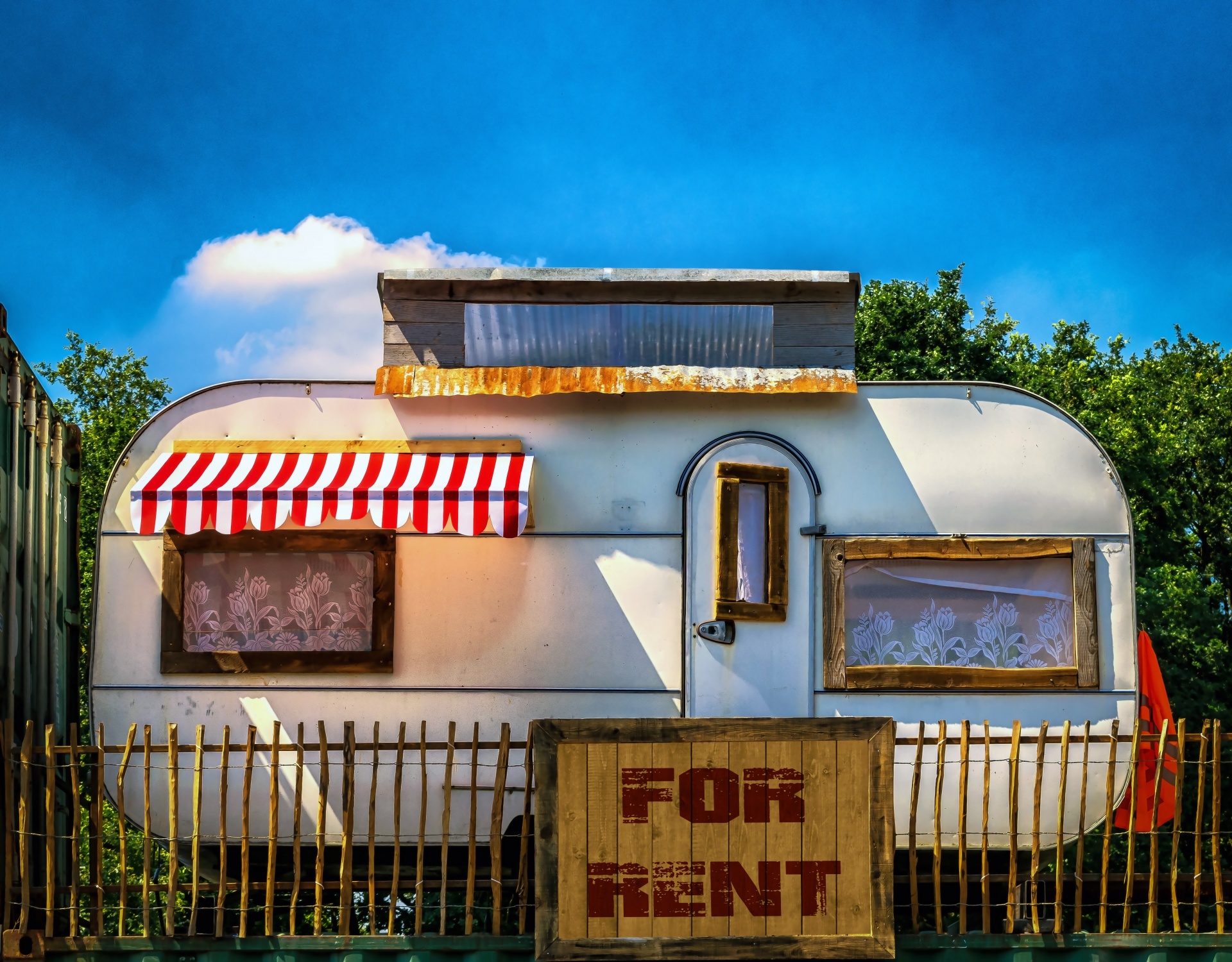 Residential rents increased by an average of $40 a week across the entire country in the 12 months to the end of September, with rents in Auckland up $60 a week.
According to bond data from Tenancy Services, the national median rent increased from $540 a week in the third quarter of last year to $580 in the third quarter of this year, giving an annual increase of 7.4%.
Bond data is a leading indicator of movements in market rents, because most bonds are collected for newly tenanted properties, providing a snapshot of where the market is sitting, and most landlords and property managers use market rents when reviewing rents for existing tenancies.
Queenstown-Lakes is the most expensive place in the country to rent a home with a median rent of $750 a week, up by $130 a week (21%) compared to the third quarter of last year.
After Queenstown-Lakes, the biggest increases occurred in Taupo, up $100 a week (22.2%), Whakatane +$90 (19.6%) and Marlborough +$65 (13.7%).
Dunedin had the smallest increase at just $7 a week (1.6%).
Perhaps surprisingly, rent increases were comparatively modest in the Wellington Region, with the median rent in Wellington City increasing by just $10 a week (1.7%) over the 12 months to September this year. Rents in Lower Hutt were up by just $15 a week over the same period. (See the table below for the rent increase figures for all major urban centres).
Within the Auckland region, rent increases ranged from $20 a week (3.2%) in the Rodney Ward on the city's northern boundary, to $83 a week (12.2%) in the Orakei Ward in central Auckland. (See the table below for the rent figures for all Auckland Council ward areas and the map showing the ward boundaries).
The comment stream on this story is now closed.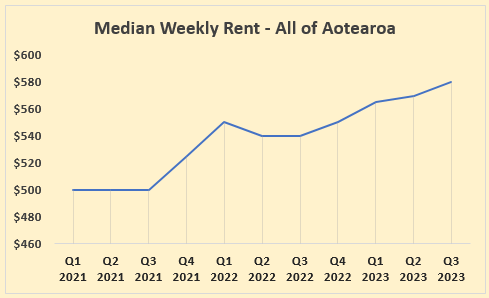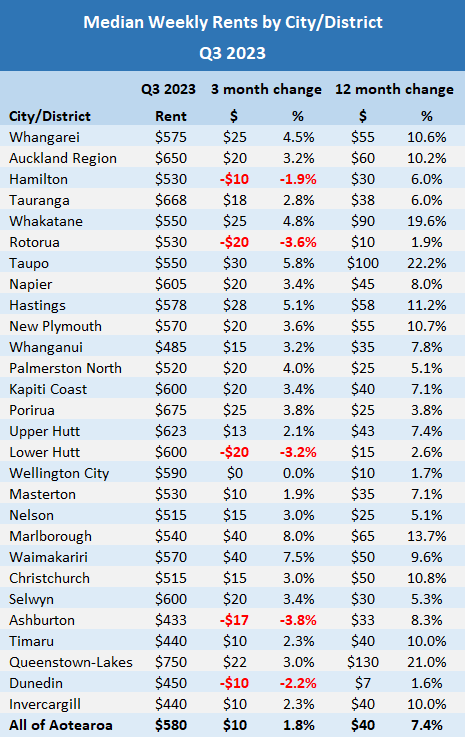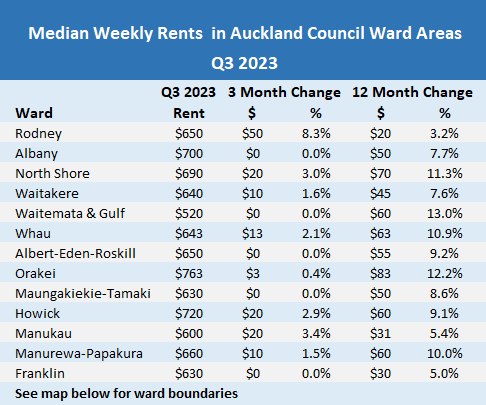 Auckland Council Wards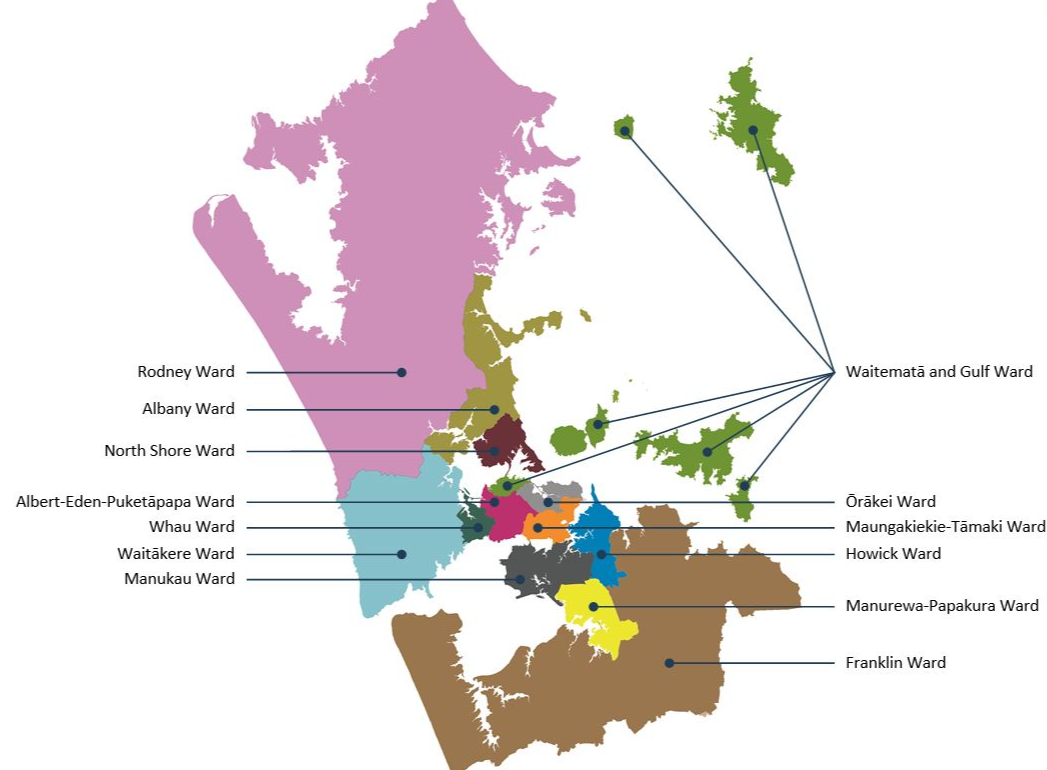 You can have articles like this delivered directly to your inbox via our free Property Newsletter. We send it out 3-5 times a week with all of our property-related news, including auction results, interest rate movements and market commentary and analysis. To start receiving them, register here (it's free) and when approved you can select any of our free email newsletters.