Here's my Top 10 links from around the Internet at 1.30 pm today in association with NZ Mint.
We welcome your additions in the comments below or via email to bernard.hickey@interest.co.nz.
See all previous Top 10s here.
My must read today is #9 on the problem with expecting a 'normal' economic recovery. A global balance sheet recession is an ugly thing, particularly when governments refuse to fill the hole left in spending by consumers repaying debt and corporates hoarding cash.
1. Why money printing isn't creating inflation - Economists Manmohan Singh and Peter Stella write at VoxEu about why all the money printing in recent years isn't actually turning into money supply growth.
It's a fascinating piece that is beginning to explain why, for example, the gold price is falling despite all these predictions of money printing causing inflation.
They essentially say the money multiplier theory (increases in central bank reserves multiplies into money circulating in the economy) isn't working because the shadow banking system built up before 2008 is deleveraging.
This makes sense.
All the quantitative easing since 2008 has done little to boost the economy or inflation.
Deleveraging is driving the global economy. We're now stuck in a balance sheet recession where only government spending on infrastructure from newly printed money will actually get fresh money and activity into the real economy. Eventually it will have to be done to offset deflation.
Here's Singh and Stella at VoxEU
So far, despite a several thousand fold increase in bank reserves, US inflation shows no sign of emerging from Pandora's Box.

Those schooled in the conventional money multiplier approach are understandably worried about the potential impact on inflation of expanding bank reserves. Nevertheless, there is good reason not to fear the money multiplier. Post-war US credit expansion – and, by inference, inflation—has not been dependent on an expansion of bank reserves and there is no reason to expect there will arise now a causal impact of the latter on the former. The liquidity fulcrum of a modern financial system is more complex than the monetary base and its size is determined by market conditions which continue to show signs of strain despite comparatively massive central bank injections of bank reserves.
2. How Big US Banks victimise US democracy -  Here's Bill Moyers and guests in this video telling it how it really is in America's financial system.
3. Taibbi is back - Here's Matt Taibbi at Rolling Stone with another cracker on how Wall St banks rigged the municipal bond market in America.
This just-completed trial in downtown New York against three faceless financial executives really was historic. Over 10 years in the making, the case allowed federal prosecutors to make public for the first time the astonishing inner workings of the reigning American crime syndicate, which now operates not out of Little Italy and Las Vegas, but out of Wall Street. The defendants in the case – Dominick Carollo, Steven Goldberg and Peter Grimm – worked for GE Capital, the finance arm of General Electric. Along with virtually every major bank and finance company on Wall Street – not just GE, but J.P. Morgan Chase, Bank of America, UBS, Lehman Brothers, Bear Stearns, Wachovia and more – these three Wall Street wiseguys spent the past decade taking part in a breathtakingly broad scheme to skim billions of dollars from the coffers of cities and small towns across America.

The banks achieved this gigantic rip-off by secretly colluding to rig the public bids on municipal bonds, a business worth $3.7 trillion. By conspiring to lower the interest rates that towns earn on these investments, the banks systematically stole from schools, hospitals, libraries and nursing homes – from "virtually every state, district and territory in the United States," according to one settlement. And they did it so cleverly that the victims never even knew they were being ­cheated. No thumbs were broken, and nobody ended up in a landfill in New Jersey, but money disappeared, lots and lots of it, and its manner of disappearance had a familiar name: organized crime.
4. Audi most popular car with China's communist leadership - Working in Herne Bay, Interest.co.nz sees its fair share of fancy cars driving the streets. Audis, BMWs and Mercedes are the most popular.
It turns out Audi is the most popular brand within Communist China's leadership cadres, particularly in local and central government circles.
One in five Audis in China are owned by government officials. I can't imagine Colin Giltrap putting that little factoid on his Audi ads.
Here's the FT on CNBC reporting on how many cash-strapped local governments are now selling their Audis. This speaks to the growing fears about the populace revolting over the corruption of officials and the fact that local governments may not be able to repeat the massive spending sprees on bridges, motorways, apartments, railways and airports in 2009/10.
Wenzhou, a south-eastern coastal city hit hard by the cooling economy, sold 215 cars at the weekend, fetching Rmb10.6 million ($1.7 million). It plans to sell 1,300 vehicles – 80 percent of the municipal fleet – by the end of the year.

Government revenues from tax and land sales in Wenzhou have been declining after years of heady growth. With the city's risk-taking businesses struggling to pay back debts, the burden has fallen on the local government to turn things around. State media noted the auctions would directly boost the city's coffers.

Wenzhou is not alone. Across the country, from Kunming in the south to Datong in the north, officials have been tightening their belts, paring back on banquets, curtailing travel and trimming the fleets of tinted-window luxury cars that have long been standard issue – even in the middle ranks of government. "It is a sign of the difficulties facing city finances," said Tao Ran, a local government expert at People's University in Beijing.

About one in every five Audis in China – the German car's biggest market – is owned by the government, according to industry estimates. More egregious examples – of police driving Porsches, and even a Maserati with military plates – have also prompted Chinese citizens angry about official corruption to post pictures of the cars online.
5. More local government problems - Bloomberg reports China's central government has shelved plans that would have allowed local governments to issue bonds directly to roll over their currently unsustainable loans from state banks.
"The central government now is quite concerned about the debt at the local-government level," said Ivan Chung, an analyst at Moody's Investors Service in Hong Kong. "They worry that if they give the green light now, probably the local governments have less incentive to deal with their debt problems, because they understand they are allowed to refinance."

A 1994 ban on regions issuing notes directly led to the creation of more than 10,000 local-government financing vehicles, which increased borrowing as part of stimulus spending designed to cushion the economy during the global financial crisis. As of the end of 2010 they had debts of 10.7 trillion yuan ($1.7 trillion), 27 percent of China's gross domestic product, according to a June 2011 official audit.
6. Will ECB cut its rate to a negative rate? - Bloomberg looks at the European Central Bank's options for boosting the European economy, including cut interest rates to negative rates, where banks pay the ECB to look after their money.
Sigh.
"The European recession is worsening, the ECB has to do more," said Julian Callow, chief European economist at Barclays Capital in London, who forecasts rates will be cut at the ECB's next policy meeting on July 5. "A negative deposit rate is something they need to consider but taking it to zero as a first step is more likely."

Should Draghi elect to cut the deposit rate to zero or lower, he'll be entering territory few policy makers have dared to venture. Sweden's Riksbank in July 2009 became the world's first central bank to charge financial institutions for the money they deposited with it overnight. The Fed rejected cutting its deposit rate from 0.25 percent last year. With Europe's debt crisis damping inflation pressures and curbing growth, the ECB may feel the benefits outweigh the negatives.
7. 'Quitaly' - There's been some great tabloidesque names for possible exits from the euro-zone, including 'Grexit', 'Spaxit' and 'Drachmafication'.
Now Nouriel 'Dr Doom' Roubini has suggested that other countries in Europe could actually leave the euro zone before Greece. His names for these possibilities are 'QuItaly,' 'Fixit' (Finland) Going Dutch (the Netherlands) and the D-Euro (Germany).
It remains likely that Greece will be first out the door; but there are forces in both the core andperiphery pushing for an early exit of other EZ countries. In Italy, Berlusconi and those close to him explicitly favor Italy's return to the lira. Italian businesses with euro assets abroad and domestic debts in euro would vastly benefit from the conversion — upon exit — of such liabilities into new depreciated liras. In core economies — especially Finland, but also the Netherlands — concerns about the increasing losses attached to EZ membership deriving from implicit and explicit liabilities are mounting, whilethe benefits appear smaller and smaller.

Consider the existing potential losses from the EFSF, theESM, the Target 2 balances; and then add to them the potentially larger ones deriving from a fiscal union with debt monetization, a transfer fiscal union for the poorest members of the EZ and the risk of guaranteeing, at the EZ- wide level, all of the EZ's bank deposits, including those of the periphery.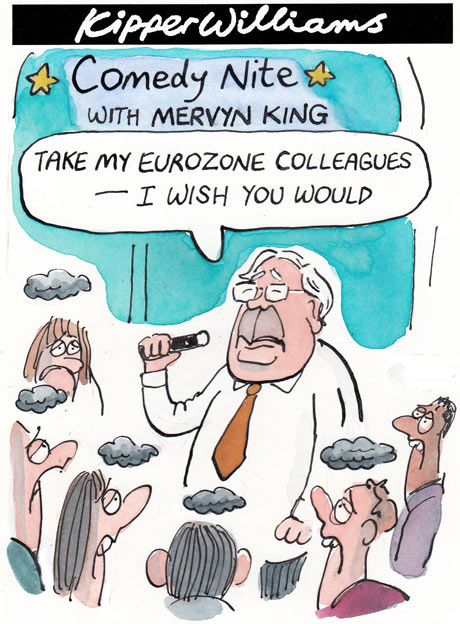 8. 'Liquidation is vital' - This argument from John Aziz about letting the banks fail in an almighty crash and then rebuilding captures the mood at the moment. I don't have an immediate counter argument. But who would be the one to pull the trigger?
In light of the zombification that now exists in Japan and also America (and coming soon to every single QE and bailout-heavy Western economy) — zombie companies, poorly managed, making all the same mistakes as before, rudderless, and yet still in business thanks to government intervention  — it is clear that the liquidationists grasped something that Keynesians are still missing. Markets are largely no longer trading fundamentals; they are just trading state intervention and money printing. Why debate earnings when instead you can debate the prospects of QE3? Why invest in profitable companies and ventures when instead you can pay yourself a fat bonus cheque out of monetary stimulus? Why exercise caution and consideration when you can just gamble and get a bailout?

Liquidation is not merely some abstract policy directive, or government function. It is an organic function of the market. As the stunning bounce-back from the Panic of 1907 shows — especially when contrasted against the 1930s — a  market liquidation on the back of a panic avoids a depression. Prices fall as far as the market deems necessary, before market participants quickly come back in into the frame, setting the market on a new trail toward growth. For without a central bank, asset-holders who want to maintain a strong economy and growth (in 2008, that probably would have meant sovereigns like China and Arabia) have to come in and pick up falling masonry as lenders of last resort.

Under a central banking regime (especially a Bernankean or Krugmanite one committed to Rooseveltian Resolve) all expectations fall onto the central bank.

My own view is not just that liquidation is vital. It is that the market mechanism is vital. Without their own capital as skin in the game, central bankers are playing blind. The pace of the liquidation and the pace of the recovery should be dictated by market participants — in other words, by society at large — not by the whims of distant technocrats. Society has more skin in the game. The Great Depression was not a crisis of too little intervention — it was a crisis of too much well-intentioned intervention.

As we are learning in our own zombie depression, a central bank doing the opposite of the 1930s Fed and reinflating may solve the problem of debt-deflation, but it causes many of its own problems — zombie banks, zombie corporations, zombie markets, corporate welfarism, and the destruction of the market mechanism.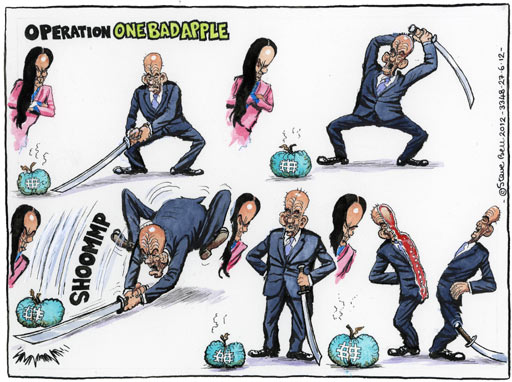 9. The problem in the global economy - Gluskin Sheff's contrarian economist David Rosenberg talks on Bloomberg about the balance sheet recession globally. He's not a happy bunny. HT Zerohedge.
Well I think there are two different shocks simultaneously. The first is that we're seeing the impact of Europe hit Asia and then the U.S. trade channels on top of that. There's the fiscal cliff. Bernanke has talked about the fiscal cliff, but it hasn't happened yet, but what is happening is that households and businesses have no clue what their tax rate is going to look like next year. So when you model fiscal uncertainty into any sort of economic scenario in the U.S. what it means is that businesses raise their liquidity ratios, and households build up their savings rates. This comes out of spending growth. And that's the problem you've got - the fiscal uncertainty coupled with the trade shock.
And there's this fascinating line:
Most economists were looking at this through the prism of a classic business cycle, a plain vanilla recession recovery. They didn't look at it through the prism of a wealth destruction credit contraction, asset deflation cycle which generates completely different results in the recovery phase.
10. Here's Jon Stewart on a 'Mittful' of dollars