Here's my Top 10 links from around the Internet at 10:00 am today in association with NZ Mint.
Bernard will be back with his version tomorrow.
As always, we welcome your additions in the comments below or via email to bernard.hickey@interest.co.nz.
See all previous Top 10s here.

1. NZ banks must lead claims for the LIBOR rort
British business is turning on British banks. When the rest of the world joins the fray, the claims will be enormous. I hope the British taxpayers are ready and willing to back up their banks. More from the UK Telegraph:
John Walker, the FSB's national chairman, said: "Suspending repayments immediately would relieve and possibly rescue small firms that have been burdened with huge bills – in most cases for years – and who in some cases are close to bankruptcy.

"However, it will not resurrect the many small businesses that have already been destroyed by this appalling breach of trust: firms that turned to their banks for support and who were instead exploited."

He also said it was "not enough" that Britain's four main high street lenders have agreed to compensate affected small companies.

"At what point will big banks' chief executives take responsibility for the litany of scandals their employees have been found guilty of and which are causing untold damage to small businesses and Britain's economy?

"The situation will not improve until and unless punitive measures are taken to stamp out these sharp practices and the fundamental attitude of the banks towards their small business customers changes."
When will the NZ banks tell us how we can claim for this outrageous rort? Surely it's criminal. I know our banks may have been among the victims, but the restitution must flow back to their customers - and our banks must front foot the claim process. We need the pending class action legislation passed now - urgently.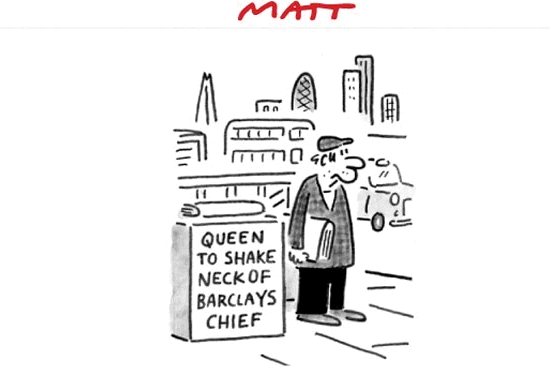 2. Debt repayment innovation
Greek shipping heir Peter Nomikos has taken matters into his own hands. While EU leaders wrangle for a solution to Greece's problems, Nomikos started a non-profit to wipe out the country's debt. If all of his countrymen do their part, he tells Spiegel Online, they will be able to shore up the country's finances.
Nomikos: Professionally, I deal with distressed debt. And it struck me that Greece has a historical opportunity. In the euro, the Greeks have a very strong currency, while the price of their government bonds has collapsed. That makes it possible to buy back debt at very low prices and reduce the Greek debt burden with relatively little expenditure.

Spiegel Online: You are asking your countrymen for donations. What do you tell them?

Nomikos: If you break down the national debt, each Greek owes around €25,000 (NZ$39,350). So I am telling my fellow citizens to make themselves debt-free. Greek government bonds with a nominal value of one euro currently trade for around 12 cents. For a donation of around €3,000, every Greek can buy his freedom.
Peter Nomikos, 33, is the scion of a Greek family that has been successful in the business world. His father built a billion dollar empire in the US from shipping and medical technology. Nomikos grew up in London and studied economic history at Princeton University. The entrepreneur still lives in the British capital and finances both commercial and non-profit projects. Nomikos says that he spends about 70 percent of his time earning money, the rest he devotes to charitable ventures. With a seven member team he now runs the campaign for a Debt-free Greece. His Santorini beer company, Volkan, contributes 50 percent of its profits to the charity.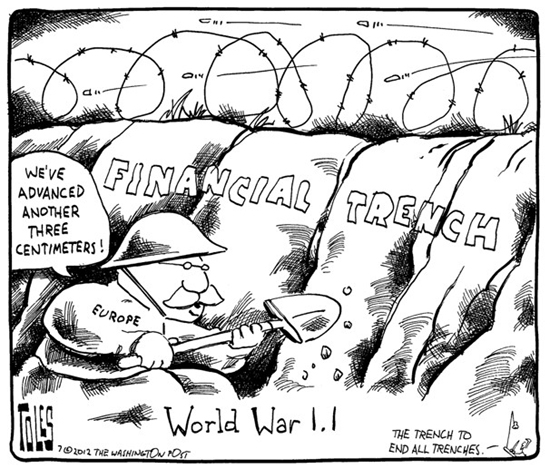 3. Inaccurate numbers
The Bank for International Settlements, which acts as a bank for the world's central banks, should know fudged numbers when it sees them. What may come as a surprise is how openly it has been discussing the problem of bogus balance sheets at large financial companies. This from Jonathan Weil at Bloomberg:
"The financial sector needs to recognize losses and recapitalize," the Basel, Switzerland-based institution said in its latest annual report, released this week. "As we have urged in previous reports, banks must adjust balance sheets to accurately reflect the value of assets." The implication is that many banks are showing inaccurate numbers now.
4. Could peer-to-peer lending challenge our banks?
In a recent speech, BofE director Andrew Haldane suggests innovations in commercial peer-to-peer lending, using the web as a conduit, could make some bank functions surplus to requirements.. It was followed by a recent announcement by the British government that it would channel £100 million pounds to small business through alternative banking channels such as P2P. Milind Sathye at Business Spectator has taken a look at the British offerings:
No wonder taxpayers ask: are banks a necessary evil that one has to put up with, or is there an alternative?

Why do we need banks? Why can't we lend to each other? Just as we may borrow from friends and relatives, can we not borrow from and lend to strangers? Is there an alternative to old-fashioned banking, as Andy Haldane calls it?

The good news is an online alternative that could take on the banks – at least in the sphere of small loans – is emerging.
5. 'Dimon should quit his Fed role'
Simon Johnson, an economics professor and former International Monetary Fund counselor, says JPMorgan CEO Jamie Dimon should leave the New York Federal Reserve board if "he wants the Fed to again become a bastion of stability".
6. China's elite protect their own
Xi Jinping and his siblings are the children of the late Xi Zhongxun, a revolutionary fighter who helped Mao Zedong win control of China in 1949 with a pledge to end centuries of inequality and corruption. Now in line to be China's next president, Xi Jinping has risen through the Communist Party with a reputation for clean government. Bloomberg has the back story in great detail - too much detail for the Chinese though; it is blocking Bloomberg in retaliation.
Xi Jinping, the man in line to be China's next president, warned officials on a 2004 anti-graft conference call: "Rein in your spouses, children, relatives, friends and staff, and vow not to use power for personal gain."

As Xi climbed the Communist Party ranks, his extended family expanded their business interests to include minerals, real estate and mobile-phone equipment, according to public documents compiled by Bloomberg.

Those interests include investments in companies with total assets of $376 million; an 18 percent indirect stake in a rare- earths company with $1.73 billion in assets; and a $20.2 million holding in a publicly traded technology company. The figures don't account for liabilities and thus don't reflect the family's net worth.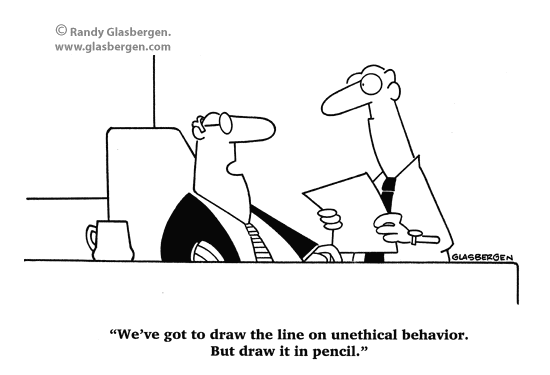 7. The attraction of tax breaks
Switzerland has quietly developed into the global center of commodities trading. Critics say the industry's business practices in countries such as Congo and Zambia are immoral, and that it puts profits before people. Spiegel Online reports:
Sanctuary for Kleptocrats and Tax Evaders

Ironically Switzerland, a country with few natural resources to speak of, has grown into one of the most important centers for the global commodities industry in recent years. In Switzerland, companies encounter optimal tax conditions, sympathetic officials and an army of lawyers and bankers who specialize in the needs of the deep-pocketed industry.

Companies like Glencore now process 15 to 25 percent of the global trade in ore, copper, oil and agricultural products from their headquarters in Switzerland. Net revenues in the industry have increased by a factor of 15 between 1998 and 2010.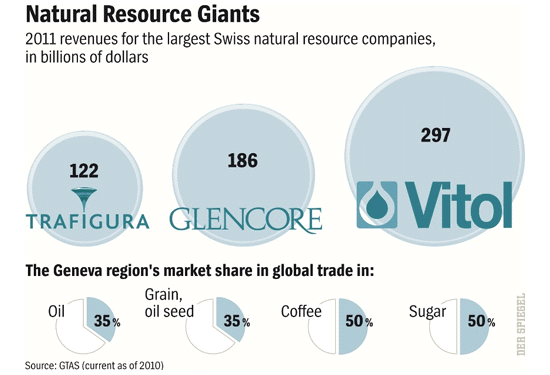 8. Lessons from Latvia
Here is Valdis Dombrovskis, Latvia's prime minister, on his country's astonishing economic recovery, the advantages of austerity and why he's still keen on joining the embattled euro zone. A key message is, front-load the pain - in other words do substantial reform early because the effectiveness will get watered down or not done at all if delays are allowed to infect the process. He's been re-elected. (Reminiscent of New Zealand in 1984 - and perhaps quite different to one lesson in #10 ?)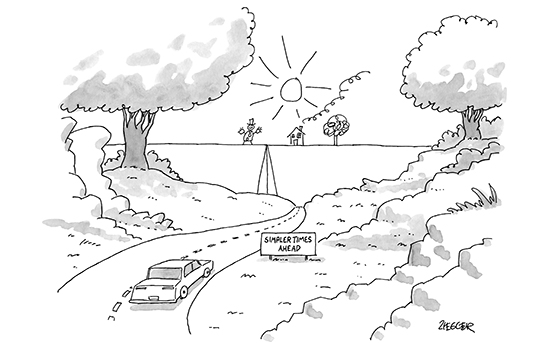 9.a. Go figure
The big loser in today's introduction of a carbon tax in Australia is ... electric cars!  The most environmentally focused cars on the market will cost more to run when the carbon tax is introduced, says the Sydney Morning Herald. Unintended consequences strike again (although, actually the impact was intended. They exempted petrol!)
9.b. Waning dependency
Innovation in efficiency and conservation seems to be sorting out America's dependence/need for Middle East oil, rather than new local sources (from fracking?). At least that is what Kevin Drum thinks he has found.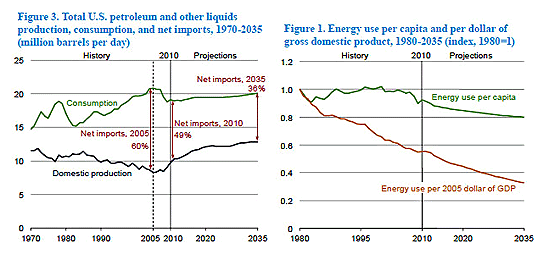 10. The last laugh
Dan Ariely, a professor of behavioral economics at Duke University, on our buggy moral code.