Here's my Top 10 links from around the Internet at 1 pm today in association with NZ Mint.
We welcome your additions in the comments below or via email to bernard.hickey@interest.co.nz.
See all previous Top 10s here.
My must read today is #2 from Andy Xie on China's structural flaws. The New Zealand and Australian economies are not going to get a leave pass again on the current global downturn.
1. Too much investment - The most important variable in New Zealand's economic outlook is what happens to China's economic growth rate and whether it can repeat the extraordinary investment surge of 2008 and 2009 that helped cushion the blow to the Australian and New Zealand economies of the Lehman crisis.
The biggest issue is whether China has the capacity to do another investment surge like that.
Many inside and outside China say it needs to rebalance away from (over) investment to consumption to make its economy sustainable.
Some say this is already happening.
The Institute for Economic Thinking questions the logic that the shift is happening in this post.
The investment levels are astonishingly high, as the chart below shows.
If we look at consumption, rebalancing is not happen yet either. It is not growing fast enough. CLSA asserted that despite the fact that consumption's share of GDP is quite low China's consumption is already strong and that the rebalancing of Chinese economy is already underway. To support their position, CLSA shows that retail sales growth is faster than GDP growth. However, they made at least five mistakes here. First, retail sales growth is a nominal figure while GDP growth is real. If we deduct the price difference, retail sales growth is not faster than GDP growth.

Second, retail sales cannot represent household consumption in China. Lots of the sales are government purchases and some of the components are investment-related goods, like jewelry and home appliance.

Third, even if we pretend that retail sales data is a good indicator for household consumption, it still does not mean rebalancing is taking place. Why? Because if rebalancing is really taking place, not only does retail sales growth become faster than GDP growth, but investment growth has to be slower than GDP growth. Unfortunately investment growth is still much faster than GDP growth.

Fourth, consumption growth is unlikely to surge if household disposable income increases slowly and household income has been lagging GDP growth for many years. Last, as economic growth decelerates, retail sales growth is slowing down too, which makes it very difficult to say that rebalancing is happening.
2. Serious systemic flaws - Andy Xie writes at Caixin that serious systemic flaws in China's growth model are now being laid bare. This is today's must-read.
Around the country, I see numerous property developments that are in the middle of nowhere and may never be sold. When the last property bubble burst in the mid-1990s, numerous buildings stood unfinished. The scale of unfinished buildings will be much bigger this time. Out of 4.5 billion square meters being built, 20 percent may never be finished.
 
Most tier-three cities have not seen significant population growth in the past decade. Yet, they are building properties equivalent to 20 to 30 percent of the existing stock. Many developments are far from the urban center. How would such developments be sold?
 
Obviously, the book losses, especially to the banking system, could be enormous. That will translate into pressure on the central government to stimulate speculation again. Only a massive bubble could allow such useless properties to be sold.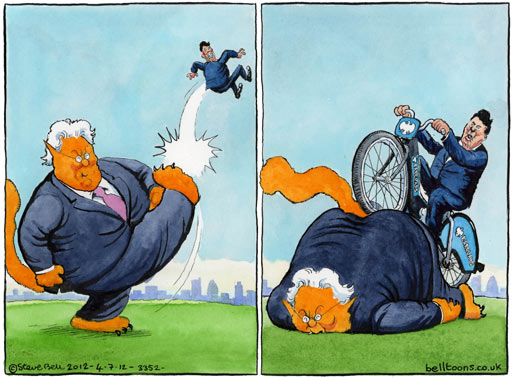 3. Bankers and the neuroscience of greed - Ian Robertson writes at The Guardian in a fascinating way about the neuroscience of the investment bankers of London and Manhattan.
Holding power changes brains by boosting testosterone, which in turn increases the chemical messenger dopamine in the brain's reward systems. Extraordinary power causes extraordinary brain changes, which in their extreme form manifest themselves in personality distortions, such as those seen in dictators like Muammar Gaddafi.

The "masters of the universe" who have arisen out of a deregulated world financial system were given unprecedented power that inevitably must have caused major changes to their brains. While power in moderate doses can make people smarter, more strategic in their thinking, bolder and less depressed, in too-large doses it can make them egocentric and un-empathic, greedy for rewards – financial, sexual, interpersonal, material – likely to treat others as objects, and with a dulled perception of risk.

This power-primed boldness and forward-looking focus on rewards arises from a neural "approach mode" that biases attention, memory, action and emotions towards thoughts and feelings linked to success and conquest. Low power, on the other hand, tends to trigger a neural "avoidance mode", where mood is low and anxiety high because of worries about threats and future uncontrollable events. These approach and avoidance modes are linked to different networks in the right and left sides of the brain respectively, and to different chemical messenger systems. The wild oscillations of financial markets are partly the result of traders' brains lurching between these two modes: it is a characteristic of being in one mode that it is hard to think in terms of the other – a bit like finding it hard to imagine a sunny day in the middle of a bleak, dark winter day, or vice versa.

4. Chinese overspending on Australian iron ore projects - This is a cracking piece from Henry Sender at FT.com about how much money Chinese state-owned firms have pumped into holes in the ground in Australia.
I hope a bunch of New Zealanders working there have got their hands on some of this money.
The world's second-biggest economy had hoped it would more easily control its economic destiny by taking huge mineral stakes, robbing companies such as BHP Billiton, Vale and Rio Tinto of the ability to dictate commodity prices.

But the Sino Iron project, far from being a showcase for China's might, has become instead a cautionary tale of the difficulties Chinese enterprises face as they seek to expand abroad. When it was first conceived in 2006, the total cost was estimated at under $2bn. By now, it has already cost Citic Pacific $7.1bn. Analysts at Citigroup calculate the bill could swell to a possible $9.3bn, while others say they expect the ultimate bill will be closer to $10bn. The mine is at least two years behind schedule.

"This is no longer about commercial goals," says a senior executive at one leading Asian trading company with extensive sourcing operations in Australia. "It is about Chinese machismo. They have plonked down too much money to pull out now."
5. 'We need to learn to say no to the elderly' - David Frum says a sensible thing at The Daily Beast.
They're the worst drivers—and we're too scared to tell them so. If we don't push back, they'll steal our benefits and bankrupt the country.

The economics blogger Steve Randy Waldman memorably and bitterly articulated the meaning of these grim facts. The long slump has revealed the preferences of the aging polities of the Western world. "Their overwhelming priority is to protect the purchasing power of incumbent creditors. That's it. That's everything. All other considerations are secondary"—-including economic recovery.

We could jump-start the economy with a massive jolt of monetary and fiscal stimulus, but such a policy would risk inflation and pose a threat to retirement savings. So we don't do it. We could borrow money to finance infrastructure programs that would set people to work now and enrich society over the long haul—but that borrowing would have to be serviced by taxes to which older Americans fiercely object. So we don't do that either.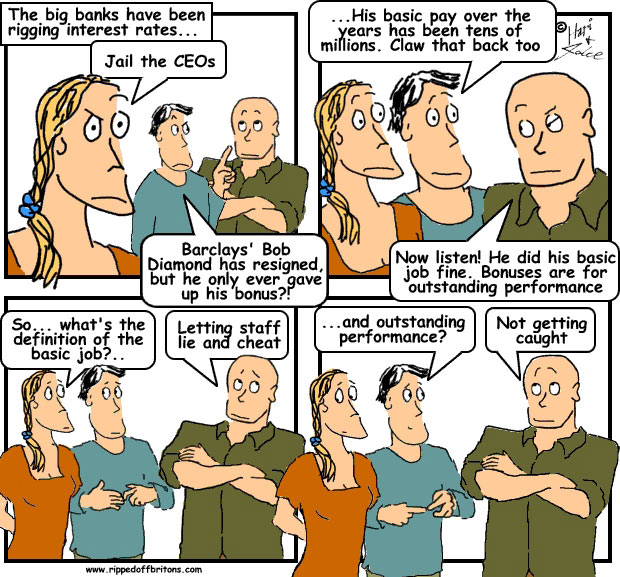 6. The real cost of the LIBOR scandal - Here's the New Statesman with its view.
Libor (and its counterpart Euribor) are the starting points for setting the interest rate for, well, pretty much everything. To give you an idea of the size of the possible distortion, the FSA notes that the notional amount of financial instruments, derivatives and contracts which depend on Libor "in the first half of 2011 has been estimated at 554 trillion US dollars". The World's GDP for the same period was roughly 35 trillion US dollars. The manipulation of this interest rate by a tiny one-tenth of a percent can result in a distortion the size of the entire Eurozone rescue fund.

Here is a fallacy which has emerged over the last few days: there were winners and there were losers. When the rate was manipulated up borrowers lost out, but savers gained. When the rate was manipulated down, the converse happened. This is a perfect example of the simplistic masquerading as complex. It ignores the biggest and most dangerous impact.

Interest rates are all about the assessment of risk. The discovery that the basic Libor rate on which most such assessments are based was arrived at by collusion and was essentially fictional makes it unreliable. This creates extra risk. No prizes for guessing who will absorb this extra risk. Next time any lender sets its variable mortgage rate, they will be adding a little bit of fat, in case the Libor rate has been massaged down. Next time the decision is made on what interest to award to a pension fund, it will be made a little meaner, in case the Libor rate has been artificially boosted.

Rendering the Libor rate unreliable, is like removing the bottom block from an enormous financial Jenga tower. It is causing the entire construct to teeter and become more unstable at every level. Importantly, it makes it more susceptible to the next crisis. It may steady itself or it may collapse.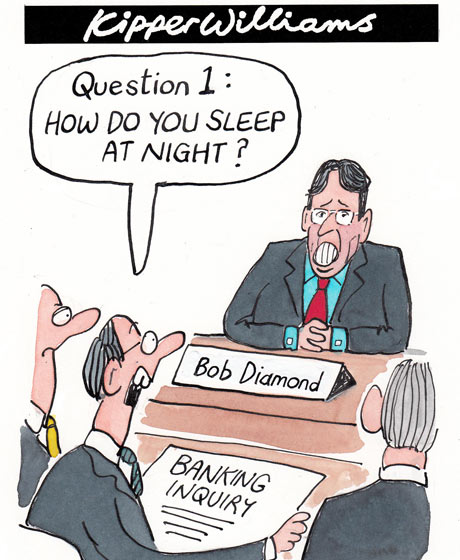 7. OMG - Here's the famed George Monbiot saying at The Guardian he was wrong about Peak Oil.
That should be good for at least 50 comments...
There is enough oil in the ground to deep-fry the lot of us, and no obvious means to prevail upon governments and industry to leave it in the ground. Twenty years of efforts to prevent climate breakdown through moral persuasion have failed, with the collapse of the multilateral process at Rio de Janeiro last month. The world's most powerful nation is again becoming an oil state, and if the political transformation of its northern neighbour is anything to go by, the results will not be pretty.

Humanity seems to be like the girl in Guillermo del Toro's masterpiece Pan's Labyrinth: she knows that if she eats the exquisite feast laid out in front of her, she too will be consumed, but she cannot help herself. I don't like raising problems when I cannot see a solution. But right now I'm not sure how I can look my children in the eyes.
8. The Oil Drum responds - For the sake of balance and completeness, here is a detailed take-down on the Harvard report (I linked to a few days ago) that Monbiot based his volte-face on.
A large chunk of the Harvard report is based on the idea that Iraqi production can get going again.
Here's the The Oil Drum's response with a useful chart below.
I understand that one ought to show some optimism at some point over Iraq, but it has yet to reach the levels of production that it achieved before the Iran/Iraq War, and that was over some time ago. The EIA has shown that it is possible to get a total of over 13 mbd of production, but it requires investment and time, and some degree of political stability in the country. That is still somewhat lacking. Prior to that war, Iraq was producing at 3.5 mbd, the production curve since then has not been encouraging:
9. The reaction is starting - Australians are getting grumpy about all these New Zealanders arriving for jobs and all the Australian jobs being outsourced across the Tasman to NZ (Heinz factory/Newspaper sub-editing).
Here's (expat Kiwi) Bernard Lagan writing in the Global Mail about the growing grumpiness in Australia. HT Toby Manhire at The Listener.
In Girgarre, a hamlet in Victoria's lush north, some people no longer buy much of anything made in New Zealand — Australia's near neighbour.

"I don't care to buy it," says Jan Smith, a member of Girgarre's development board, who has stayed in the town, seeking new ways to keep Girgarre alive while its jobs have leached away, most recently to New Zealand.
10. Totally The Daily Show's correspondents explaining the banks and economists and Wall St.