Here's my Top 10 links from around the Internet at 7.30 pm today in association with NZ Mint.
As always, we welcome your additions in the comments below or via email tobernard.hickey@interest.co.nz.
See all previous Top 10s here.
My must read today is #5. I love a good Keynes vs Hayek debate.
1. Golden instability - Paul Krugman makes the point in this New York Times piece with this chart below that the real price of gold (ie adjusted for inflation) has been remarkably volatile.
Those who argue the gold price naturally offsets the impact of inflation are wrong, Krugman argues.
This is all on the agenda again after the Republicans decided to debate the creation of a Gold Standard Commission at their ongoing convention in Florida.
It has been one of the great debates of American political life over last 200 years and now it's back.
The first two rounds of quantitative easing (ie money printing) by the Federal Reserve have done little to boost the US economy, but they sure have got the Gold Standard debate back on the front pages.
There may be bubble aspects, but there's also a pretty clear (and economically understandable) relationship between the real price of gold and the real interest rate: when real rates are low, real gold prices are high. And when are real rates low? High inflation can do that, as it did in the late 1970s; but so can a severe economic slump due to a deleveraging shock, as in recent years.

What does that tell us about how a gold standard would work? Faced with the kind of shock we've just experienced, the real price of gold would "want" to rise. But under a gold standard, the nominal price of gold would be fixed, so the only way that could happen would be through a fall in the general price level: deflation. So if we'd had a gold standard operating in this crisis, there would have been powerful deflationary forces at work; not exactly what the doctor ordered.

Now, the gold bugs will no doubt reply that under a gold standard big bubbles couldn't happen, and therefore there wouldn't be major financial crises. And it's true: under the gold standard America had no major financial panics other than in 1873, 1884, 1890, 1893, 1907, 1930, 1931, 1932, and 1933. Oh, wait.

The truth is that returning to gold is an almost comically (and cosmically) bad idea.
2. Let the banks' creditors go bust - Barry Ritholz pulls together the evidence to show Iceland got it right by letting bank bond holders take the pain of collapse rather than taxpayers.
Unlike other nations, including the U.S. and Ireland, which injected billions of dollars of capital into their financial institutions to keep them afloat, Iceland placed its biggest lenders in receivership. It chose not to protect creditors of the country's banks, whose assets had ballooned to $209 billion, 11 times gross domestic product.

"Iceland did the right thing … creditors, not the taxpayers, shouldered the losses of banks," says Nobel laureate Joseph Stiglitz, an economics professor at Columbia University in New York. "Ireland's done all the wrong things, on the other hand. That's probably the worst model."
3. Get set for October - Der Spiegel points out Greece's fate is likely to be decided in October.
European leaders are unconvinced that the Greek government's austerity efforts will produce quick results. Greece's fate is now likely to be decided at the EU summit in October. The country's European partners will have to choose among a number of equally unattractive alternatives.

The troika of the European Commission, the European Central Bank (ECB) and the International Monetary Fund (IMF) will spend the entire month of September auditing the books in Athens. Whether the report will be finished by the time the euro-zone finance ministers meet on Oct. 8 is already debatable. Meanwhile, staff at the European Council in Brussels are assuming that the summit of European Union leaders on Oct. 18-19 will be a showdown over Greece.

The IMF is taking a particularly hard line in the negotiations. The fund's envoys feel that Greece's debts are not sustainable and are threatening to withdraw from the aid program altogether. The only alternative is for the public creditors, in particular the European Central Bank (ECB), to write off a portion of Greece's debt.
4. The Republicans' golden death wish - Christopher Mahoney writes at Project Syndicate about the Republican Party's consideration of a gold commission at its convention going on right now in Florida.
I believe that the libertarian monetary proposals are a prescription for disaster on a scale that we can't even imagine. I also believe that such policies would do to the GOP what they did to the GOP eighty years ago, and as a God-fearing Republican, I don't want another twenty years in the wilderness.

History shows that Man does learn from his experience, and the American people have paid a heavy price to learn the following:
1. Soft money is more conducive to economic stability than hard money.
2. The gold standard is inherently unstable and is constantly tested by speculators and foreign central banks.
3. Hard money requires periodic depressions to remain "credible".
4. The money supply should be controlled by a wise and independent central bank with the dual mandates of low inflation and maximum employment.
5. Wildcat currency printing leads to currency chaos. (Do we really have to relearn that particular chestnut?)
6. Hard money requires flexible nominal wages and incomes, which only exist in fantasyland and Hong Kong.
5. 'Don't worry about moral hazard' - Simon Wren Lewis writes at LSE about the Keynesian vs Hayek/Austrian debate and concludes in favour of the Keynesian side. Fair enough, though I'd much rather governments spent the money rather than central banks lending the money to banks.
There was, and still is, a very simple and effective solution to the immediate Eurozone crisis, and that is for the ECB to undertake a programme of Quantitative Easing (QE) focused on markets where interest rates were inappropriately high. There is a deep fear in all central bankers about fiscal dominance, but that has not prevented QE in the US and UK, because those programmes are designed to be reversible once they are no longer needed (or if inflation becomes a threat).

The main reason this has not been done by the ECB appears to be a concern about moral hazard: that without market pressure, governments would lose their incentive to undertake austerity and structural reforms. (There is also a concern about ECB balance sheets, but this just seems to misunderstand what a central bank is.) There are two quite reasonable responses to this concern. First, in a crisis, moral hazard concerns have to be put on one side, as central banks recognise in a financial crisis. The fire engine does not drive slowly to the fire to encourage others to be careful. Second, data on underlying primary balances clearly shows that all periphery governments have already undertaken a massive amount of austerity.

These moral hazard concerns are misguided for a more fundamental reason: they misdiagnose the key problem as public rather than private sector profligacy. Intervention by the ECB to lower interest rates on government debt today is unlikely to encourage excessive private sector spending and lending during the next boom.

There is an underlying pattern behind Eurozone policy errors. They reflect a view that macroeconomic difficulties are primary due to bad government decisions, while private sector decisions within a free market environment do not create problems. Whatever label we want to give this view (Ordoliberal orAnti-Keynesian), it is the fundamental cause of the current Eurozone crisis. Its persistence despite all the contrary evidence allows the crisis to continue and threatens the integrity of the Eurozone itself.
6. Here's an idea - Why don't we auction or lottery off a set number of car registrations a year to limit the number of cars  on the road.
That's what China and Singapore do.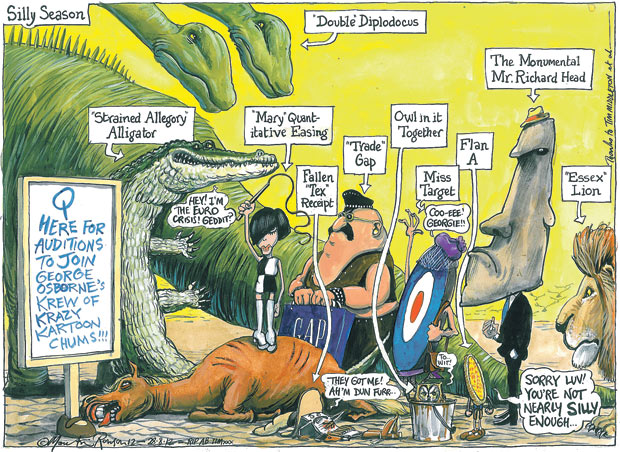 7. The problem with Australian house prices - Contrarian Australian economist Steve Keen is visiting New Zealand for three half day seminars on September 7 and September 8 in Auckland, and September 9 in Wellington.
Here in this blog post from Keen in June where he points out just how over valued Australian house prices are relative to their long term real averages and relative to the falls in America.
This chart tells the story.
8. 'Peak oil is an incontrovertible fact' - So says Ambrose Evans Pritchard in this piece in The Telegraph.
Goldman Sachs said the industry is chronically incapable of meeting global needs. "It is only a matter of time before inventories and OPEC spare capacity become effectively exhausted, requiring higher oil prices to restrain demand," said its oil guru David Greely. This is a remarkable state of affairs given the world economy is close to a double-dip slump right now, the latest relapse in our contained global depression.

What will happen too when car sales in China surpass 20m next year, as expected by the China Association of Automobile Manufacturers?

Kamakshya Trivedi and Stacy Carlson from Goldman Sachs say a disturbing pattern has emerged where each tentative recovery in the world economy sets off an oil price jump that it turn aborts the process. A two point rise in global manufacturing indexes leads to a 30pc rise in oil prices a few months later.

"Oil has become an increasingly scarce commodity. A tight supply picture means that incremental increases in demand lead to an increase in prices, rather than ramping up production. The price of oil is in effect acting as an automatic stabilizer," they said. If so, it is "stabilizing" the world economy in perma-slump.
9. One of the four biggest bubbles of the last 40 years - Marc Faber points out via ZH that Iron Ore is in that category.
Let's see now. Which country is most vulnerable to a slump in the iron ore price?
Australia. See #7 above.
10. Totally The Onion on America's real unemployment problem.