Brendon Harre thinks we have a problem with the poor quality and inadequate quantity of local infrastructure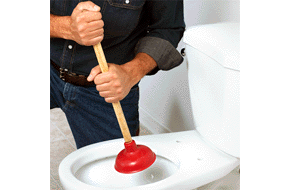 By Brendon Harre*
Does New Zealand have a problem with poor quality and inadequate quantity of local infrastructure? Are our cities blocked up?
An initial look at our transport figures show that Kiwis privately invest heavily in transportation, having one of the world's highest car ownership rates in the world and a high length of roading per capita. But a closer look at the figures shows we have a low amount of motorways per capita and very little passenger rail transport either.
If you compared New Zealand with a country of similar size and population like Finland or population density like the US being the 202nd, 203rd and 179th least populated places in the world. You would see the following.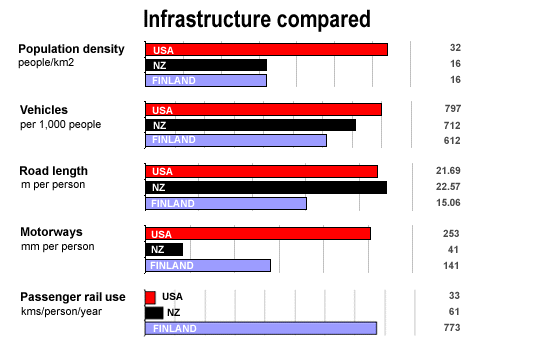 Statistics on transport infrastructure comparisons are hard to come by, but anyone who has travelled or even use google maps will agree this is a reasonable picture of New Zealand compared to overseas.
A direct comparison of transportation spending by all levels of government per capita or per GDP for different countries would be very telling. I think it would show New Zealand has low levels of transportation spending. But this information does not seem to be available, perhaps because there are so many differing agencies responsible for providing transport. So I have used motorway length and rail passenger kilometres as a proxy for how much New Zealand has invested in transport infrastructure.
I think this shows a picture of kiwis after a binge of rural road construction last century becoming frugal on the second and third generation transportation systems like motorways, bus lanes, cycle lanes and passenger rail needed to keep modern cities running efficiently.
I believe that if we analyse the nature of transportation infrastructure as a public good and its provision in New Zealand we can see why we do it and the implications of putting little effort into unblocking our public utilities.
Public goods
All transport systems are public goods to a certain extent and require some collective payment for collective use.
The economics of public goods is very different to that of private goods.
If you want to consume a private good your best strategy is to offer slightly more than what the next person will pay. The highest bidder consumes it and the others miss out.
The system is simple and clear. For a public good, a new or extended transport sytem in this case, your optimal strategy if you want it, is to offer nothing and hope the next person agrees to pay for it. Then you can use it too for free. Note this includes benefiting from using a less congested existing road while others use a new different system. The free rider problem.
Private goods
One option for dealing with this problem is to turn the public good to a private good. So for instance turning public grazing land that was overgrazed into private land with fencing, legal title etc. This being the solution to the tradegy of the commons. But examples of private provision of roads are not promising. The US had turnpike companies that privatised the provision of roads in previous centuries but they all went bankrupt.
This article indicates that turnpikes might have been more successful than thought. That they were informal community service providers of free association, similar to say St John Ambulance, rather than pure profit driven companies. That small socially cohesive towns were able to get a lot of local buy in for these schemes despite the poor prospects for generating profits.
But given the size of infrastructure projects nowadays and the fact we do not live in small homogenous 1820s American towns this is not a modern solution.
Another possibility is to turn public goods into clubs, to formalise the community service process.
Clubs manage expensive public infrastructure expendicture quite well, say a swimming pool. Annual membership pays for the capital costs and a smaller admission charge deals with congestion and running cost issues.
People are free to choose to join clubs and enjoy in a group setting the type of amentities that they want.
Local government can been seen as big clubs, with residents choosing where to live, rates being your share of capital costs, while things like bus fares, road user taxes, congestion charges being for ungoing expenses and congestion issues.
Weak, divided and powerless
The problem we have in New Zealand is that since Provinces were abolished in 1876 Local Government has been weak, divided and powerless.
Central government sees them as another agency under their control. Your local bowling club has more independence from an interfering Wellington than your Local council.
In Canterbury the Provincial Council put through the Lyttleton rail tunnel, the longest tunnel through volcanic rock at the time in the 1860s (long before the Cathedral, is there a lesson here?).
Whereas Local Government couldn't put through a road tunnel until the 1950s and only after central government funded it in response to industrial action from harbour and rail unions.
Councils in New Zealand can handle business as usual but they cannot handle big new projects.
That is why Central government is rebuilding Christchurch a city originally built by Provincial government.
We have two further problems. Auckland is now much bigger than the other centres. In the US if you don't like the costs and amentities of one city, say LA, you can move to a similiar sized city which can probably cope with your employment/business needs, say Houston. So in the US there is a lot competition between places regarding amentities, costs and new residents.
In New Zealand the size of Auckland makes it harder for other centres to compete. Although I think Canterbury could surprise Auckland given a chance.
The second big problem is is our Local Governments have little taxation powers, they are reliant on rates.
Rates are paid by property owners, many of whom are no longer economic active, they are retired. There is a limit on how high rates can go because you have this large group who are property rich but income poor.
So even if a city or region is economically active, the infrastructure spend of local government will depend on how much rates the property owning but no longer economically active group can tolerate. The taxes from the economically active, these being income tax, petrol tax, company tax, GST etc goes to Central government and they are reluctant to share it. The incentive structure of our local government is all wrong.
New Zealand has a new Super Council in Auckland but it is not super because its revenue base can only fund business as usual, not new projects. It is Central government that provides the significant new funding for Auckland's evolving transport needs, a rail loop and harbour crossing for example.
Three options
Local Councils in New Zealand have three options for dealing with their inability to fund new projects.
They can allow urban growth to occur by keeping costs to a minimum. This allows new housing to respond quickly to increased demand, supply is elastic. Local government could use new methods to fund infrastructure within the new housing areas like MUDs. (See this thread to get a good discussion of MUDs and how it would effect debt levels for individual households and nationally). But this option means no new city wide infrastructure projects to connect the new residential areas with the rest of the city. This option risks voter rejection due to concerns about congestion and bland urban growth - which is why I assume our local governments do not choose to do this.
Or Local Government can try to save money by encouraging no urban growth or only upward growth and therefore limit the infrastructure spend that way.
Unfortunately this causes the supply of housing to become inelastic and any new demand for housing leads to price rises rather than new housing.
It transfers costs from the city wide public who save on infrastructure expenditure to those who do not own property coping with rapidly rising housing costs. This creates arguments with Central government because it faces the economic and political fallout of unaffordable housing.
This option also risks bureaucratic capture as the planning restrictions create an expanding workforce of empire builders within Local government. 
A downward spiral of rising Local Government costs leading to an increasingly dysfunctional planning and consent process can result. Unfortunately this is Christchurch's problem and the national building consent auditor -IANZ has recently removed CCC power to issue building consents.
Finally this option can result in special interest capture from the likes of land bankers with consentable land, as the urban growth limits provides gains for some and costs to others.
Or Local Councils can go begging to Wellington. The councils with the most leverage do the best. Auckland for instance is a master at using its size to present its demands for better local services as being in the national interest.
A dynamic is created of begging Local Government and bribing Central Government as the method of providing local infrastructure, with both parties being more interested in the political rather than the economic payoff.
The timing and nature of recent big ticket infrastructure announcements seem to be motivated more by political rather than economic factors. The government announcements seem to be about preventing Labour getting any traction from its recent policy announcements regarding affordable housing and reforming the electricity market.
Not that our main opposition party Labour has a good tract record in these matters.
When in power the above dynamics were all occurring. Housing became highly unaffordable and all they did was make a few Central government initiatives like Working for Families rather than reform Local Government where the problem really lies.
And Labour's recent policy initiatives continues with this trend of centralised rather than localised solutions, Kiwibuild for kiwi housing and Kiwipower.
Long term requirements
What isn't happening is a long term guarantee that infrastructure to new urban growth areas will be provided on an 'as needed' basis to prevent the blockage of transport and other infrastructure.
Given the lack of this, Local Councils will not get the voter support that allows them to supply new residential areas elastic enough to provide affordable housing.
Overall the signal to all concerned is preserving the status quo is the name of the game - political stability for those in power in Wellington - Auckland's dominance over other centres to be unchallenged - and the interests of existing property owners to be preferred over the interests of the newly economically active.
---------------------------------------------------------------------------
Brendon Harre is a reader and commenter on interest.co.nz. "I studied some university economics but my career was in psychiatric nursing, I have lived in Finland until recently where I retrained as a cook. Currently I am at home in Christchurch looking after two preschool boys."