Bernard Hickey points out that the big planned additional supply of houses will raise debt levels and interest rates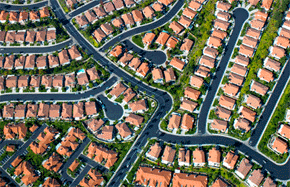 By Bernard Hickey
The Auckland Accord's target of consenting 39,000 new houses is shaping up as a holy grail for the government, the Auckland Council and, now, the Reserve Bank.
The lament is echoing up and down the country: if only Auckland could build a lot more houses the Reserve Bank could avoid an interest rate hike that hurts everyone else from Kaitaia to Bluff.
Reserve Bank Governor Graeme Wheeler even suggested this week a rate cut was possible if a 'supply response' actually happened to dampen the current surge in Auckland's house prices.
That is a big carrot to hold out in front of politicians and voters, but it relies on on some dangerous assumptions.
As mentioned in this column last week, there are real questions about the capacity of New Zealand's construction industry to build that many houses in that short a time, given so many of our tradespeople have either moved to Australia or Christchurch.
Secondly, if the required tripling of building activity actually happened, most expect it would generate its own surge of construction cost inflation, which might of itself take that rate cut carrot off the table or even force rate hikes.
But there is a third and as yet un-debated problem with the assumptions holding up the 39,000 consents holy grail. Who will pay to build and buy these homes?
The current central and local government assumption is that private individuals, either first home buyers or investors, will buy these houses. They also assume that private developers will finance and build these dwellings before selling them to individuals.
The last surge of housing developments in the mid 2000s was financed to the point of building completion by a combination of off-the-plan deposits from buyers and loans by finance companies.
That financing is now gone, particularly for the type of higher density apartments and town houses that are mandated by the Auckland Plan and likely to be the most affordable. Finance companies no longer exist and banks are now particularly wary of new apartments and town houses in the wake of the leaky building debacle and uncertainties about body corporates.
If banks do lend on these sorts of buildings it is only with big deposits, which puts them out of reach for many first home buyers and investors.
Then there is the bigger issue of how home buyers would finance their purchase, even if the housing development was consented, financed and built for a reasonable price. This is the dirty little secret at the heart of our economy.
New Zealand's households are already up to their eyeballs in debt.
Governor Wheeler pointed out in passing in his speech that New Zealand households remain very highly leveraged at 145% of disposable income.
That is higher than the 130% peak hit by American households in 2007 and is barely below the 153% peak hit in New Zealand in 2009.
New households (first home buyers) or existing households (rental property) would have to take on extra debt to buy these 39,000 houses.
Assuming they took on NZ$400,000 of debt each to buy 39,000 houses at NZ$500,000 each, that implies an extra NZ$15.6 billion of debt on top of the NZ$180 billion of mortgage debt already sitting on top of households. That would lift the household debt ratio to nearly 160%.
That's only sustainable if interest rates stay at record lows forever.
Most expect interest rates to be rising over the next three years just as these 39,000 houses are supposed to be in their construction phase.
It's also only possible if banks lend most of that with deposits of less than 20%, which is something the Reserve Governor warned in his speech he wanted to limit, or at least slow down with 'speed limits' on the proportions of new low deposit lending.
The only balance sheet with the strength right now to fund a massive increase in Auckland house building is the central government's, and the current government has no appetite to borrow to build those houses.
So we are back where we started. The holy grail of 39,000 consents is just like the one of Arthurian legend - mythical.
So what should the Reserve Bank do, if anything?
Its most effective instrument remains the Official Cash Rate and if it is serious about reducing the financial risks of a new housing inflation boom it should put it up substantially and now.
By relying on a mythical supply response to contain house price inflation, the Reserve Bank risks repeating its mistakes of 2003-07 when it acted late and let New Zealanders insulate themselves from rate hikes by fixing their mortgages for years, blunting the power of the bank's one good tool.
Right now, as the Reserve Bank and Government talk about holy grails and fret about unintended consequences, banks are offering 2 year fixed mortgages for less than 5%.
If Governor Wheeler is not careful he will end up like the Black Knight in 'Monty Python and the Holy Grail': a quadruple amputee railing at King Arthur: 'Just a flesh wound!'.
-------------------------------------------------------------
This article was first published in the Herald on Sunday. It is used here with permission.