Bernard Hickey points out that the tame Auckland rental market gives an important clue to the distorted Auckland housing market - it's not just about supply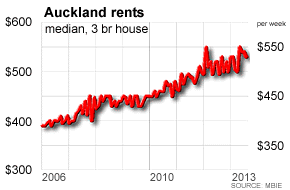 By Bernard Hickey
If Auckland really has a housing supply shortage, why haven't rents increased?
This was one of the unsettling questions the Reserve Bank had to answer this week as it discussed the economy's major roadblock - Auckland's apparently tight housing supply.
Surprisingly, it was Auckland's Epsom-based National list MP Paul Goldsmith who asked the question of bank officials at this week's Finance and Expenditure select committee hearing after the release of the bank's September quarter Monetary Policy Statement.
The National government's entire thrust of the last six months has been to force through an increase in the number of houses built in our largest and fastest growing city.
It's widely believed that Auckland has a housing shortage and is building only half the number of houses it needs to keep up with population growth.
The government's message this year has been all about Auckland housing supply.
In theory, this shortage is the reason Auckland house prices rose 17% in 7 months between November and May and the reason why the government rapidly passed legislation to force Auckland to open up its land supply and take some of the pressure off interest rates.
The Reserve Bank confirmed this week it is likely to increase interest rates by around 1% next year in the lead up to the November election, but it also said it would have been more like 1.3% if it hadn't introduced its 'speed limit' on growth of high Loan to Value Ratio.
But if supply really was the only driver behind Auckland's latest boom, why haven't rents increased at the same rate as house prices ?
They certainly have in Christchurch, which has an obvious shortage of houses because of its earthquakes.
TradeMe figures for average rents show Christchurch rents were up 22% in the June quarter of this year vs a year ago because of a 7% fall in listings and a 16% increase in rental inquiries.
That all makes sense and is in tune with a rise in median house prices in Christchurch of more than 12% for most of this year.
Yet TradeMe figures for Auckland show average rents actually fell 1% over the same period that house prices were rising at an annual rate of 13%.
This appears to make no sense if the problem of house price inflation was only a supply problem, as the government has been pounding on about this year. Reserve Bank officials suggested a couple of possible reasons.
A lot of first home buyers have stopped renting and are looking to buy, which means less demand for rentals.
Also, a lot of owner-occupied homes bought this year in Auckland have been bought by rental property investors, which means supply of rentals rose.
TradeMe reported supply of new rental listings actually rose 5% across Auckland in the last year and the number of rental inquiries fell 2%.
The surge of former owner-occupied houses becoming rentals was most evident in Mt Eden (up 19%), Mt Wellington (up 24%) and Remuera (up 10%).
All of which confirm that Auckland's house price boom of the last year was at least sparked, if not wholly caused, by a surge in demand due to low interest rates, easier bank lending policies, higher migration and stronger non-resident buying.
Auckland clearly hasn't built enough new houses, but this was not a new problem.
This created the dry forest and the tinder, but it was the demand surge that sparked the fire.
That's why the Reserve Bank's moves to limit high LVR lending and warn of higher interest rates were not only right, but already appear to be working.
Since the Reserve Bank told the banks privately to cool it in early June and warned in July of higher interest rates, the median house price in Auckland has fallen more than 2% and the bank pointed to "signs of stabilisation" in its report.
Prices are always a reflection of both demand and supply, which shouldn't be forgotten in all the debate about Auckland's house price problem.
It's not just about supply.
----------------------------------------------------------------------------------------
This piece was first published in the Herald on Sunday. It is used here with permission.