Gareth Morgan says the data is clear on migration and house prices. But he says it is the numbers coming from the UK that are the biggest influence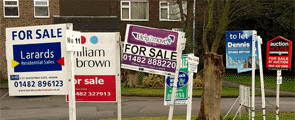 By Gareth Morgan*

They say a picture can paint a thousand words
So let's save words and cut straight to the chase on the issue of immigration and house prices…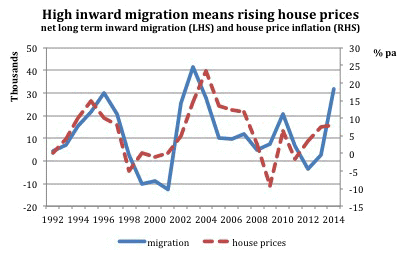 Over the past two decades migration has had a strong influence on New Zealand's property prices.
Net long term inward migration is the number of people arriving who intend to stay minus the number of people leaving who intend to stay away.
When the net number has been positive and large, house price inflation is high.
When the number is negative or low house price  inflation is negative or low too.
Net inward migration has been rising over the past two years and this hasn't yet had the boost effect on house prices you might expect.
 It seems likely that some of this is due to the RBNZ's loan deposit restrictions, which was designed to keep the lid on prices.
The composition of migration might be another factor (some migrants may simply live with family members already resident here).
The experience from 1998 to 2000 shows that the relationship between migration and house prices isn't exact – the trends can diverge for a while.
But with last week's Budget economic update forecasting that net migration would stay above 20,000 for the next two years, it looks like upward pressure on house prices will be with us for a while.
As an aside, there's been a lot of finger-pointing recently, as people try to blame particular groups of migrants for house price pressures.
The fact of the matter is in the year ended March 2014, 13,000 more people left NZ permanently for Australia than came the other way so you can't blame Australia's economic woes for what's happened in housing.
The coming year may be a different story though – outflows to Australia are falling and inflows are rising. Last year the flow of New Zealand expats returning from Australia was the highest in over two decades. With over 500,000 New Zealanders living in Australia, the potential impacts are significant.
A common myth is that most of New Zealand's migrants arrive from China. They don't – the UK was the single largest source of migrants last year and indeed every year over the past two decades.
Compared to 8,600 net arrivals from China last year, 14,000 arrived from the UK.
There are significant levels of inward migration from other countries too – most important in this respect is India where net arrivals exceeded 7,000 last year after strong growth.
The significance of migration from the UK can be summed up best with this simple fact: since 1992 365,709 people (net) have arrived from the UK to live permanently in New Zealand – more than enough to fill Wellington City and the Hutt Valley.
Sure, some of these may well be returning Kiwi expats, but no-one knows how many.
Long term net migration from China over the same period was 129,000, India 85,000. So while focusing on migration patterns from Asia seems to be a hobby for many, it won't get you very far if you want to understand fundamental pressures in the housing market.
----------------------------------------------------------------------------
Gareth Morgan is a director of the Morgan Foundation. This article was first published here. It is here with permission.