Friday's Top 10: Matthew Bartlett on the IMF backing inequality, unashamed economic defenders of inequality, Piketty for dummies, the tax system that fights inequality, Dilbert & more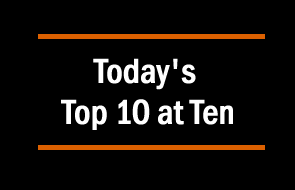 Today's Top 10 is a guest post from Matthew Bartlett from the New Zealand Council of Christian Social Services, which is running the Closer Together Whakatata Mai campaign. He focuses on income inequality.
As always, we welcome your additions in the comment stream below or via email to david.chaston@interest.co.nz.
And if you're interested in contributing the occasional Top 10 yourself, contact gareth.vaughan@interest.co.nz.
See all previous Top 10s here.

1. The IMF backs inequality
Some people can be dismissed as lightweight flibbertigibbets.
The good folk at the IMF? Not so much.
So when they published a paper in February this year with evidence that countries with lower inequality had stronger economies, it was hard to ignore them.
We find that higher inequality seems to lower growth. Redistribution, in contrast, has a tiny and statistically insignificant (slightly positive) effect.

These results are inconsistent with the notion that there is on average a major trade-off between a reduction of inequality through redistribution and growth. If there were such a trade-off, then the coefficient on redistribution should be not just negative but more negative than that on inequality. If that were the case, then redistribution that reduced inequality would on average be bad for growth, taking into account both the direct effect of higher redistribution and the effect of the resulting lower inequality. The results in column (1) decisively reject that hypothesis: the coefficient on net inequality is clearly negative while that on redistribution is close to zero.

This implies that, rather than a trade-off, the average result across the sample is a win-win situation, in which redistribution has an overall pro-growth effect, counting both potential negative direct effects and positive effects of the resulting lower inequality.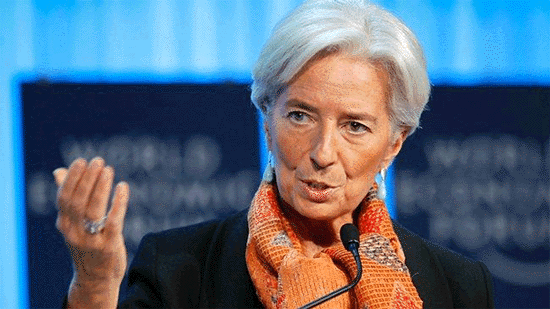 2. Where's my recovery?
Inequality/poverty is now the No 1 issue for NZers in the Roy Morgan poll. That's because, inequality author Max Rashbrooke argues, people are starting to wonder where all our supposed economic growth is going.
Now that the economy is theoretically well into a recovery, with growth expected to be 2-3% in coming years, that has all changed. People see growth – but they feel they are not getting their fair share. Since nearly half the workforce didn't get a pay rise last year, and benefits haven't been increased (except for inflation) in a very long time, they are probably right to feel that way.

All of which means that questions of distribution – 'who is getting what?' not just, 'am I doing okay?' – become much more relevant. So unless dramatic steps are taken to redistribute income, we can expect to see these concerns continue to rise in the coming months and years.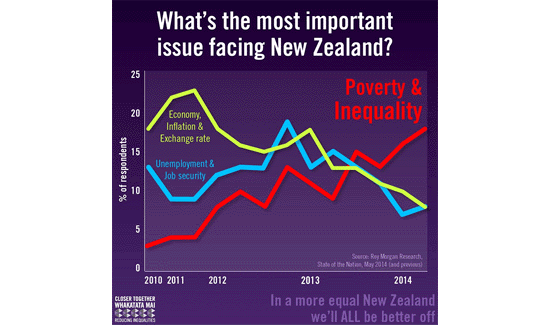 3. In defence of the 1%
Unashamed economic defenders of inequality aren't as numerous as they once were, but Greg Mankiw hasn't lost his convictions. While we don't agree with much of what he says, it's still the clearest argument for unchecked inequality we can find.
Consider chief executives. Without doubt, they are paid handsomely, and their pay has grown over time relative to that of the average worker. In 2012, the median pay of CEO's for companies in the Standard & Poor's 500-stock index was nearly $10 million. Did they deserve it?
Critics sometimes suggest that this high pay reflects the failure of corporate boards to do their job. Rather than representing shareholders, this argument goes, those boards are too cosy with the chief executives and pay them more than they are really worth.
Yet this argument fails to explain the behaviour of closely held corporations. A private equity group with a controlling interest in a firm does not face this supposed principal-agent problem between shareholders and boards, and yet these closely held firms also pay their chief executives similarly high compensation. In light of this, the most natural explanation of high CEO pay is that the value of a good CEO is extraordinarily high.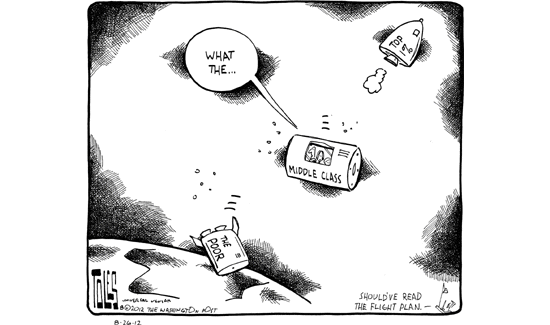 4. Piketty for dummies
Thomas Pikketty's Capital in the Twenty-First Century is the talk of the economic world. But we can't all face reading a 700-page tome, no matter how many Jane Austen references it has. NZ economist Geoff Bertram Piketty for dummies is the answer to our prayers.
Piketty in three sentences:

1.The economic logic of a capitalist market system with private wealth plus inheritance leads to a highly unequal, but stable, social order with a patrimonial rentier class at the top.

2. Whether this social order is compatible with democracy depends on what a democratic society is prepared to tolerate.

3. If the capitalist distributional equilibrium does not lie within the boundaries of democratic tolerance, one or other has to give.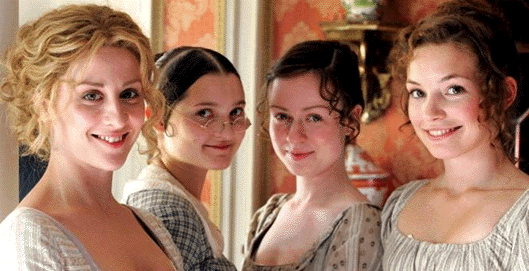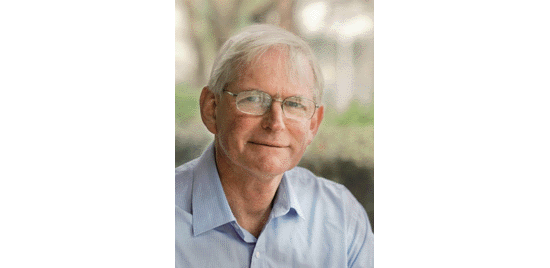 5. The sensation bites back
Speaking of M. Piketty, the Financial Times' claimed 'expose' of his work made headlines last month. Here, Piketty makes it clear – very gently – just what a hash the FT made of the numbers.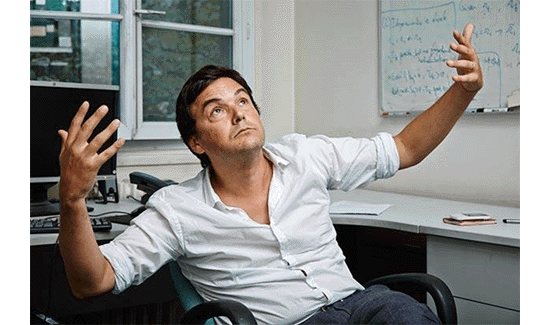 6. The Pope weighs in
Pope Francis - reportedly the most influential Twitter user in the world - in the first major publication of his papacy last November denounced our current financial system, consumerism, capitalism, inequality, and the tyranny of capitalism. (Also see Matt Nolan's Top 10 from last December on what the Pope said).
Just as the commandment "Thou shalt not kill" sets a clear limit in order to safeguard the value of human life, today we also have to say "thou shalt not" to an economy of exclusion and inequality. Such an economy kills.

We have created new idols. The worship of the ancient golden calf (cf. Ex 32:1-35) has returned in a new and ruthless guise in the idolatry of money and the dictatorship of an impersonal economy lacking a truly human purpose.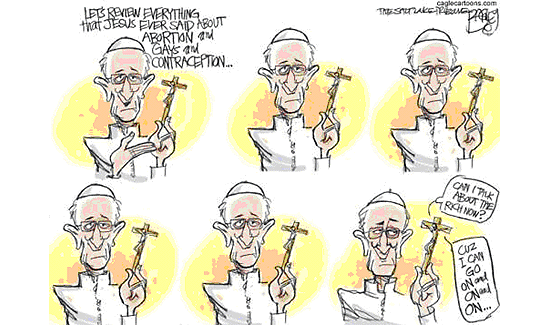 7. Economic inequality: A user's guide
Few people have spent as much time studying New Zealand's inequality as Brian Easton. Here the self-professed keeper of "the lonely garden of the analysis of economic inequality" sets out some key facts and data about our income and wealth gaps.
Is New Zealand satisfied with shifting from a low inequality to a high inequality society? What would its founding nineteenth century migrants have thought about the fact that, after allowing for each country's size and affluence, New Zealand is now more unequal than the countries they left? And what would those who invited them here have thought had they known their descendants would be firmly in the bottom end of the unequal distributions?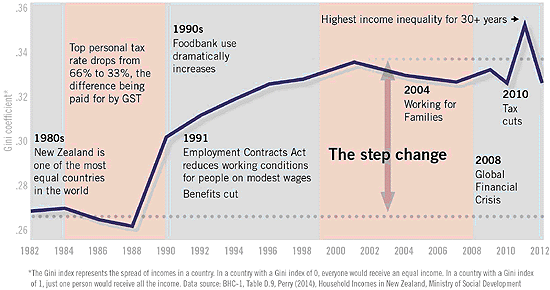 8. The great divide
The New York Times has been running an 18-month series on income inequality, with Joseph Stiglitz as curator and editor. The Nobel prize winner has just summed up the series with his usual style and grace.
The problem of inequality is not so much a matter of technical economics. It's really a problem of practical politics. Ensuring that those at the top pay their fair share of taxes — ending the special privileges of speculators, corporations and the rich — is both pragmatic and fair. We are not embracing a politics of envy if we reverse a politics of greed. Inequality is not just about the top marginal tax rate but also about our children's access to food and the right to justice for all. If we spent more on education, health and infrastructure, we would strengthen our economy, now and in the future. Just because you've heard it before doesn't mean we shouldn't try it again.

We have located the underlying source of the problem: political inequities and policies that have commodified and corrupted our democracy. It is only engaged citizens who can fight to restore a fairer America, and they can do so only if they understand the depths and dimensions of the challenge. It is not too late to restore our position in the world and recapture our sense of who we are as a nation. Widening and deepening inequality is not driven by immutable economic laws, but by laws we have written ourselves.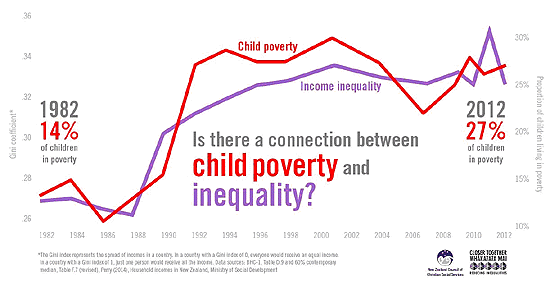 9. The tax system that fights inequality
One of the things that taxes already do is reduce inequality. Nobel prize winning economist Robert Shiller argues that top tax rates should go up when inequality increases, as a counterbalancing force. It's a provocative but sensible idea.
10. The whole story in one chart & one video…
Whatever is said about inequality, it's hard to escape this fact: in the last 30 years, incomes have doubled at the top, while barely shifting at the bottom. That's the issue we have to confront.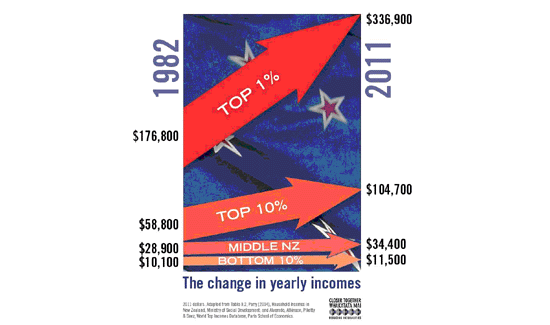 Inequality: A New Zealand Crisis – Max Rashbrooke from NZCCSS on Vimeo.
--------------------------------------------------------
* Closer Together is a programme run by the NZ Council of Christian Social Services (NZCCSS) about New Zealand's economic inequality problem and what to do about it. NZCCSS is the umbrella organisation representing Anglican Care Network, Baptist Churches of Aotearoa New Zealand, Catholic Social Services, Presbyterian Support New Zealand, the Methodist Church and the Salvation Army.