Nirmal Nair on smart energy, how many engineers a country needs, electric vehicle technology, Finland's lessons for NZ, Dilbert & more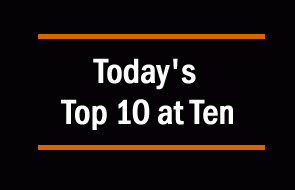 Today's Top 10 is a guest post from Nirmal-Kumar Nair, a senior lecturer at the Department of Electrical and Computer Engineering at the University of Auckland.
As always, we welcome your additions in the comments below or via email to david.chaston@interest.co.nz. And if you're interested in contributing the occasional Top 10 yourself, contact gareth.vaughan@interest.co.nz.
See all previous Top 10s here.
For my Top 10 this time I have identified items of particular relevance in two areas of interest to me. Firstly, engineering education, and secondly innovation in smart energy technology.
How many engineers does New Zealand need, what are the trends of engineering enrolments, do we need to really ramp up, and what is the quality of our secondary education to meet these aspirations? These issues form the first part of this Top 10.
In the second part, I would like to share the latest trend on patents, open-source, trials and innovation tracking in the area of smart energy.  This is to showcase how internet and information technology companies with their "war-chest" are navigating through a variety of existing processes and newer "disruptive" means to identify big business opportunities. Companies like Google, Tesla and Microsoft have started following traditional corporation strategies like takeovers and restructuring, along with their well-known nimbleness and innovative funding pathways (angel investors', crowd funding, philanthropic).
1. How many engineers does a country really need?
OECD comparisons show that in terms of the proportion of total graduates who are in engineering, New Zealand has less than half the number of engineering graduates of the OECD average of about 12%. Yet our difficult geography and dispersed population might indicate the need for greater numbers rather than fewer engineers compared to other countries. The percentages below reflect to some extent the nature of the different economies. Some are highly industrialised countries (Finland, Germany, Japan and Korea), and those countries are typically above the OECD average.
Other countries such as Australia and the USA that also produce graduates below the OECD average, have reported severe shortages in engineering. This suggests that even if the OECD average is not achieved by New Zealand, being below the level of 9% achieved by the UK does not appear prudent. The UK is the country with the lowest percentage of graduates in engineering not to have experienced substantial engineer shortages. If 9% of the graduates were to be in engineering, New Zealand needs 1.8 times the number of engineering graduates it currently produces.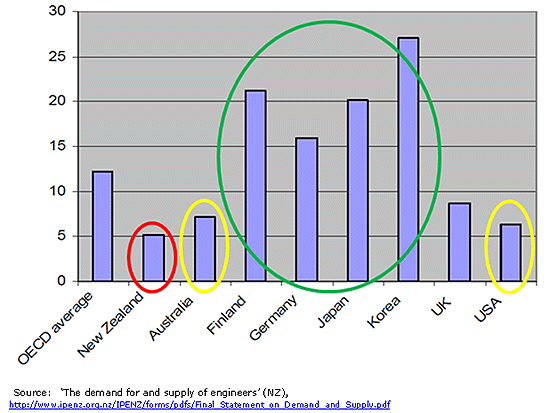 2. Going forward, can we estimate how many and what kind of engineering qualifications we need?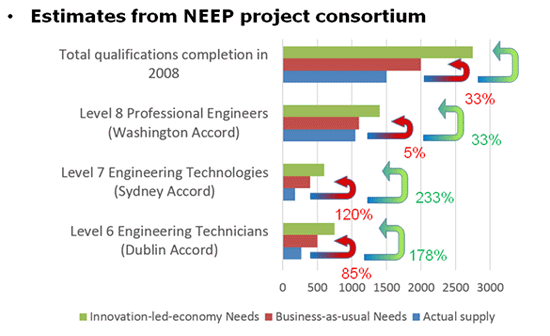 The aim of the National Engineering Education Plan (NEEP) Project was to develop a coherent national plan to produce the right number of the right types of engineering graduates to meet New Zealand's needs.
One of the work-streams in the project is to research the demand for and supply of engineers with levels 6, 7, and 8 qualifications. The project consortium used four sources of data to reach estimates of the likely future demand for engineering graduates. IPENZ is a signatory to the Washington Accord for the four-year BE degree, the Sydney Accord for the three-year BEngTech degree and a provisional signatory to the Dublin Accord for the two-year diploma.
The consortium considered two scenarios:
o "business as usual" – based on historic patterns, and
o "innovation-led economy" – based on increased participation by engineers in building innovation-led businesses with consequences also for career diversity.
3. What are the tertiary qualification trends in New Zealand?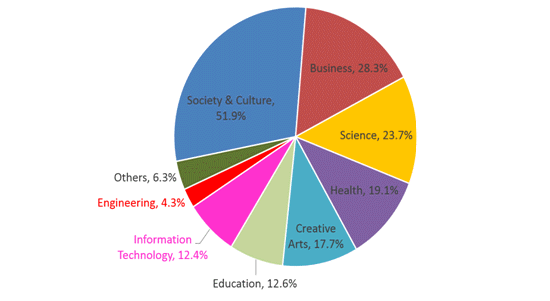 The Pie-chart of the NZ domestic student field of study in 2011 shows that  5,570 (4.3 per cent) of New Zealand students studying for bachelors' degrees last year were in engineering, compared with 67,300 in "society and culture" fields such as languages, law and social sciences.
The graph below shows the total numbers of enrolments from 2004-2012 in Level 4-8 qualifications (certificates, diplomas, degrees, graduate certificates/diplomas, honours/postgraduate certificates/diplomas).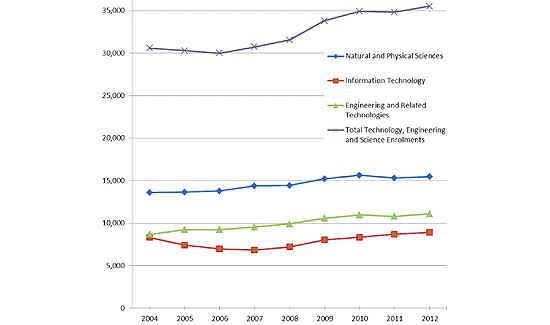 NZ domestic enrolment in technology, engineering and science certificates, diplomas, degrees
A key indicator of Futureintech's success is tertiary enrolments in technology and engineering. Futureintech has just over 800 Ambassadors from 420 Partner companies, and in 2013 those Ambassadors spoke with 43,606 students in 281 schools. Another component of the revised programme in 2013 was a focus on careers information for students in Years 7-13.
4. How are high-school students performing?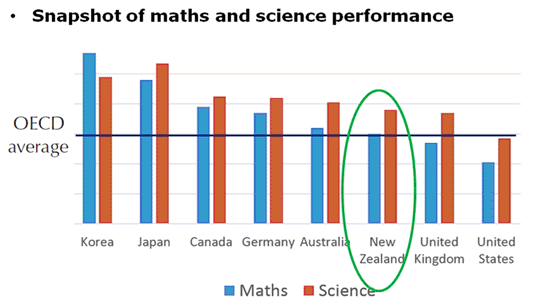 Programme for International Students Assessment
The global metric for quality, equity and efficiency in school education is known as the Programme for International Student Assessment (PISA). PISA assesses the extent to which 15-year-old students have acquired reading, mathematics, science and problem-solving.  (All 34 OECD member countries and 31 partner countries and economies participated in PISA 2012, representing more than 80% of the world economy. Around 510,000 students between the ages of 15 and 16).
NZ maths mean score is around the OECD average, science mean score above average. Asian and other highly industrialised countries perform better.
My perception is that secondary education in NZ is probably doing fine.
Dilbert (as an Engineer) in the 1990's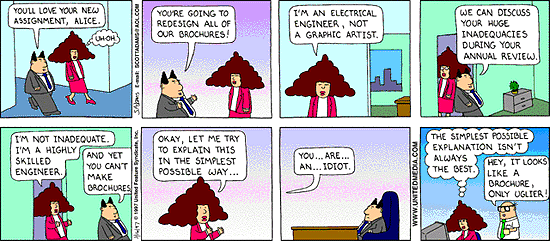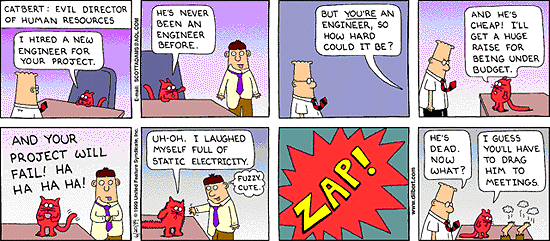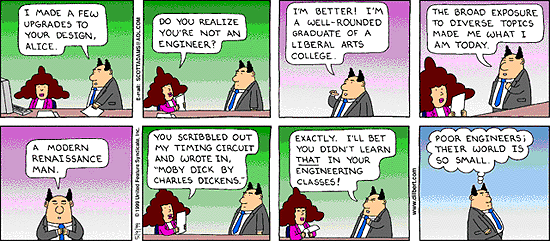 5. Electric vehicle technology development:  Patent strategy loses to open source?
In my May Guest Top 10 , I had flagged through item 10 the following:
Toyota-Tesla partnership of 2010 for joint development of EV's no more. Each to go their own way for developing 'futuristic" solutions for personal travel.
Some subsequent development in that space has now emerged that caught my attention. Elon Musk, the CEO of Tesla, has announced an open source pathway for faster commercialisation by removing his patent wall at his Palo Alto HQ. 
Is this a new business strategy?
Trying disruptive technology through an open-source and crowdfunding model?
We will have to watch this space. Something good might come out of this in the storage charging space ...
6. The trend of "disruptive technology" trials by internet companies in the smart grid electricity industry
Google in 2009 went about trialling a project dubbed as Google PowerMeter.
It was heralded as taking over the utility metering business through "disruptive" open source.  The trials ended in 2011.
Their engagement with the industry through the trials appears to have paid off by them identifying other opportunities with potential future lucrative business. Early this year they acquired Nest Lab Incs.
Business plans appears to be in the home automation and smart home segment.
7. Sir Bob Geldof launches a publicity campaign for £11 million rollout of smart metres across the UK
The entity charged with the rollout, to be completed by 2020, is Smart Energy GB.
The estimated cost to each household is £200 for deploying this technology.
For the policy and technology interested, this site provides good information
Technical specification for this "magic-box" is also available, which engineering researchers can choose to design and develop !
8. Google IEEE offers $1 million dollar prize for smart inverter
Google in partnership with IEEE, the world's largest professional association, has launched a global competition.
Another trial to get researchers/technologists identifying the next business opportunity for commercial companies. Smart!
9. Microsoft announces layoffs: Is this the lean, mean corporate strategy?
Manufacturing corporations usually follow the lean, mean strategy (automation, layoffs, retraining) to derive corporate efficiency. Are software/internet companies now taking a leaf out of their books?
The new CEO of Microsoft, Satya Nadella, has announced 18,000 job layoffs (14% of the workforce).
Primarily, this followed Microsoft's two pronged tactic of firstly acquiring telecommunication companies (mainly handset vendors), and then restructuring them to align more closely with software/IT work culture and ethos. On the growth strategy their bet appears to be around the cloud based platform.
There is bar graph of the layoffs as a percentage of total staff on this website.
10. Finland's dilemma; Some pointers for New Zealand in its journey of engineering skills nurturing?
How the previous story of Microsoft corporate lay-offs affects the fortunes of a country, or aggrieves their ongoing economic uncertainty, is best highlighted by this story from Finland.
The highly skilled and globally recognised Finnish workforce will now adapt and retrain into new areas of high-tech, which given their technical education will be a relatively painless transition.  The message for smaller countries from this is not to "niche" talent pool in one speciality. 
Though my first four stories in this edition was around New Zealand's engineering education state of affairs and growing them, the current Finland experience highlights the need for diversity in technical skill sets that a country invests in. Do not put all your high-tech skill training eggs in one basket!