Bernard Hickey questions the timidity of the Government's social housing plans. He suggests Mr Key take a leaf out of Mr Lee's book to launch a Houses of National Significance program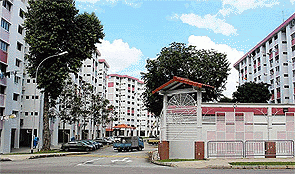 By Bernard Hickey
Sometimes it's worth approaching a tricky nation building problem by asking the question; what would Lee Kuan Yew do?
Watching Prime Minister John Key grapple this week for the umpteenth time with the seemingly intractable problem of Auckland's lack of affordable housing got me wondering about how others have done it successfully.
Mr Lee, the founder of modern Singapore, achieved a remarkable thing in a few short decades. He built a vibrant, functional and very rich city out of a bunch of war-damaged colonial buildings and a fetid swamp.
Dragging the young nation out of a civil unrest and without any natural resources, one of Mr Lee's first and major achievements was a massive programme of public housing construction.
Year after year, Singapore's Government and its version of our New Zealand Superannuation Fund invested in building row upon row of apartment blocks known as HDBs, which are short for Housing and Development Board blocks.
These originally basic apartments lifted Singapore's young citizens out of unhygienic shanty towns and allowed them the financial room and security to educate themselves and their families.
Singapore's very unified Government, under the direction of one man, coordinated the construction at scale of housing in tandem with well-planned and coordinated transport, schools, shops and playgrounds. It used those economies of scale to keep costs down.
These HDBs are the defining feature of the city state and the bedrock upon which its society is built.
Confident of affordable, safe and well maintained public housing, families were able to save big chunks of their wages and reinvest it in their futures.
More than 80% of Singaporeans still live in them and many have now bought them as their family homes.
I took the opportunity earlier this month while visiting Singapore to take the excellent public transport out from the CBD to visit a few of these blocks and 'Hawker' centres usually based in and around the open ground floors of these HDBs.
The older style ones are open air food courts and fruit and vegetable markets that form the heart of their communities. Retired Singaporeans play checkers on plastic tables alongside kids doing their homework. The newer HDBs are more likely to have 'sky bridge' gardens, sports complexes and air-conditioned mega malls attached.
Mr Key, a former resident of Singapore during his travels as a foreign exchange dealer, has rightly professed in the past an admiration for Singapore's achievements.
In 1966, Mr Lee was in charge of city with more than half a million people living in squatter camps and in over-crowded and unhealthy low-rise buildings. Newly independent from Malaysia and with race riots fresh in the memory, Mr Lee presided over a HDB construction programme to build more than 50,000 units in five years.
Mr Key now faces a housing shortfall in Auckland that has hamstrung the economy, damaged the Government's finances and is the major cause of child poverty in New Zealand - itself another blockage to economic growth.
What's desperately needed is 50,000 new homes in five years.
As Prime Minister, he doesn't have the same authority as Mr Lee did to govern local town planning or force through developments that might be unpopular with some. But Mr Key also has a fresh electoral mandate and control of major transport funding, schools and the health system that most modern Prime Ministers don't have.
So why doesn't Mr Key use the central Government's strong balance sheet with an 'investment-led' approach to fix New Zealand's major infrastructure issue of a lack of affordable housing in Auckland?
His National Government has chosen just the same investment-led and capital intensive approach to addressing Auckland's transport infrastructure deficit. Mr Key's Government has spent billions on Auckland's motorways without batting an eyelid.
This week's announcements of 300 rent subsidies for community groups initially and plans to sell up to 2,000 state homes in the next year in the hope it might spark some new building is painfully timid.
In all the Government's targets and numbers, there was not one saying how many new houses would be built because of the reforms.
Those community housing groups are in no position to pay the NZ$500 million plus implied by those homes' valuations, let alone build the many thousands of new social homes required to meet the current shortages. These groups are still awaiting detail on the terms of the subsidies, the scale of the discounts and whether they have tax-free status before committing themselves.
Even then, they will need to secure finance from banks and others, and find developers and builders to do the work - all in a piecemeal and fragmented way.
This plan might deliver 5,000 new houses in five years if everything works, not the 50,000 that are needed.
Even Mr Key acknowledged this week that the Tamaki development, which is meant to be Auckland's showcase development for new affordable homes, is happening too slowly and is dogged by a disjointed approach.
He's even talked about creating a new urban development authority to do the job.
Mr Key could take a leaf out of Mr Lee's book and launch a Houses of National Significance (HONS) programme to match its Roads of National Significance programme (RONS). New Zealand could do with a few HONS to match the HDBs that Mr Lee built.
-----------------------------------------------
This article was first published in the Herald on Sunday and is here with permission.