Bernard Hickey wonders if central banks are wasting their time with money printing to solve a deflation problem caused by supply shocks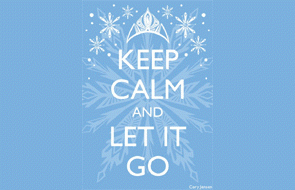 By Bernard Hickey
As the proud father of a 12 year old girl I have not been able to avoid the phenomenon of 'Frozen' and that bloody song -- Let it go.
It is the worst/best kind of ear worm and try as I might, I can't stop myself humming the chorus when thinking about matters financial and economic.
"Let it go, let it go, Can't hold it back anymore, Let it go, let it go Turn my back and slam the door. And here I stand. And here I'll stay. Let it go, let it go.The cold never bothered me anyway ... "
Have I successfully forced you to hum it?
Good. I'm sharing the joy this fine day. 
I've found myself humming it a lot lately when watching central banks trying to grapple with some deep and dark economic forces, and generally struggling.
That includes our own Reserve Bank of New Zealand.
In the last month the European Central Bank has announced plans to print up to 1.1 trillion euros to buy bonds in an effort to pump money into the economy and avoid deflation.
The Bank of Japan ramped up its four year old money printing programme for the fourth time last October in a desperate attempt to reverse decades of deflation.
The People's Bank of China is about to embark on fresh monetary easing after nearly three years of falling producer prices and the US Federal Reserve has only just finished it's third round of money printing, even though its inflation rate is falling too.
The Swiss and Danish central banks have cut their deposit rates to negative 0.75% and 0.5% respectively. That means they are charging other banks to look after their money.
Reserve Bank Governor Graeme Wheeler pointed out this week that central banks will buy more bonds this year than in any year since 2011.
All this quantitative easing is driving down long term interest rates to their lowest levels since the 1400s. All this easy money overseas has a real world effect here.
That cheap money is flowing through to us in the form of falling fixed mortgage rates and keeping our currency relatively high as European and Japanese investors hunt for higher interest rates here.
These central banks are desperately trying to pump up their economies by using unconventional policies to solve what they think is a conventional problem. Thanks to the pioneering work of the Reserve Bank here, most central banks now target inflation at around 2%, although it is not usually their sole target.
When they see inflation falling towards deflation, they stimulate the economy.
Understandably, these central banks worry that falling prices are the result of too much slack in the economy with weak incomes and demand because of falling employment. That is clearly the case in Europe and arguably has been in Japan too.
But what if the falling prices are because of the 'good' type of deflation caused by a supply shock?
That's where the general level of prices falls because of a new type of technology or the discovery of a new source of commodity makes it more efficient or cheaper to make things and sell things.
This is a controversial view, but one that is gaining traction because of what some are describing as an epic shift in the way consumers and businesses are using technology.
The idea is that the combination of very cheap and powerful mobile phones, the app economy and the globalisation of services could deliver the same 'supply shock' boost to production (and reduction in prices) as the advent of the steam engine produced in the late 1700s.
This would cause structural deflation like that seen through much of the 1800s.
If the deflationary forces are caused by a supply shock then it would mean all the central bank money printing would be a wasted and potentially dangerous effort that simply pumped up asset prices into bubbles that could burst with devastating effects.
Why, therefore, try to flog the dead horse by pouring yet more fuel into the asset bubbles in housing, stock and bond markets.
Why not just 'let it go'? New Zealand is definitely facing at least one supply shock-driven deflationary force.
The extra oil supply from America's fracking revolution is cited as one reason for the halving of the oil price at the end of last year.
New Zealand has also seen a labour supply shock from a record 50,000 net migrants in 2014, which is helping to repress wages and prices.
New Zealand faces deflation because of supply shocks, rather than a lack of demand that could be solved with lower interest rates.
Governor Wheeler is rightly cautious about not responding to these supply shocks by 'flogging the dead horse' and pouring fuel on the Auckland property fire with yet more rate cuts.
The trouble for him is that central banks are responding to what may be a steam engine-style supply shock with yet more money printing that is leaking out the sides of their economies and dribbling down into the Auckland housing market. That dribble from near record money printing is more than enough to pump up Auckland's housing market.
New Zealand can do little to stem the flows, but at some point policy makers will have to work out what is really causing all this deflation, and whether all this money printing is working only to fire up asset prices, rather than demand.
They may have to start humming the tune to and ... let it go, let it go, turn their backs and slam the door!
Got the earworm back? Good.