Bernard Hickey says John Key is right to try to protect New Zealand's broad based and low rate tax base from an evaporation into the stateless cloud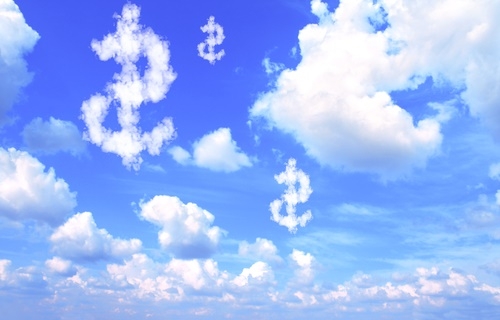 By Bernard Hickey
Prime Minister John Key grappled this week with one of the toughest tasks any modern Government has to deal with - how to tax the 'new' economy that is rapidly evaporating into the stateless and tax-free cloud.
Even this master of the political and financial worlds stumbled in explaining it, let alone doing it.
Mr Key talked about getting Apple to collect 2 cents of GST on the sale of every NZ$1.29 digital download.
He was 17 cents sort of the mark, but still 2 cents more than for any completely online purchase at the moment.
He even talked about New Zealand potentially going it alone and requiring online stores to collect and pay GST, even if the OECD can't get everyone on the same page.
It is an issue that every tax collector in the world is scratching their heads over, and increasingly doing it together in airless conference rooms.
Armed with Excel spreadsheets and countless Powerpoint packs, the bean counters are dreaming up ways to interrupt and cajole and niggle the online giants of the this new world to collect some cash from every transaction.
They then want the likes of Amazon and Google and Apple and Netflix and ASOS to hand it on to governments to pay for all the services that used to be paid for from GST, PAYE and corporate taxes.
It is the financial and diplomatic equivalent of herding cats and organising them into a synchronised swimming display for a live streaming version of Youtube. The irony is such a display of synchronised swimming cats would make Google a mountain of tax free cash from the advertising running on Youtube.
Many of these online behemoths and not a few consumers are hoping these tax collectors and finance ministers will throw their hands in the air and go back to their cheque books and PAYE forms. Those consumers, who are also taxpayers, should think again though.
As hard as it is, Mr Key was right to back up his Revenue Minister Todd McLay. The minister quietly told a conference of financial advisers in Queenstown last week he had asked officials to look at the unilateral moves some Governments have taken to impose consumption taxes on online sales of both physical goods, and the much tougher virtual services.
South Africa changed its tax rules to require suppliers of digital services to South African consumers to register for VAT (Value Added Tax) and collect the tax at the point of payment from June 1 last year. Initial signs are positive.
This more robust approach from the Government follows years of waiting for the herding of the tax collection cats by the OECD. The question now is how long New Zealand and the rest of the connected world can wait for a negotiated and coordinated international solution.
The economy is rapidly evaporating into the cloud as the services sector, which unlike manufacturing has yet to be truly globalised, is dragged out of its offices and shops and sucked in the world of apps and GST-free purchases in the cloud. Financial services, retailing, medical services, education, accounting, advertising and television are dissolving into bits and bytes before our eyes.
Take the world of advertising, for example. The Advertising Standards Authority released figures this week showing NZ$589 million was spent by New Zealand companies on online advertising last year, which was the first year it had surpassed newspaper advertising, which was NZ$484 million. Online advertising was only just behind TV advertising on NZ$614 million and is up from NZ$15 million in 2004. Back then newspaper advertising was NZ$790 million. The trouble for the likes of TVNZ, TV3 and the newspaper companies, which diligently pay their tax and collect GST, is that most of that online advertising is being spent with Google, Facebook and a plethora of overseas sites that don't pay tax here.
The numbers are just as big in retailing. The monthly BNZ/Marketview survey of online retailing estimates that New Zealanders are now buying NZ$1.2 billion a year worth of clothes, shoes, music, hardware, electronics and all manner of tangible and intangible items from overseas sites. It's growing at a rate of 14% per annum, which is almost quadruple the growth rate of sales from 'bricks and mortar' stores here. Total online sales are still just under 7% of total retail sales, but Marketview thinks total online sales could grow by NZ$3.5 billion over the next decade as the online share grows to the current British levels of 15% of total sales.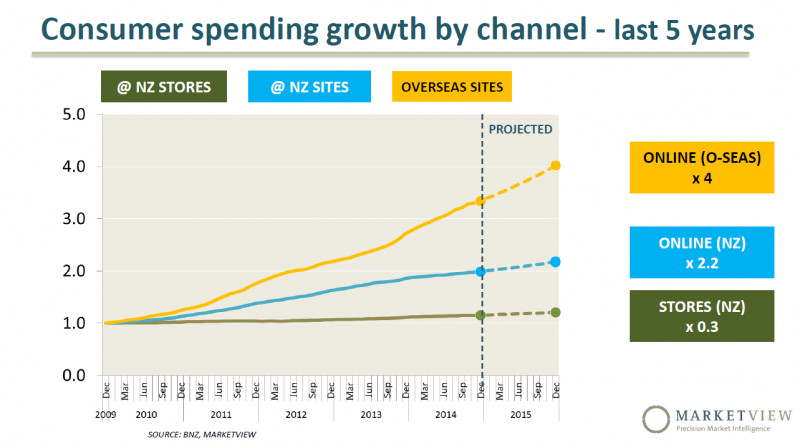 A jumbo jet full of clothes flies into Australia every week to be distributed from ASOS' warehouses there to front doors all over Australasia. No GST is paid, given New Zealand's tax-free threshold is NZ$400 and Australia's is A$1,000.
The Retailers Association reckons the Government is missing out on NZ$400 million a year of GST and it is at the vanguard of many other services sectors feeling as if they are paying a 'reverse tariff' where their competitors don't have to pay corporate, income or consumption taxes. Treasury reports GST receipts have consistently under-performed forecasts in recent months.
This was highlighted again this week when Netflix announced it would offer its service in New Zealand from its overseas base and would therefore not collect or pay GST. Spark was among the first to protest the unfairness of this, given its Lightbox service does charge GST. Sky TV will be the next to protest.
Mr Key and Labour Leader Andrew Little, who supported the move to charge GST on overseas purchases online, should be congratulated for trying to reinforce the seal on all the juice in New Zealand's remarkably efficient broad based and low rate tax system.
The alternative in the long run if more of the tax base evaporates into the cloud is higher income taxes or fewer Government services. Google, Amazon, Apple and ASOS may not notice or care about the holes that will eventually open up in our social safety nets if this continues. Let's hope they can be herded back into a box somewhere in the cloud where they collect and pay their taxes. With the cats.
* No cats were harmed in the writing of this column.
----------------------
A version of this article was also published in the Herald on Sunday. It is here with permission.