Elizabeth Davies on financial literacy for felons, stock rustling, organs and cash, financial abuse, KiwiSaver and pocket money, the Sallies and housing, and more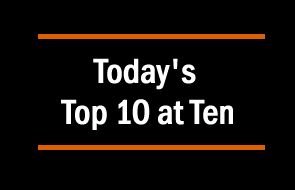 Today's Top 10 is a guest post from Elizabeth Davies, a regular contributor to interest.co.nz. You can see more from Elizabeth here.
As always, we welcome your additions in the comment stream below or via email to david.chaston@interest.co.nz.
And if you're interested in contributing the occasional Top 10 yourself, contact gareth.vaughan@interest.co.nz.
See all previous Top 10s here.

1. Financial literacy for felons
One San Quentin inmate nicknamed 'Wall Street' is spending his life sentence teaching other prisoners about financial literacy. Most education in prisons is based around learning vocational trades and life skills like anger management. This programme, led by inmate Curtis Caroll and volunteers from financial industries, focuses on giving prisoners financial skills that can be used both from withinn prison and after their release.
'The class also touches on the personal component. Prisoners are counseled about their emotional connection to money and the possible pitfalls. Rick Grimes, who is also serving a life sentence, says the lessons are valuable, teaching him to manage his money in prison and also invest money to give to his son.

"I can benefit by helping my family," Grimes says. "It still feels good to give back to my community even though I can't get out right now."

Many of the prisoners in this class will one day get out. And that feeling of being part of a community, and knowing how to manage their finances, could help make their re-entry more successful.'
2. Nelson – a total black meat market
Farmers in the Nelson Bays area are out tens of thousands of dollars due to an increase in stock rustling and poaching. Stock stealing ninjas are now believed to be using silencers and night vision equipment to steal stock, filling their own freezers or on-selling whole carcasses. While police and farmers think it's unlikely the rustling would be organised crime but it's definitely becoming a serious problem and leaving many farmers seriously ticked off and out of pocket.
'Gavin O'Donnell, former Federated Farmers Nelson provincial president, said the financial cost to farmers was "considerably more" than the value of the stolen stock.
"It's their future reproductive value as well.

"For every young breeding ewe, for instance, who might be expected to have a productive life of somewhere between five and eight years, there could easily be $1500 or so in value which is lost."

Crawford said stock rustling and poaching happened in rural areas right across Tasman district.
"You've got these isolated valleys in the middle of nowhere and it is difficult."

He said police were ramping up their overnight rural patrols to crack down on the problem and two people have had their firearms licences revoked for unlawful hunting this year.

He urged farmers to be vigilant and to report suspicious activity to police.

"I would rather face the police officer than an angry cockie."'
3. Budget increase not buying more organs
The New Zealand organ donor service has had a budget increase of almost 700% in the last ten years, unfortunately the percentage of deceased donors has only risen by a measly 6%. The organisation has more money and more staff than ever, but they may be lacking in awareness. When it comes down to it – they don't need your money, they need your organs!
'The Government has made allocations of $8 million since 2012, including $4 million to encourage more deceased donation.

But Mr Tookey, whose 13-year-old daughter Katie needs a liver transplant, says that hasn't happened.

"In real terms over 10 years there's only been two more donors, so what are 13 staff doing compared with 10 years ago?"

Mr Tookey said he was not advocating a cut in funding for organ donation, but that a big chunk of the budget be redirected into campaigns to raise awareness and attract more donors, as is done in other countries.

New Zealand's donor rate per million population is less than nine, around half of Australia's and well below the world leader, Spain, which is on about 35.'
4. Football fumbles costing $25million a year
A new programme has been launched to reduce the risk of severe football related injuries by up to 50% and general football injuries by up to 30%. The FIFA 11+ Injury Prevention Programme is as simple as a newly designed twenty minute comprehensive warm up. The new programme could not only mean happier, healthier players with more sustainable careers but also a huge financial saving for the community.
'Tauranga's Prevention to Performance physiotherapist Hamish Ashton, supportive of the nationwide rollout, says the research behind it is incredibly sound with clubs of all ages especially youth footballers and younger senior footballers.

The scheme was based on research carried out by American and Norwegian scientists and was used by football teams such as Barcelona and national teams from Spain, Germany and Brazil.

"The major finding is those who do it properly – properly being the important thing – and regularly show a 40-50 per cent decrease in injuries to knees and ankles which are the majority of injuries we get in football.

"ACC stats show there is 25 million spent football injures over the year so if you take 40-50 per cent off that you take out a good dent in the cost to the community to something that's easily done."'
5. Breakers' financial future broken?
Despite rumours to the contrary the Breakers are still far from breaking even. Owners Paul and Liz Blackwell admit they have been looking at different ownership models but they have concerns about the financial future of the club should they step away. New sponsors are practically non-existent and the league were unable to attract a major TV deal. Blackwell has however reassured fans that they won't step away without something solid in place, they're unwilling to see their ten year project crumble due to lack of funds.
'A perception the Breakers were close to break-even on the back of significant growth of their fan base over a run of four championships in the past five years was a myth, Blackwell said.

"We're still a long way from breaking even, so our investment is on the basis that we see we're making a difference," he said of his and wife Liz's ownership of New Zealand's only fully professional basketball team.

"Can you quantify that? It's very difficult, but we do it willingly because we still believe in what we're trying to do."

But Blackwell warned that the club needed to develop fresh revenue streams and new ownership options sooner rather than later.

"We're not sustainable. We're relying on Paul and Liz, and that's a concern because the time will come when we're going to have to say 'who's next?'

"Paul and Liz at some stage are going to sell their business and be unable to support in the same way."'
6. Financial abuse – a stepping stone to domestic violence
In the modern world money is power. Financial abuse is a display of control, when a partner takes over paying the bills, takes possession of financial savings, prevents their partner from working or controls their personal spending they are, in effect, holding them hostage. In most cases it's men placing financial control over women, under the premise of 'looking after' her.
'This is called financial or economic abuse, a phenomenon present in 98% of domestic violence cases, according to the National Network to End Domestic Violence. (Nearly three in ten women have experienced domestic violence, reports the Centers for Disease Control and Prevention.)

"It's a tactic to maintain power and control over somebody," says Nathaniel Fields, president and CEO of the Urban Resource Institute, which provides services to empower victims of domestic violence. "It's another form of abuse and domestic violence — when one person in a relationship takes control of another person's economic resources to control that person."

It can even ripple out to children or the victim's other family members. The abuser may use their Social Security numbers to open accounts in their names, ruining their credit and racking up debt that the victims and their families end up carrying.

Every year, nearly eight million days of paid work is lost to domestic violence, equivalent to 32,000 full-time jobs, according to URI. Domestic violence is estimated to cost about $8 billion annually — $5.8 billion in medical costs and $2.5 billion in lost productivity.'
KiwiSaver is kind of like your parents putting $2 in your piggy bank each week because you can't be trusted to not spend it on lollies. It's the Government's way of helping those who can't help themselves when it comes to saving for the future. I'm ok with this, I shouldn't be trusted. That being said I'll be one of the first to throw my hand in the air and admit I don't really get all the finer points of KiwiSaver – and it looks like I'm not the only one.
'Every year, hundreds of people plead financial hardship, asking for money to be released from KiwiSaver to pay for things like essential healthcare and overdue mortgage payments.

The applications are made to the scheme in which the troubled individuals are saving, but it is the trustees of the scheme who make the decision.

There seems to be some level of variation in the way financial hardship applications are judged. The KPMG report indicated people are concerned it's not easy enough to get the money out.

In the report, banking ombudsman Deb Battell said: "KiwiSaver-related complaints are also increasing as banks take a greater slice of this market, and as members' savings increase in value. Most complaints are about difficulties in withdrawing savings on hardship grounds, but some customers still complain they have been signed up to KiwiSaver, although not really understanding the product."

To get money out, you have to provide "evidence that you're suffering significant financial hardship", and even then, the trustee is only obligated to allow you to withdraw enough to deal with the problem you are facing.

There's no single definition, but significant financial hardship includes being unable to meet minimum living expenses, or making mortgage repayments on the home you live in, resulting in your mortgage provider enforcing the mortgage on your property.'
8. Women sending home the bacon
A recent study shows that women are becoming more and more responsible for global money flow. More and more women are heading overseas to earn money and support families back home. Migrant women make up 48% of all migrants and are therefore huge contributors to global economic development. Working women for the win!
'"Money flows globally are driven increasingly by women and it's time to recognise the significant role women play in enhancing economic development globally by supporting the financial needs of their families and the community at large through their remittances," said Jean Claude Farah, President, Middle East, Africa, Asia Pacific, Eastern Europe & CIS, Western Union.

"Across the Gulf Cooperation Council countries we see a large number of working women coming from a wide range of countries, many of these are mothers themselves or are supporting parents back home," Farah said.

Both men and women primarily send to women (about two-thirds of receivers are women), reinforcing the importance of women as the core of home financial management, the study reported.

Today migrant women represent 48 per cent of all international migrants and are finding jobs in multiple sectors and disciplines or starting their own businesses, according to the UN, dismissing misconceptions that women were 'second wave' migrants, travelling only as part of a family or once relatives have established themselves in a new home, it said.'
It's perhaps slightly embarrassing that one of the Government's defining policies of the year has been turned down by the Salvation Army, one of the country's largest and most influential community groups. The Sallies have stepped away, claiming they don't have the expertise or resources to manage such a large number of houses and tennants.
'
"It's a massive blow and this was held up at the beginning of the year as one of the defining policies for this year. There was this assumption that community housing groups would have the financial means and administrative means to pick up and administer the housing stock for social housing and clearly it's not turned out to be the case."
Little said if the Salvation Army was unable to make it work "then I can't think of a community housing group that could".

"Salvation Army is significant in terms of size and resource and if they're saying the job is too complex, then you wonder how the Government ever came up with the idea in the first place, because they clearly haven't done their homework."

But Finance Minister Bill English said the Salvation Army's decision would not affect the Government's plans.

"It's not a problem. They've made quite a legitimate choice not to get into buying state houses off the the Government but they are otherwise going to be fully involved in the programme.
"There's plenty of organisations around with more financial strength and more of the relevant property expertise than the Salvation Army, but they're all going to need the help of the Salvation Army," he said.

While English insisted there were plenty of organisations in a position to afford buying housing stock, repeated requests to name one went unanswered.'
10. The great wall of... Japan?
Four years after a Tsunami tore apart Japan's northeastern coast the country has decided to build a 400km cement sea wall to protect the country's coast line from future natural disasters. The sea wall will be approximately five stories high, incredibly expensive and a bit of an eyesore. The wall is being questioned for a long list of reasons, most of all, will it actually work?
'Opponents of the 820 billion yen ($6.8 billion) plan argue that the massive concrete barriers will damage marine ecology and scenery, hinder vital fisheries and actually do little to protect residents who are mostly supposed to relocate to higher ground. Those in favor say the sea walls are a necessary evil, and one that will provide some jobs, at least for a time.

In the northern fishing port of Osabe, Kazutoshi Musashi chafes at the 12.5-meter (41-foot)-high concrete barrier blocking his view of the sea.

"The reality is that it looks like the wall of a jail," said Musashi, 46, who lived on the seaside before the tsunami struck Osabe and has moved inland since.

Pouring concrete for public works is a staple strategy for the ruling Liberal Democratic Party and its backers in big business and construction, and local officials tend to go along with such plans.

The paradox of such projects, experts say, is that while they may reduce some damage, they can foster complacency. That can be a grave risk along coastlines vulnerable to tsunamis, storm surges and other natural disasters. At least some of the 18,500 people who died or went missing in the 2011 disasters failed to heed warnings to escape in time.'