Auckland Council rubber stamps annual transport levy of $99 for residential ratepayers and $159 for business ratepayers
Here's the statement from Auckland Council
Auckland Council's Budget Committee today agreed to introduce the Mayor's interim transport levy to begin immediate work on Auckland's transport challenges.

The Budget Committee agreed 15 votes to 7 to the interim levy of $99 ($114 incl GAT) a year for non-business ratepayers and $159 (183 incl GST) for business ratepayers for the first three years of the Long-term Plan (LTP) 2015-2025, the council's next 10-year budget.

The Mayor's interim levy was in response to the majority of Aucklanders opting to pay more for the Auckland Transport Network Plan during public consultation and in an independent survey earlier this year.

"Today is an historic day for Auckland. We have responded to the clear message from Aucklanders - start fixing our transport problems and that is exactly what we can now get on and do," Len Brown said.

To fill the $12 billion funding gap for the full Auckland Plan network, Auckland also opted for a Motorway User Charge.

Given that a user charge would require legislation and take a number of years working with government to put in place, the three-year interim levy allows for immediate new investments of $500 million in transport.

These new investments will include:

· Increase in walking and cycling funding across Auckland of $124 million

· $43 million for North-western busway and additional 45kms of bus lanes

· Park and Ride extensions at Silverdale, Pukekohe and Papakura. New facility for Westgate

· Delivering arterial and local road networks

· Public transport safety improvements for rail crossings.

An interim levy was first signalled in the draft LTP published in December 2014.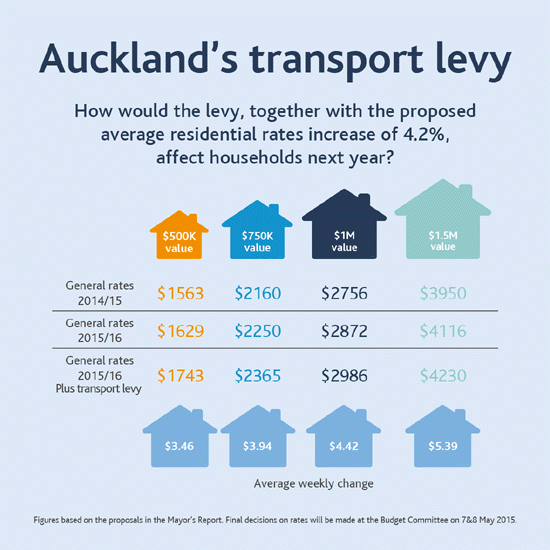 And here's a transport levy infographic provided by the Council.