Bernard Hickey argues it's time to think about how a million retiring KiwiSavers could either blow or sensibly use their NZ$100,000 pots when they retire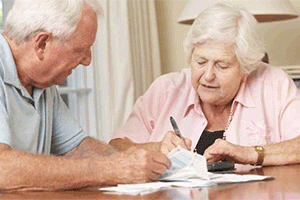 By Bernard Hickey
So far all the noise in the debate about superannuation has been about the need to save more and plan for increasingly long retirements, or at least long lives after the age of 65.
That was certainly the focus in the debate about the cancellation of the KiwiSaver kickstart in the Budget and the ongoing contribution freeze for the New Zealand Superannuation Fund.
The age of eligibility for a universal New Zealand Superannuation and its indexation to average wages remains a topic of debate among policy types, if not politicians or voters. Non voters don't count.
But there's another issue that's rapidly creeping up on KiwiSavers and the Government alike.
What should be done with these KiwiSaver pots once they're free to be dipped into after the age of 65?
All the talk has been about the speculation and accumulation stage, and very little about the decumulation stage.
It's already a live issue issue for thousands of over 65s.
Even though KiwiSaver is only in its eighth year and the baby boomers have only just started retiring, the numbers pulling their funds out is rising quickly.
IRD figures show 65,336 KiwiSavers had withdrawn their money by the end of May, almost double the number at June 2013, which was the first year that retirees could realistically withdraw given the initial five year moratorium on withdrawals.
Over a million New Zealanders will turn 65 over the next twenty years and they are expected to live for at least 20 years.
Those KiwiSavers in their 20s now can expect to live nearer 30 years after they retire. The amount of money they could in theory withdraw on their 65th birthday will be significant. There is already over NZ$28 billion in over 2.5 million KiwiSaver accounts and the New Zealand Society of Actuaries has estimated that over half of KiwiSavers will have over NZ$100,000 they could withdraw in 25 years in today's money.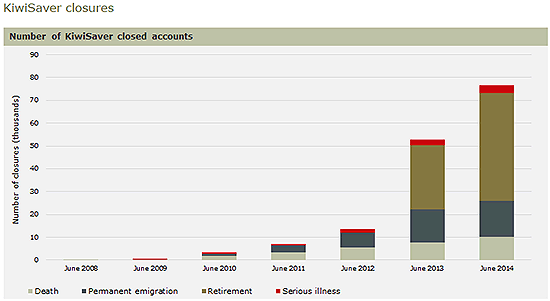 So what are retirees doing now with their pots of gold?
The short answer is we don't know for sure, but some early surveys as the retirements started in 2013 and 2014 showed just over a third had withdrawn all their money as soon as they could.
An IRD survey of 1,000 over 65 KiwiSavers in March 2013 found just over half left their money in.
An AMP survey of 1,000 retirees in 2014 found 15% planned to use their pots to pay off their mortgages, while 14% planned to invest it elsewhere, 14% planned to spend it immediately and 8% planned to leave their money in.
This raises some obvious risks.
Could poorly advised retirees, or those not advised at all, either blow their money or put it into the wrong places, destroying the whole point of KiwiSaver? Could some of the money be withdrawn and then leveraged up into rental properties, further inflating house prices?
Most of the funds are now managed by banks, who make most of their money by lending against property.
The early indications are that a retiring wave of baby-boomers are looking to take advantage of low interest rates and the prospects of capital gains to buy rental properties that could provide a better return than a bank account.
The New Zealand Society of Actuaries has addressed these issues in an options paper, which looks ahead at the risks, particularly given annuities which would use these pots to provide a guaranteed income for life are not available in New Zealand and are unlikely to become available, given the small size of our market, the risk many retirees will live for an awfully long time and that interest rates are so low. It points in particular to the lack of readily available and inexpensive independent financial advice.
The demise of finance companies decimated the financial advice community and the issue of commissions remains unresolved, although an official review is looking at the issue.
The danger is financial advisers or the banks for are incentivised by commissions to mis-sell expensive savings vehicles to retiring KiwiSavers who may never have had to think about how to deal with a pot of money before.
One option suggested by the Actuaries' Society is that if the Government looks at creating a state-sponsored annuity, that it does it quickly to avoid stifling the creation of a commercial market.
There is no burning platform to leap from. New Zealand's universal pension and simple and relatively cheap KiwiSaver savings system is widely admired around the world.
Relatively high home ownership rates among those nearing retirement now means most nearing retirement in the next decade are in reasonably good shape, although they do need safe and simple financial advice.
But beyond that, the risk is that the younger KiwiSavers of 2015 arrive at 65 in 20 years time to find themselves without a home, without enough savings and without the right advice to use the pot they do have.