Bernard's Top 10: Just wait until the Chinese start printing too; How moral hazard has globalised too; The Mike Hosking effect; A beggar-thy-neighbour race to the bottom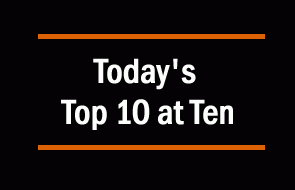 Here's my Top 10 items from around the Internet over the last week or so. As always, we welcome your additions in the comments below or via email to bernard.hickey@interest.co.nz. 
See all previous Top 10s here.
My must reads are #1 on Quantitative Easing with Chinese Characteristics and #4 on China's declaration yesterday of currency war. China dominates.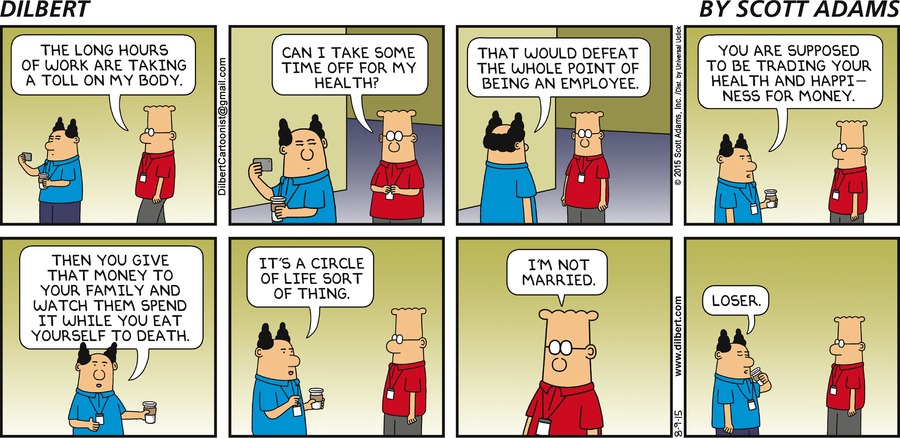 1. And the Chinese haven't started printing yet - Even moral hazard is subject to globalisation these days.
The idea that you can never lose when investing in a bond or a stock or a piece of property because a Government or a central bank will bail you out used to be anathema.
It seemed like the worst kind of investor sociopathy. The idea that investors, banks and brokers knew they could take huge risks and reap the rewards personally while the taxpayer at large or future generations bore the risk seemed awful to contemplate.
Until the Global Financial Crisis, and then everything changed.
The Bank of Japan actually started printing money years before the GFC, but has ramped it up even more since 2009. The 'grown ups' in America, Britain and Europe have printed up a storm over the last six years. They call it Quantitative Easing, but it's essentially inventing money out of thin air to buy government and other bonds.
Ironically, the the only other major central bank not to have printed money has been the Communist Party's People's Bank of China, which you would think would be the first to do it. To be fair to the others, it could be argued China's state-owned banks have fulfilled a money-printing role by lending willy nilly (ie 30% plus growth) in 2009/10/11 to juice things up.
But at least the PBOC didn't print.
Until now.
Bloomberg reports on the version of Quantitative Easing with Chinese characteristics that is now emerging in the wake of the 'National Team's intervention in the Chinese stock market in recent weeks.
Rather than bankroll projects directly, the People's Bank of China is pumping funds into state lenders known as policy banks to finance government-backed programs. Instead of buying shares to prop up a faltering stock market, it's aiding a government fund that's seeking to stabilize prices. And instead of purchasing municipal bonds in the market, it's accepting such notes as collateral and encouraging banks to buy the debt.

QE -- a monetary policy tool first deployed in modern times by Japan a decade and a half ago and since adopted by the U.S. and Europe -- is being echoed in China as Premier Li Keqiang seeks to cushion a slowdown without full-blooded monetary easing that would risk spurring yet another debt surge. While the official line is a firm "no" to Federal Reserve-style QE, the PBOC is using its balance sheet as a backstop rather than a checkbook in efforts to target stimulus toward the real economy.

"It's Chinese-style quantitative easing," said Shen Jianguang, chief Asia economist at Mizuho Securities Asia Ltd. in Hong Kong. "But it's not a direct central bank asset-purchase plan. China's easing is indirect and more subtle compared with the U.S. or Japan."
2. Big problems in big China - The latest data coming out of China showing imports and exports both falling more than 8% in July and producer price deflation accelerating certainly suggest there is some trouble under the surface in China. It's not just the stock market.
This chart below showing the inventory of unsold housing also shows the supply side problems (ie too much supply) are not being solved by 'natural' growth of the urban middle classes, at least not in the short term.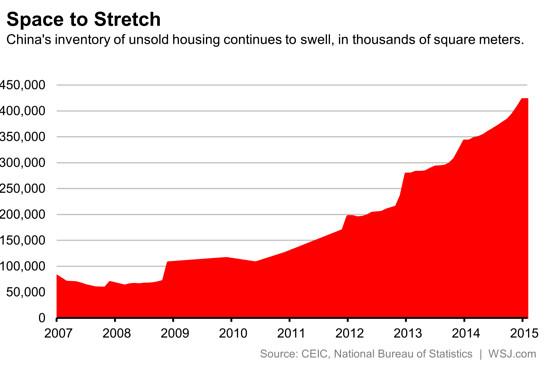 3. 'Let the bubble burst' - Nobel Prize-winning economist Michael Spence rightly points to the failings of China's responses in recent years allowing the first stock market bubble in 2007, and then enabling the latest one. The chart below is startling.
Once a market correction begins, the authorities should allow it to run its course, rather than prop up prices with additional leverage – an approach that only prolongs the correction. If Chinese regulators allow the market to correct, sophisticated institutional investors with a long-term value orientation will ultimately step in, enhancing the market's stability.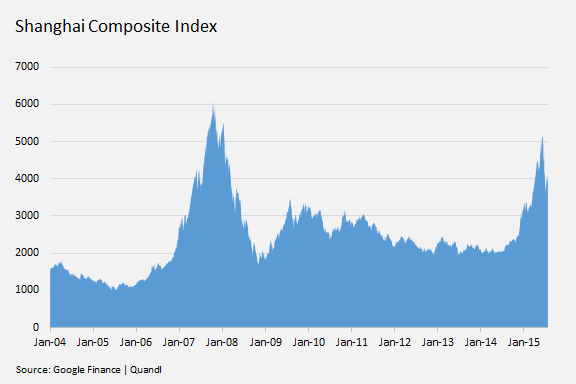 4. And then there came the devaluation - Yesterday's surprise 1.9% devaluation of the yuan has really set the cat amongst the pigeons. It shows how worried the Chinese Government is about its stalling export engine and raises the prospect of further devaluation, and the potential for the resumption of the 'currency wars'.
There's also the risk of capital flight. And to where? Places such as New Zealand.
Here's Patrick Chovanec with his view of what it means:
While some argue that China's currency is now overvalued, what they ignore is that China needs an overvalued currency to rebalance its economy. By maintaining a strong RMB, and unlocking the demand frozen in its reserves, China would help effect rebalancing, both internally towards a more consumer-driven economy (which Chinese policymakers publicly recognize they need) and externally towards a more balanced economic relationship with the United States (which would benefit both countries).

To its credit, this is what the People's Bank of China had been committed to. It understood that a strong RMB means rebalancing toward a more sustainable growth model. But with the Chinese economy slowing, the central bank, or someone above its paygrade, lost their nerve and are instead trying to shore up China's existing, failing growth model.

This is unfortunate, because it means China now joins Japan and Germany in trying to tap into U.S. consumption to drive their own growth, rather than unlocking their own excessive savings to create demand. In effect, they are trying to revert to the pre-2008 global growth model: relying on the United States going into greater and greater debt to function as the global consumer of last resort. This is not sustainable for them or for the United States. It's a race to the bottom with no winners.
5. 'We don't have an inequality problem because I don't know many rich/poor people' - One of the arguments I hear around politics and in public about inequality is a refusal to believe that inequality exists, given the personal experience of the commenter.
It turns out this sort of bias is a real thing.
New research co-authored by an Auckland University Associate Professor Chris Sibley found that your views on inequality are skewed by your immediate surroundings.
"If you're rich, there's a good chance you know lots of other rich people and relatively few poor people; likewise, if you're poor, you're likely to know fewer wealthy people and more poorer ones," says study co-author Robbie Sutton. "Even if people think objectively and follow rules of statistical inference, richer and poorer people may be led, by the information available to them, to very different conclusions about how wealthy their fellow citizens are, on average, and how wealth is distributed across society."

"These results suggest that the rich and poor do not simply have different attitudes about how wealth should be distributed across society; rather, they subjectively experience living in different societies," adds psychological scientist Rael Dawtry at the University of Kent, the study's lead author. "In the relatively more affluent America inhabited by wealthier Americans, there is perhaps less need to distribute wealth more equally."

The findings suggest that attitudes toward wealth distribution stem from more than just an economic motivation to protect one's self-interest or a fiscally conservative political ideology – the information provided by our surrounding environment also plays an important role.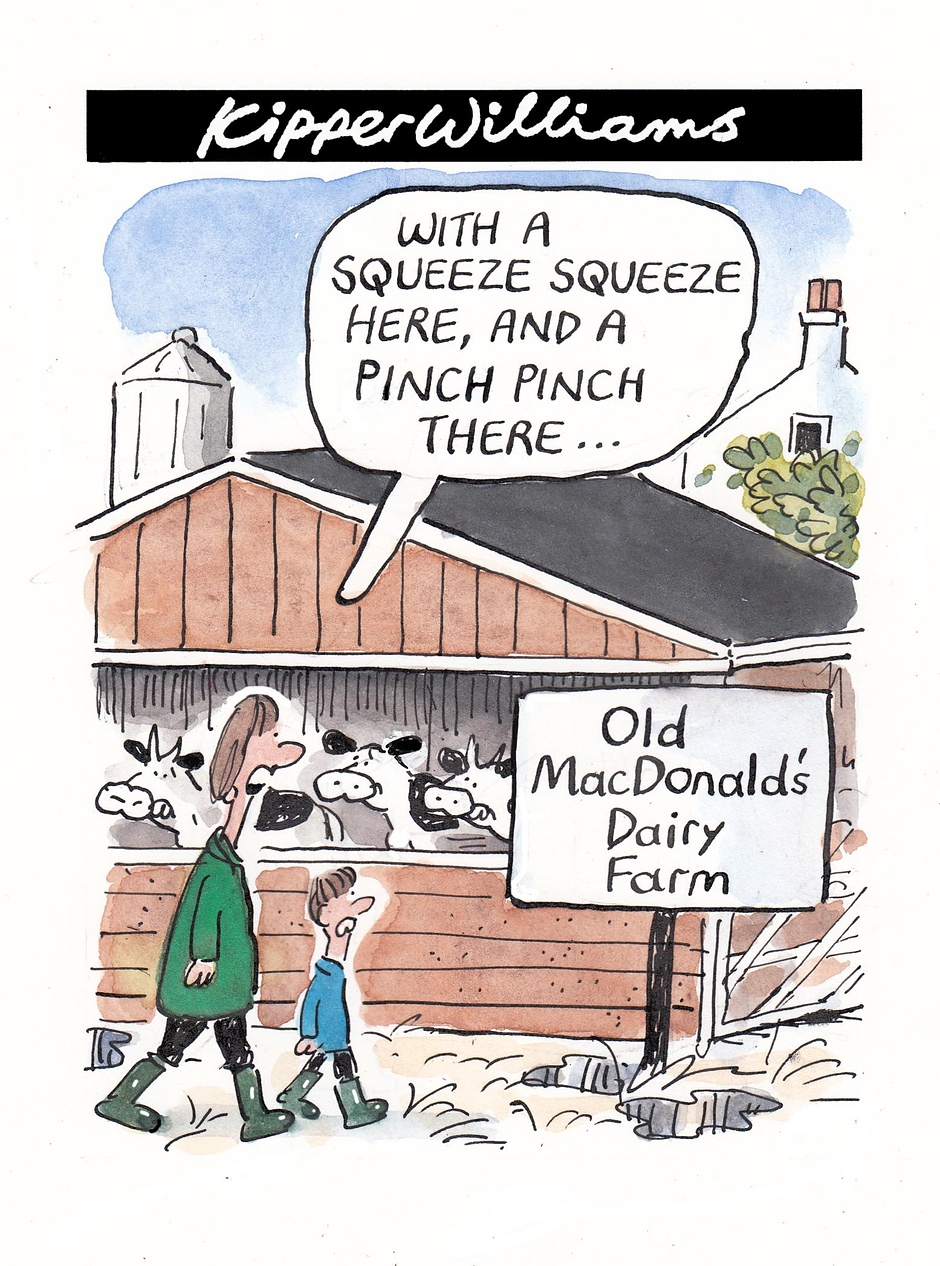 6. The New Zealand connection  - The study looked at two data sets: one in America and one in New Zealand.
Here's what it found about New Zealand. The study did not call it the Mike Hosking affect. They could have.
To ensure that the findings were actually related to individual's social circles and not some other psychological bias, the researchers then analyzed data from over 4000 voters in New Zealand. The data showed that the relationship between voters' household income and their perceptions of economic fairness in New Zealand was driven by the level of economic deprivation in their neighborhood.

"These results highlight the importance of examining ecological processes, in addition to political ideologies or self-interest, for understanding economic preferences," says Dawtry. "Attitudes to redistribution and the economic status quo appear to be subject to informational biases in the environment as well as biases in the mind."

According to Sutton, the findings may also help to explain the political polarization observed in countries liked the United States:

"As richer and poorer people increasingly live segregated lives, the information available to becomes increasingly distorted, and increasingly different," he notes. "People are, effectively, living in an informational bubble, surrounded by people with incomes like theirs but unlike many other Americans'."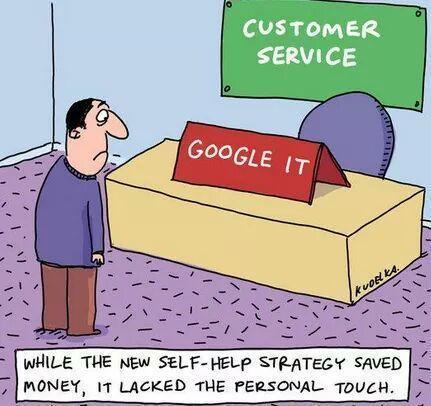 7. Just in the nick of time - Last week's decision by NZ Aluminum Smelters to keep Tiwai Point open for at least another two years was understandably greeted with sighs of relief from Southland and from the boardrooms of the big power 'gentailers'.
But what is the long term outlook for aluminum prices? The assumption is they're un-naturally low and will rebound. (Sounds a lot like the milk story doesn't it?)
But the news coming out of China, where the slowing economy is freeing up lots of supply to be exported, is grim. The chart below tells the story.
Here's the FT with the latest:
China now accounts for more than half of global supply, up from 18 per cent in 2003 thanks to cheap power and the world's most efficiently built smelters. Established producers from North America to Russia and the Middle East — facing the lowest prices since the financial crisis, reduced margins and profits — are anxious but do not want to cut capacity for fear of losing market share .

"China now owns the best and lowest cost aluminum plants in the world — they will try to export their way out of excess capacity," says Jeremy Wrathall, an analyst at Investec. "That is being seen as unfair the world over. It's been a seismic shift — now China is slowing down it's been exacerbated.

Aluminium prices last week hit a six-year low, after China revealed record output in June. Production rose by over 11 per cent in the first half of this year, feeding a 35 per cent rise in exports of Chinese aluminium products.

"The aluminium market is staring down the barrel at years of painful price levels," says Nicholas Snowdon, an analyst at Standard Chartered.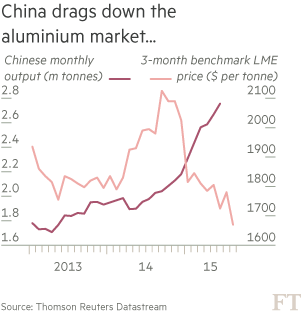 8. Growing urban middle classes in China? - The assumption underpinning the long-term confidence in New Zealand's dairy industry by bankers, politicians and farmers is that China's middle classes will continue growing as China's population moves into the cities and they'll keep demanding our protein and tourism.
But there are huge tensions underlying this presumed shift from the country to the city in China. This FT piece takes an extraordinary look at the clashes when developers engineer the acquisitions of rural land on the fringes of cities.
It raises real questions about how quickly and easily the ongoing transition from the country to the city will be in China.
When the smoke cleared on October 14 last year, the charred and bloody bodies of the hostages lay still bound on the pavement. At least two villagers and two outsiders were found dead in nearby fields.

"We had no choice but to defend ourselves," says one villager who asks not to be named for fear of retaliation. "If we hadn't killed them they would have killed more of ours."

The battle of Fuyou was remarkable for its savagery, but not for the fact that it happened. Land grabs are the top cause of unrest in the Chinese countryside and in the sprawling villages-turned-slums surrounding every city.

Officially, Beijing welcomes urbanisation. But growing numbers of people lack the rights and access to services of urban citizens because they are classed as "rural" under China's restrictive hukou registration system, and at the same time lack any farmland to fall back on. That could be a recipe for instability, especially as economic growth slows.

Independent calculations are even higher. The landless population has climbed sharply to 120m from 40m just 10 years ago, estimates Hu Xingdou, who researches migrant issues at the Beijing Institute of Technology.

For some Chinese, compensation for lost land is enough to fund a new urban life, or kick-start a small business as the city comes to them. But for millions it is not — setting the stage for desperate battles like the one that convulsed Fuyou.
9. Totally John Oliver on America's strange education system. It's a mad, mad place.
10. Totally Clarke and Dawe on Tony Abbott and Bronwyn Bishop and a possible 50% tax increase.