Bernard Hickey argues Infratil and the Wellington Council should take the risk of investing NZ$300 mln to extend the Wellington Airport, not the region's ratepayers and the nation's taxpayers in general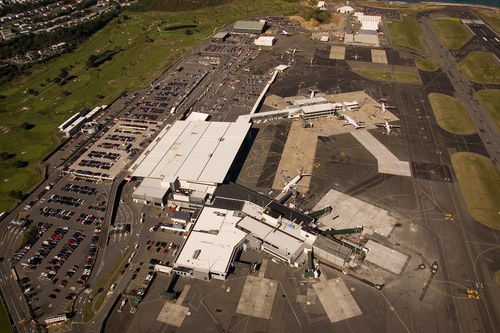 By Bernard Hickey
As a Wellingtonian, I would love nothing more than a longer runway that gave me the choice of direct flights to Asia and America. It would save me the trouble and expense of having to schlep up to Auckland and then walk the gauntlet through the car parks and past the fuel tanks to the International terminal.
Potentially, it would encourage more direct international tourism to my city and also boost demand for foreign education. As a Wellington property owner, the one thing I'd love more than a fancier airport is the sort of house price inflation that Auckland -- the current beneficiary of all those direct flights -- gets from all those tourists, students and foreign buyers of houses.
Like a lot of Wellingtonians, I'm a little frustrated at living in a 'dying city' -- as the Prime Minister once famously said -- where house prices have risen 3% in the last six years while Auckland house prices have risen 83%.
Even John Key acknowledged in August that others would like to see the sort of Auckland-style foreign visitor and investor joy in their cities.
"I go around the rest of the country and people say to me 'Can we have a few of those Chinese buyers in Wellington and other parts of New Zealand because actually we want our house prices to go up'," Mr Key said back then.
So it's no wonder Wellingtonians would like a bit of help from John 'Dying City' Key to juice up economic growth with some Government-funded infrastructure spending to give the Capital a bit more of that Auckland-style foreign-powered economic growth.
And here comes the request.
This week Wellington Airport detailed its business case for a 354 metre extension of the runway out into the sea near Moa Point. It would cost around NZ$300 million and generate net benefits for the nation of around NZ$2 billion. In theory, it would allow the fancy new long-haul 787 and A350 planes to fly direct from Asia and North America to Wellington, although there is some vagueness about whether planes could fly all the way to the likes of Vancouver, San Francisco, Beijing or Tokyo with full loads of fuel and cargo. Pilots also have some doubts over whether these fully laden planes can be safely flown in and out of Wellington.
But aside from the pesky details and speculation of which flights and when, the catch is the Airport, which is 34% owned by Wellington Council and 66% owned by listed infrastructure investor Infratil, would like the Wellington Region's councils to put up NZ$150 million of that money. The rest would be paid for by the Airport and the central Government, which of course means the taxpayers of New Zealand more broadly.
The airport's logic seems compelling. Surely if an extra dollar is spent and it returns $7 to the nation then of course taxpayers and the Government in particular would benefit through higher GST and other taxpayers?
But it all depends on whether the flights would actually come. Wellington may be New Zealand's most popular local destination for local tourists, but foreigners tend to fly over it or ignore it completely. Without a Lord of the Rings museum or some snow-capped mountains or a fancy casino, Wellington seems a bit off the beaten track. There is a hefty batch of chickens and eggs in this debate, but the lack of things for foreigners to do and see can't be ignored.
And the history of build-it-and-they-will-come airport extensions in Australia and New Zealand is just plain awful. Wellington's ratepayers should have a chat to the local politicians in Invercargill, Rotorua, Hamilton and Canberra, who all spent millions on the promise of direct international flights, only to see them either dry up and go away or never arrive at all.
In all the business cases put forward this week, there were no assurances or deals to guarantee direct flights. Air New Zealand is openly hostile, given it has invested in creating a hub in Auckland and no doubt is not keen on competing foreign carriers flying into Wellington.
The fallout for Wellington airport travellers if the airlines don't come would be significant. The Airport would have to increase landing charges for domestic travellers. Ticket prices could increase by an extra NZ$10 per ticket to pay for the airport's share of the NZ$300 million investment if the foreign airlines don't come.. Meanwhile, ratepayers and taxpayers would also be out of pocket.
The Government's initial reaction this week was understandably sceptical, arguing that if the business case was so strong then Infratil and the Council should stump up all the money.
"It remains mystifying why a private company whose parent made NZ$385 million last year thinks it needs taxpayers to pay for this," Economic Development Minister Steven Joyce tweeted in response to a pro-extension front page from the local newspaper.
Mr Joyce argued that the best judge of the likely direct flights should be the airport. It should make that judgement and take that risk.
It's hard to argue against that from a New Zealand taxpayer point of view. If Wellington wants to blow its money on a white elephant extension then local ratepayers and local airport shareholders should take that risk, not taxpayers in Invercargill, Hamilton and Rotorua.
The complication comes when investors look at the way the central Government takes bets on the use of motorways generally and some rail in particular, essentially subsidising public assets. Why should airport transport infrastructure be any different, the runway extension's proponents would ask?
The difference is that the airports are user pays and in this case mostly privately owned. When an extension doesn't pay then ticket prices go up through the landing charges passed on by the airlines. If it works, then taxpayers have subsidised the profits of a private company.
The danger for Wellingtonians is they pay twice -- through higher rates and through higher ticket prices on domestic flights. On second thoughts, I'm not quite so enthusiastic.
It's a risk and it may well be a risk worth taking. But it's a risk that informed airport shareholders should take, rather than ratepayers and taxpayers in general.  
------
A version of this article first appeared in the Herald on Sunday. It is here with permission.