Bernard Hickey says the quiet removal of the guarantee for Kiwibank savers should remind all savers about the lack of a deposit guarantee and prompt regulators and the industry to run a public education campaign about NZ''s lack of a deposit guarantee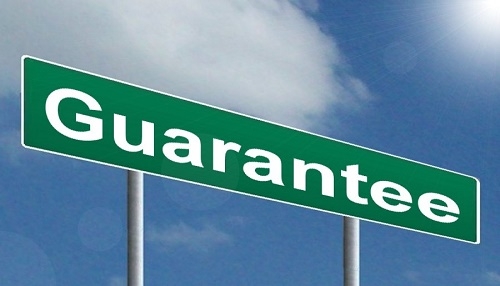 By Bernard Hickey
Did you know that your money in a term deposit in a bank is not guaranteed by the Government?
Those in the know are aware that there is no Government guarantee, but it turns out most regular people, and certainly most term depositors, either still think there's a guarantee, or think there's always has been one.
New Zealand briefly had a government guarantee for retail bank deposits from October 2008 to December 2011. It was introduced at the worst point in the Global Financial Crisis to stop a run of deposits across the Tasman to the banks' parents in Australia, where the Kevin Rudd Government offered a guarantee for depositors there.
It was quietly dropped once global markets had settled down and was replaced by a system called 'Open Bank Resolution'. This means there is no Government guarantee and if a bank was to fail, the Reserve Bank would shut it down and manage a capital restructure overnight so that it could re-open the next day. One way a bank's capital could be restructured by the Reserve Bank is through a 'hair-cut' for depositors. Essentially, the Reserve Bank would slice a certain percentage - say 10% - off the value of term deposits to allow the bank to re-open with enough capital to survive.
This is, of course, a last resort that no one thinks is remotely likely any time soon. New Zealand's banks have stored away a lot more capital over the last eight years and are both well regulated and very profitable. They also have very large parents in Australia who would be expected to help out in a crisis and who demonstrated that support in 2008 and 2009.
The Reserve Bank regularly stress tests the banks for the worst case scenarios. In 2014 it tested the big banks with the scenario of a 40% fall in national house prices and a 13% unemployment rate and found their capital levels would fall, but would still be well above the regulatory minimums. Late last year the Reserve Bank tested the scenario of unprofitable dairy payouts for five years and a 40% fall in farm prices. It found the banks could easily absorb the losses through lower profits and would not have to eat into their capital.
That said, if there was a more extreme version of the GFC and the Australian parents went AWOL, and the local banks' capital reserves were wiped out, then the last resort would be for the Reserve Bank to 'hair cut' deposits. No one wants to talk about this for obvious reasons. It's painful to think the unthinkable and there's also the inconvenient political truth that the Government would come under enormous pressure to intervene to back a rescue before term deposits were cut.
If the Government did intervene again to guarantee all deposits and rescue the bank then the public's currently incorrect view about a guarantee would have been validated again, as it was in 2008. Essentially, depositors and bank shareholders would have been receiving an effective guarantee for free all along at the expense of taxpayers who don't have term deposits.
There is no question the public is poorly informed about this. A Financial Markets Authority survey in 2014 found that 75% of people with term deposits believed they were guaranteed and 52% of all New Zealanders believed term deposits were guaranteed.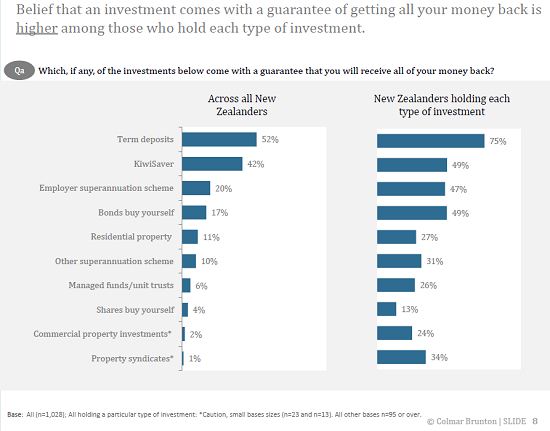 However, there has been one exception to that incorrect view up until this week. Deposits in Kiwibank were guaranteed by New Zealand Post, but that will lapse once the deal proposed this week to sell 45% of Kiwibank to New Zealand Superannuation and ACC is completed. It will become just as un-guaranteed as the other banks, although the Government has offered to inject up to NZ$300 million in fresh capital directly if Kiwibank gets into trouble. The Government does not guarantee to repay the creditors of state owned enterprises, as Solid Energy's bankers found out last year when they had to write off most of their loans.
One of the reasons why New Zealand Post wanted to sell the stake is because it couldn't afford to keep offering the guarantee, and as Bill English pointed out this week, it wasn't really very credible anyway.
"The guarantee was not a strong one in that you had an entity worth NZ$1 billion guaranteeing NZ$17 billion of banking assets," English said.
"It wasn't really an effective guarantee, but now that's been replaced by an arrangement where the Government underwrites any capital requirements related to the bank coming under pressure...so that depositors know that if anything went wrong with Kiwibank, then the Government is able to stand behind it," he said.
He compared the Government's role behind Kiwibank to that of the Australian parents of ANZ, ASB, BNZ and Westpac, which is true, but not the same as a Government guarantee.
The problem remains that most New Zealanders believe their NZ$152 billion worth of term deposits in banks is guaranteed in some form when they are not. Those deposits have risen by NZ$45.1 billion since the end of the guarantee in December 2011 and have risen by NZ$63.7 billion since the guarantee was introduced in a hurry in October 2008.
The Commerce Commission would demand that any other product properly advertise its features, or it's lack of assumed features. If a seller of torches failed to put 'batteries not included' on the packet then there would rightly be questions about its compliance under the Fair Trading Act.
It's time the Reserve Bank and the banking industry ran a public education campaign during a calm and confident period to inform savers that there is no Government guarantee. It would reduce the pressure for politicians to act in a crisis and help investors think more clearly about the risks and returns from different types of investments.
A 'guarantee not included' label on their advertising would go some way to achieving that, but a proper industry publicity campaign would help too. The Government is forever informing drivers about the risks and their responsibilities in advertising campaigns. It's time we had one for savers too. 
---
A version of this article was also published in the Herald on Sunday. It is here with permission.