Siah Hwee Ang on RCEP, China's bad Apple, India's drug habits, South Korea's women trouble, a Mickey Mouse business in China, Singaporean students' Starbucks fix & more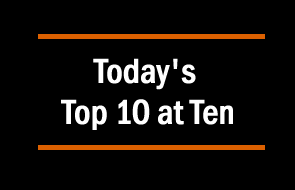 Today's Top 10 is a guest post looking at the latest happenings across Asia Pacific from Professor Siah Hwee Ang, the BNZ Chair in Business in Asia at Victoria University.
As always, we welcome your additions in the comments below or via email to david.chaston@interest.co.nz.
And if you're interested in contributing the occasional Top 10 yourself, contact gareth.vaughan@interest.co.nz.
See all previous Top 10s here.

1) The RCEP is knocking on NZ's doors
Last week, Auckland hosted the 13th round of negotiations of the Regional Comprehensive Economic Partnership (RCEP). There was also a public discussion on one of the days.
The RCEP involves 16 countries, including 10 ASEAN nations, China, India, Japan, South Korea, Australia and New Zealand.
The Trans-Pacific Partnership (TPP) has also contributed to our understanding of some aspects of multilateral trade agreements.
New Zealand is in the good position of being involved in both agreements. We can expect different challenges from each agreement and will likely need to pace our participation in both given our limited capacity and international relations.
"RCEP provides a way to link New Zealand with the major economies of the Asian region. And in particular, the economy of India, which we don't have an FTA [Free Trade Agreement]. It provides a better environment for our trade and investment and it also encourages movement on the TPPA, which is the other big deal that we've been working on."
2) Apple continues to struggle in China
It has been ruled that Apple's iPhone infringes a patent held by a Shenzhen company.
In this case, the exterior design of Apple's iPhone 6 and iPhone 6 Plus is deemed to be too similar to a mobile phone (100C) produced by Shenzhen-based Baili Marketing Service Inc.
Apple and its domestic partner, Beijing Zhongfu Telecommunications Equipment Co., have filed a lawsuit against the Beijing Intellectual Property Office (BJIPO) over its ruling. If the ruling is upheld, Apple will be banned from selling the iPhone 6 and iPhone 6 Plus in China!
An understanding of the Chinese intellectual property rules and environment is something that foreign companies have to keep a tab on at all times.
"Winning in a local court in China isn't necessarily uncommon for Chinese companies. Indeed, several lawsuits by Chinese companies against U.S. technology giants including Apple and Tesla haven't turned out so well in lower courts for the American firms. However, when the cases reach a higher court, they're often overturned."
Indian pharmaceutical companies are buying their way on to the global stage.
In the latest deal, Dr. Reddy's Laboratories, India's second largest drug maker will pay US$350 million to buy eight drugs from Israel-based Teva Pharmaceutical Industries.
This is Dr. Reddy's seventh acquisition since 2014.
Nonetheless, Dr. Reddy remains a distant second to Sun Pharma, whose purchase alone of Ranbaxy Pharma in 2014 cost US$3.2 billion.
Watch out for more shopping sprees from large Indian companies.
"India's second-largest drugmaker Dr Reddy's Laboratories Ltd said it agreed to buy eight generic drugs from Teva Pharmaceutical Industries and Allergan Plc for $350 million in cash to bolster its U.S. business."
4) Working women in South Korea
In South Korea, only one-third of employees who went on maternity leave returned to their firms after leave.
Although the law requires private companies to offer one year of paid maternity leave, Korean society continues to struggle to recognise that women can have careers.
Many companies are failing to accommodate the needs of working mothers, making it impossible for some women to return to the work force.
South Korea's female president, the first woman to lead an East Asian country, has vowed to find ways to bring about societal change in this area.
"WHEN Moon Su-jong, a web designer at a mid-sized South Korean chaebol, or conglomerate, joined a late-night company booze-up and declined alcohol, her bosses guessed that she was pregnant. (What other reason could there be for not drinking?) Far from congratulating her, they were outraged. They berated her for burdening her colleagues, who would have to shoulder her work in her absence, and asked her when she would quit."
5) Myanmar is booming, but goods can get stuck at times
That Asia needs US$8 trillion for infrastructure development over the next 10 years is nothing new.
Myanmar can vouch to that! In the face of its promising growth, the developing country has just last week experienced significant traffic jams at its biggest port.
Eventually, the backlog was cleared, but it caused a delay of at least one week for many of the goods passing through the port.
This is a good infrastructural indicator that the new Myanmar government needs to look into charting its economic growth, especially after the US temporarily lifted its sanctions on trade passing through Myanmar ports.
"The number of ships docking in Yangon has doubled over the past decade and the number of containers has jumped fourfold, data shows, clogging up inadequate storage space, overwhelming sclerotic logistics systems and delaying deliveries."
6) Indonesia needs to open up its air space
As Asia's economies battle it out on the tourism front, airlines have become a major stakeholder in the game.
AirAsia CEO Tony Fernandes believes that regulations in the Indonesian aviation industry do not allow foreign players to engage enough in the country.
Airline ownership is on the negative investment list, meaning that foreigners are prohibited from owning more than 49% of an airline. This is a typical joint venture arrangement in developing countries to restrict control in strategic industries and also to ensure that foreign technologies are retained.
For Mr. Fernandes' complaint to be addressed, there would need to be a significant policy shift across various industries within Indonesia as well as a relaxation of some of the regulations.
"It may not be the first time for Air Asia Group CEO Tony Fernandes to say "Indonesia is more than just Bali," but this time around, the pioneer regional budget carrier has argued that government regulations may contribute to the reason tourists remain heavily focused on the Island of Gods."
The much awaited Chinese Disneyland finally opened last week.
The construction of the 3.9 square kilometre theme park in Pudong New Area took five years.
Yet, three weeks before its opening, Dalian Wanda Group, China's biggest private property developer, opened the first of its planned 15 Wanda City theme parks.
It is just the beginning, but we can sense that it is never easy to enter a market with a giant local competitor lying in wait. Welcome to the Chinese market!
"One tiger is no match for a pack of wolves — Shanghai has one Disney, while Wanda, across the nation, will open 15 to 20," the 61-year-old Jianlin said in a recent interview with China Central Television.
"Wanda hopes to displace Disney as the world's largest tourism operator, and the Wanda City in Nanchang is the first step in that direction. Spread over 200 hectares, it houses an $800 million theme park, bamboo forests, an indoor shopping mall with cinemas, restaurants, numerous hotels and the world's largest ocean park."
8) Starbucks has a space problem in Singapore
In busy restaurants, space is often considered premium. So some establishments have turned to restricting the amount of time patrons can 'hog' the table.
One way to do this is to establish a time range that guests are aware of in advance. Another more subtle way is to remind guests by checking in with them to see if they want to place another order. We have all been through these before.
But apparently Starbucks is facing some particular challenges around doing just this.
In Singapore in particular, table hogging has become a major issue. Students have been accused of taking over and lingering for hours during peak periods.
Starbucks is by no means classified as a restaurant, and as such there are limited social rules surrounding behaviour in this sort of environment.
But this should not stop establishments from setting new rules, especially when space is scarce. Yet, new rules can mean a less appealing environment for real patrons. What a conundrum.
"Forty per cent of our customers are students. Some of them take advantage of our free flow of drinks and hog seats for up to eight hours."
According to the latest statistics in South Korea, the consumption of its staple—rice has fallen to half of what the country consumed thirty years ago.
A shift in diet, towards Westernised diets and healthy meals has been attributed as the main reason for this major consumption shift in rice.
Stocks of rice are now piling up, and every year there is excess capacity.
While this may incur costs for the South Koreans, the country does not have to look far to find potential partners in Asia, most notably China. South Korea exported rice to its neighbour for the first time in history earlier this year.
"The South Korean government is making efforts to help rice producers tap overseas markets and develop food and beverages that use rice in order to boost consumption and keep up with people's diversified tastes."
10) Do you have deep pockets for India?
Amazon is pouring US$3 billion into its coffers this year to allow for a bigger presence in India.
The company entered into India in 2013, and by 2014 had already invested US$2 billion.
The Indian online market is a significant one, with online shopping predicted to make up 25% of all retail sales by 2020. The number of online shoppers is expected to top 175 million by then.
Every large lucrative market will face some competition.
In this case, Amazon's competition comes in the form of Flipkart, a company founded in 2007 which has raised US$3.2 billion of funds thus far.
Fending off competition means that more investments are required, hence the new injection of US$3 billion.
Competition will come in the form of Alibaba, Baidu, and Rakuten Inc.
Imagine the size of the investment required for Amazon to continue its presence in India. It is little wonder that so many foreign companies will also find it challenging to survive in large markets like India.
"Amazon's investment comes as it looks to stoke growth in international markets which have lagged North America. In 2015, Amazon reported a $2.75 billion operating profit in North America but logged a $91 million operating loss in its international markets. Sales internationally also significantly lagged North America.

In India, Amazon operates a marketplace model where it only sells goods offered via its website by third parties due to local foreign direct investment rules."