Siah Hwee Ang says new food regulations are pivotal for foreign food companies in China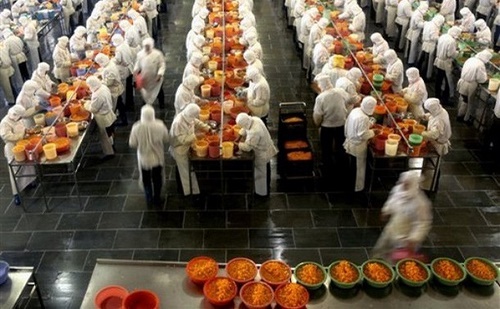 We expect the boom in the Chinese food market to continue for years to come.
The rising proportion of middle income earners (around 225 million) in the country is a major driving force of this rise in consumption.
Food prices have risen at an even greater rate, despite concerns around food security. China has been a net importer of major commodities like rice and wheat since 2008.
As quantity becomes more desirable, quality can slip. So, in 2015, the Chinese food authority initiated a new Food Safety Law, six years on from the previous law.
New food regulation in China
The China Food and Drug Administration (CFDA)—the primary government agency in charge of food safety matters during the lifecycle of a food product, was only established in 2013.
Before then, the regulatory regime for food and food-related products in China was relatively fragmented.
The centralisation of the regulatory regime allows for a more holistic approach to food safety in China.
Among other things, the 2015 Food Safety Law introduced the aspect of traceability in the food supply chain. Under Article 42, food producers and traders are now required to establish a 'food safety traceability system' to ensure that all foods they produce are suitably traceable.
Heavy penalties will be imposed for violating the new Food Safety Law. For example, a food producer or trader may be fined as much as 15-30 times the total value of the commodity for certain offenses (e.g. producing or selling foods containing unapproved food additives or made with non-food raw materials or recycled foods). Previously, fines sat at around 5-10 times the value of the commodity.
Health foods have also seen significant changes and new requirements. The new Food Safety Law sets forth two regulatory paths for health foods: pre-market registration, and notification. This expands upon the current registration-only system for health foods. Many new rules and regulations will be published in the coming months and years to implement the new Food Safety Law. They will reshape the Chinese health food industry substantially.
Under the new Food Safety Law, manufacturers of infant formula are no longer permitted to re-package formula and may not produce different brands using the same product formulation. Most significantly, infant formula product formulations must now be registered with the CFDA, which will grant approvals based on relevant scientific and safety considerations. Overseas dairy processing plants that export products to China are currently required to register with the Certification and Accreditation Administration of China (CNCA). Whether these companies also need to register the formulation of their infant formula is expected to be clarified by the authorities in the near future.
The new Food Safety Law also imposes certain due diligence requirements on third-party internet platforms to ensure that all online food traders are duly registered and licensed. In addition, the platform provider is obligated to report food safety violations to the local CFDA office(s).
Under the new Food Safety Law, food packaging materials are regulated as food-related products, and are subject to food safety risk evaluation with regard to their biological, chemical and physical risks.
In total, there were more than 150 new modifications to the Food Safety Law in the 2015 release. Many of these will only come into effect later this year.
Soft and hard regulators in China
Some of the new regulations under the new Food Safety Law will ensure that there are more stringent rules around the quality of food and food services.
This is good for both Chinese consumers and quality food producers and providers.
Consumer complaints represent another monitoring mechanism for the Food Safety Law. As we all know, social media can have a good or detrimental influence on food companies. For example, the lawsuits that Kentucky Fried Chicken filed in 2015 against Wechat accounts after rumours spread around its 'eight-legged chickens'.
Even e-platforms that assist in the delivery of food and food services will be subject to greater scrutiny by the Chinese authority under this new law.
As far as quality assessment goes, we have some help in Christchurch—a partnership with the China Certification and Inspection Group, the Chinese agency which monitors food safety and traceability. The agency also issues export and import certificates. The facilities allow food products such as infant formula and meat to be tested at an accredited NZ laboratory before export, instead of taking the risk of testing them when they arrive in China.
These changes point to the need for foreign food companies to constantly keep a lookout for changes in food regulations in China, and to understand the various stakeholder groups involved. For larger companies, it will also entail managing expectations around social media.
---------------------------------------
*Professor Siah Hwee Ang holds the BNZ Chair in Business in Asia at Victoria University. He writes a regular column here focused on understanding the challenges and opportunities for New Zealand in our trade with Asia. You can contact him here.