Eric Crampton avoids Pokemon Go long enough to steer you through meritocracy, getting fit on pizza, GM food, what happens if robots don't take all the jobs, sex and the Simpsons and much more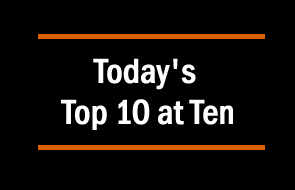 Today's Top 10 is a guest post from Eric Crampton, head of research at the New Zealand Initiative.
As always, we welcome your additions in the comments below or via email to david.chaston@interest.co.nz.
And if you're interested in contributing the occasional Top 10 yourself, contact gareth.vaughan@interest.co.nz.
See all previous Top 10s here.
Ok, put down your cell phone. Pokémon Go is good, but it's time for some reading now. And besides, it's just Zubat-country out there anyway.
1) Top of the charts this week is Helen Andrews's essay on meritocracy and the new ruling class. The late 1800s brought a shift in British civil service, with appointments based on merit rather than family connections or political favours. But today's meritocracy comes with little of the noblesse oblige of prior aristocracies. And, unfortunately, as Andrews puts it, "the majority of meritocrats are, on their own chosen scale of intelligence, pretty dumb. Grade inflation first hit the Ivies in the late 1960s for a reason." Too many of those who rise to regulate us think that, by virtue of their having risen to those positions, they know better than the rest of us about how we should live our lives.
2) Meanwhile, Richard Meadows doesn't much care for what passes for expert advice on nutrition. He ate pizza every day for 222 days and came out stronger because of it.
3) But, sometimes the experts really do know better. William Saletan looks at the science on genetically modified food, and the increasingly anti-science stance of the opposition.
4) Next up, Matthew Yglesias worries about what happens if the robots don't take our jobs. The productivity slowdown is the real threat, and the rise of the robots would be part of a solution to that slowdown. There would be interesting policy problems around distribution and incomes if the robots could do everything, but it is always easier to solve the politics of slicing up a growing pie than dealing with a stagnant and rotting one.
5) Hunter S Thompson told us that when the going gets weird, the weird turn pro. But it seems now that when things get weird enough, fiction has to get even weirder. China gets a new literary genre to keep up. How can you otherwise write fiction when Chinese officials get caught with $31 million in cash stashed under the mattress?
6) Finally, and hitting on both inequality and technocracy, let's turn back to The Simpsons. When Mensa ran Springfield, Comic Book Guy set a new rule. Henceforth, the people of Springfield would follow the mating practices of Star Trek's most logical race: the Vulcans, for whom Pon Farr happened but once every seven years. As Comic Book Guy noted, for some that would mean less sex, but for others, much much more. Inequality in numbers of sexual partners is real though: the Gini coefficient for single straight men is 0.536; for women, 0.470. Should all inequalities demand technocratic redistributive measures?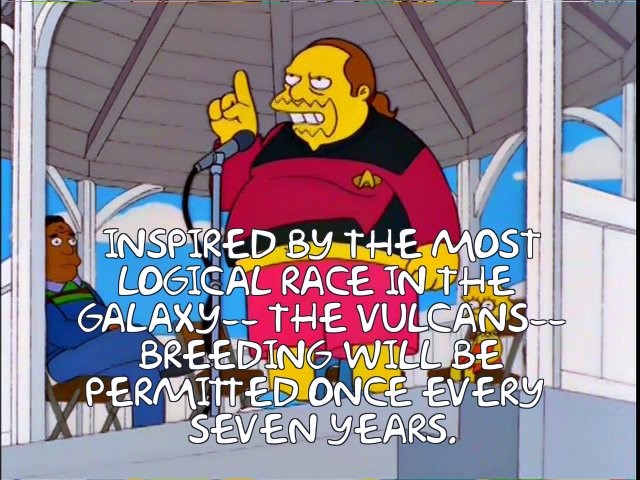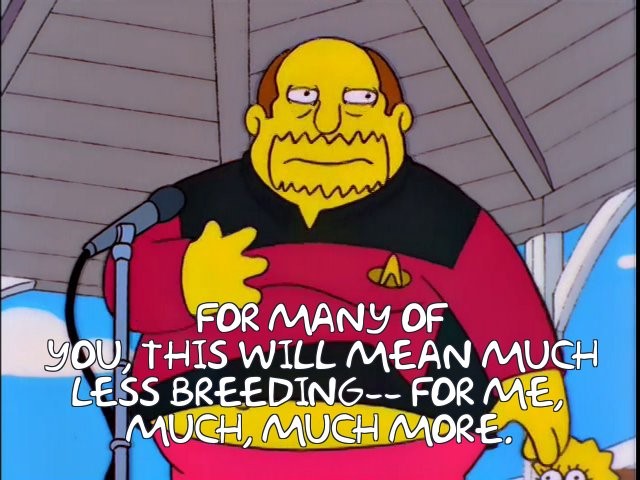 7) And now for something completely different. Both America and New Zealand have a general policy problem around regulation and spending. Suppose that there is some goal you want to achieve while in government. You can do it by spending measures, or you can do it by implementing regulations. In the former case, competition for scarce tax dollars means that at least some scrutiny hits spending measures. And if taxes go up, voters complain. If you foist the costs opaquely through regulation, though, you might have less pushback – even if the goal could have been more effectively achieved through a spending measure. I think this is one of the problems in how New Zealand deals with its stock of heritage buildings. Over at the Mercatus Center at George Mason University, Patrick McLaughlin argues for a regulatory budget, which would put regulation and spending on a level basis.
8) Sir Humphrey Appleby reminded us all, 30 years ago, that the Church of England is primarily a social organisation, not a religious one. But where do you draw the line? It really should not matter, except for that religious organisations have tax-exempt status, and social ones have to prove their case to be treated as charities. Colby Cosh asks how religious you have to be to be tax-exempt.
9) Ethics are complicated in the world of self-driving cars. When the double-clutching gear-jamming AI hits that Will to Power switch, watch-out.
10) That takes us to the end of this Friday's list. And to send you back to your Pokemon screens, here's Jeff Tucker making the case for Pokemon's brightening a dark world.