Andrew Campbell on the climate crisis, urban design, low incomes, making the Olympics work financially, Pokemon Go, Dilbert & more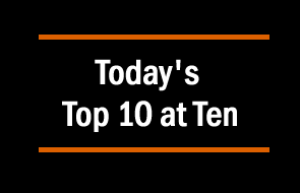 Today's Top 10 is a guest post from Andrew Campbell, a former Green Party chief of staff and communications director.
As always, we welcome your additions in the comment stream below or via email to david.chaston@interest.co.nz.
And if you're interested in contributing the occasional Top 10 yourself, contact gareth.vaughan@interest.co.nz.
See all previous Top 10s here.
1. The climate crisis is here – but no one is telling us.
Though a cold blast has hit in recent days, most of us have been talking about what a mild winter it has been. That's because year on year and month on month we have had a run of weather records, all bad. The reality is that increasingly we can now observe climate change in weather events both here in New Zealand and abroad. But despite the climate disaster playing out before our eyes no one is writing about. In this column from George Monbiot in the Guardian he lays the problem squarely at the feet of the media industry and journalists. This resonates with me. When I worked at Parliament if I wanted to pitch a story on the misuse of a Minister's credit card I could almost guarantee a story, but try getting up a yarn on the economic impact of drought, or the implications of sea level rises, or god forbid a policy response to these issues. Imagine if the media chose not to cover the housing crisis? Yet our ability to own a house pales in comparison to the climate crisis, which has far more implications for our economy and our future and deserves much more media attention and debate. That in turn could create greater demand for political resolution to the issue.
2. The Greens unveil new urban design policy.
The Green Party took the fascinating step this week of releasing their urban design policy via the website The Spinoff. Topical in the wake of the Auckland Unitary plan, the Greens have set out a four-point plan to improve our cities that calls for greater investment on public transport, permissive mixed-use zoning, energy efficient buildings and spending more on walking and cycling. This is the first time I can recall a policy launch has occurred via a website, and I think it's a great idea. The Spinoff should be congratulated for leading an expansive debate on Auckland's future, a role abdicated by the New Zealand Herald, that is instead dedicating its column inches to nimbyism.
3. Support for solo mum who feeds her three kids with just $81 a week.
The aforementioned Herald has run a focus series on poverty, focusing on Ebony Andrews and her efforts to feed her family on only $81 a week. While the story generated an outpouring of offers of support for Ebony, and follow up articles explained how to budget better, underreported was the staggering fact that Ebony only earns $341 dollars a week working as a teacher aide. At the heart of poverty in New Zealand is low wages. Statistics show that around a third of all children growing up in poverty live in families where at least one parent works. Teacher aides, who work in classrooms to assist children with learning impairments, earn only marginally more than the minimum wage. While I am sure the offers of support for Ebony are well intentioned, if we are serious about reversing her situation, and the situation of hundreds of thousands of kids living in low income households, we need to increase wages and pay people like Ebony more for the valuable work they do.
4. It's 2016 and a rugby exec only just found out that strippers are people too.
It's been a bad week for women. From Kevin Roberts sexist and inaccurate comments on women in the advertising industry (just ask literally any woman who works in the industry to find an alternative view to his), you would be forgiven for thinking we had wound back the clock a century. But the case that has generated the most media interest has been the homophobic and sexist behaviour of the Chiefs rugby team and their management. Alex Casey's scathing analysis in The Spinoff is a succinct summary of all that is wrong with attacking a women raising issues of sexual assault in her workplace. This is a business issue too. Women do the bulk of household purchase, but the bulk of advertising aimed at them is conceived and produced by men. And if the Chiefs rugby franchise expect women (and supportive men) to ever show up to their games or demonstrate any level of support for the teams then they need to show some leadership on the behaviour expected from their players. A ray of light in the sordid story was All Blacks coach Steve Hanson's comments that "mad Mondays" should be "kicked to touch". Good point and smart leadership.
5. I'm with the banned.
This nightmare retelling of a night out at the Republican convention with right wing provocateur Milo Yiannopoulos is a must read for anyone trying to understand the publics rejection of political parties and establishments. Alienating the public is part of the right's agenda to make politics a bad word. And the Republicans appear to have embraced that agenda with gusto. Specifically, the article reminded me of why I can't stand political operators, on both sides of the aisle, who treat politics as a game. When you play a game you play to win and in the process destroy the opposition. Such an approach permits unethical behaviour as part of the "game". Milo Yiannopoulos is a particularly vile character, but versions of him exist in New Zealand as we saw in the dirty politics revelations at the last election. If we are to rebuild the public faith in the ability of politics to improve lives and respond to the issues we face we need to reject the sort of game playing and bad behaviour so prevalent in our political system.
6. The Olympics haven't always been an economic disaster.
On the eve of the Rio Olympics it feels like we're all collectively holding our breath, hoping for the best but assuming the worst, and I don't even mean the New Zealand squad's medal prospects. Apparently the sailing ramp has collapsed, the athlete's village is a mess, if you drink more than three tablespoons of the water you might die, and the protestors have already hit the streets. Despite the apparent sub-standard infrastructure, Rio has actually spent more than $12 billion on the games, one of the most expensive in history. The Atlantic points out that Los Angeles and Barcelona demonstrated that the Olympics don't have to be financial black holes.  I found particularly fascinating Los Angeles cost efficient use of existing stadiums rather than building new ones from scratch. Another example of the benefits in the waste reduction motto – reduce, recycle, reuse.
7. England's plastic bag usage drops 85% since 5p charge introduced.
Talking about recycling, this news story in the Guardian shows the remarkable impact of using a price disincentive to change bad behaviour. Plastic bags are essentially pointless, but they are incredibly handy, and we are lazy so we use them. But stick a price on them and we look for alternatives. There is a lesson in that for other bad things, like carbon. Until we put a price on the things that damage our environment we will carry on the same as always. But the UK example of a price on plastic bags shows how remarkable and quickly change can occur. That is cause for optimism.
8. Why today's climate change has roots in Indonesia's genocidal past.
Joshua Oppenheimer has been an unusual documenter of the Indonesian genocide. I sat in fixated horror watching his documentary The Look of Silence, in last year's film festival in which elderly retired members of the Indonesian army show no remorse for their actions when confronted by family members of the genocide victims. Worse, some brag about their actions, acting out massacres and proudly retelling murders. In this article Oppenheimer points out that the lawlessness that began with the genocide has arrived in the form of climate pollution. 130,000 forest fires were lit in Indonesia last summer and autumn, destroying an area of rainforest larger than Wales, releasing more than 1.75 billion tons of carbon dioxide. The retention of rain forests is essential to the global effort to tackle climate change, but the Indonesian military responsible for the genocide are again acting with impunity by facilitating a climate crime.
9. Time for Steve Tew to go.
Wellington has been awash with Hurricanes fever this week, but behind the recent on-field success of New Zealand rugby questions are being asked about the business of the game. Last year the New Zealand Rugby Union ran a deficit, and despite a sell-out crowd for this weekend's final both the Hurricane's quarter and semi-finals were played in front of less than full houses. Chris Rattue lays the blame for the games demise at the feet of NZRU Chief Executive Steve Tew. Rugby is big business in New Zealand, but Rattue makes the case that compared with developments in the northern hemisphere (the French club final was recently played in front of a crowd of 90,000 in football mad Barcelona!) New Zealand is lagging behind the pack. Given the on field success of the game one would assume that the Rugby Board would be raking it in. The All Blacks are one of the most recognisable brands in the world and greater economic leverage ought to be possible.
10. Is Pokémon Go's Success Sustainable?
I have to admit I'm a technophobe. I can manage calling and texting on my iPhone, but most apps are beyond me. So needless to say the recent Pokemon Go phenomenon has gone right over my head. But this piece in the New Yorker by James Surowiecki is something I could engage with. I had never heard of micro transactions before, but they clearly drive revenue for the IT sector. Of note is that these sort of successful games can be made anywhere in the world. New Zealand has many attractive features that could make is a natural home for the gaming industry and something the Government ought to be working with the local industry on developing.