A view from Vietnam: How the Southeast Asian nation is overcoming the roadblocks to become a high income economy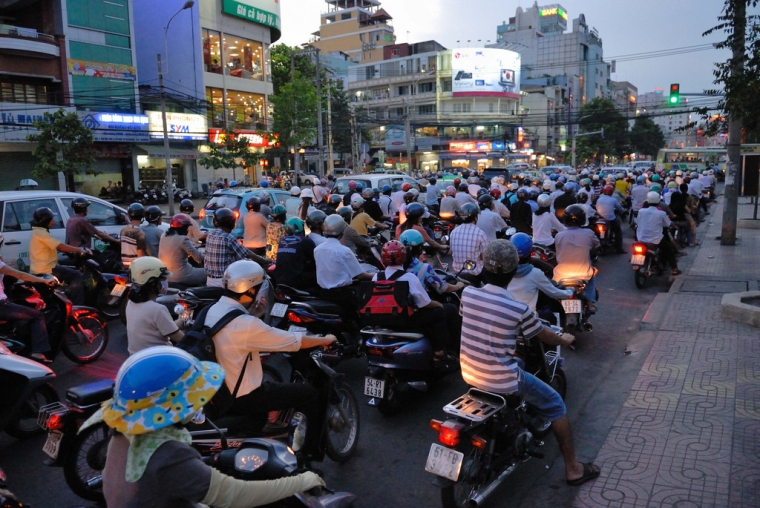 Vietnam is one of the world's fastest growing economies and an increasingly important trade partner for New Zealand. Two-way trade between New Zealand and Vietnam now exceeds NZ$1 billion, and with Air New Zealand now offering direct flights from Auckland to Ho Chi Minh City between June and October, it has never been easier to travel to Vietnam. Daryn Govender examines the challenges Vietnam faces as it plans to become an upper-middle income economy by 2035.
Vietnam, touted as the country to most benefit from the Trans-Pacific Partnership (TPP), has grown significantly in the years after Reunification. Since 1990 per capita GDP growth has been second worldwide, only exceeded by China. Future prospects are positive with Korn Ferry Hay Group forecasting Vietnam to have the world's highest real wage growth of 7.2% in 2017.
According to the World Bank, Vietnam became a lower-middle income country in 2009, with a Gross National Income (GNI) per capita of US$1,980 in 2015. The Vietnam government's objective is to maintain this strong economic growth and transition to a high-income country, defined by the World Bank as a GNI per capita of US$12,476. Achieving this challenge is difficult for many nations particularly due to the 'middle-income trap' phenomenon.
The middle-income trap occurs when an economy experiences a slowdown in productivity and moves towards a relatively stable equilibrium. Although the methods used to identify countries caught in the middle-income trap vary, success stories such as Japan, South Korea, Singapore, and Taiwan that have maintained economic growth and reached high-income status, can be compared to other countries experiencing promising starts including Brazil, Egypt, Indonesia, Mexico, and Thailand, which are now seemingly stuck as middle-income countries.
Causes of the middle-income trap can include a lack of basic and advanced infrastructure, adequate financing, skilled human capital, and innovative enterprise. Vietnam has followed a route familiar with many emerging economies, driven by labour-intensive industries such as manufacturing and agriculture, of which the latter still accounts for nearly half of Vietnam's workforce. As the inexpensive labour force diminishes in size and wages rise, Vietnam will be stuck between countries with cheaper workers and those with advanced innovation, technology, and manufacturing sectors. This presents Vietnam with the challenge of developing and sustaining an advanced, diversified economy. 
Vietnam's vision is to reach the upper-middle income category and be well on its way to a high-income economy by 2035, with the World Bank estimating that GDP per capita growth of at least 7% is required to meet this goal: an unprecedented task given the country's past economic performance.
Improving labour productivity is vital to for Vietnam to bypass the middle-income trap. This can be achieved through effective education. According to the Program for International Student Assessment (PISA), Vietnam is doing well in student achievement when compared to its peers. Vietnam first participated in PISA testing in 2012 with surprising results. Vietnamese student scores exceeded the OECD average and scores in the three tests (Mathematics, Science, and Reading), were above high-income countries such as the U.S. and Australia. In 2015 Vietnam slightly dropped in Mathematics (17 to 22), improved one place in Science (8 to 7), and dropped in reading (19th equal to 32). These results are commendable given Vietnam's lower-middle income status when compared to other PISA nations.
At the time Nguyen Vinh Hien, Deputy Minister of Education and Training, said that "we have to be honest and admit that if fully assessed, Vietnamese students' capacity is still poor," a reflection of Vietnam's exam focused education system. Going forward Vietnam is building on its success with World Bank-financed education reforms including the Renovation of General Education Project which aims to revise the curriculum up to secondary level, along with improving teacher quality through specialised training and support for teachers and principals.
Vietnam's agriculture sector has made significant progress over the past few decades, emerging as a top five producer for rice, coffee, tea, cashews, and rubber. However the sector does face issues such as variable quality and food safety practices along with a focus on products at the low-end of the value chain. Similarly, although agriculture outputs have increased, gains in areas such as efficiency and farmer welfare have been slow. In the long term the sector must pivot to be efficient, technology focused, and value adding. By processing raw materials and doing further manufacturing in Vietnam not only can farmers up skill, but a larger portion of profits can be retained locally.
The state is a major player in the farming industry in Vietnam, retaining substantial farming interests of its own and strong oversight of the industry and marketplace. It has been reported that between 2004 and 2014, eight million hectares of state-owned land returned less than US$4 per hectare per year on average. The government is aiming to divest its holdings in agricultural State Owned Enterprises, along with implementing an Agricultural Restructuring Plan which emphasizes economic, social, and environmentally sustainable growth for the sector. With nearly half of the workforce engaged in agriculture, a sustainable sector producing products higher up the value chain will be essential to overall economic growth.
Prime Minister Nguyen Xuan Phuc assumed office last year and has proposed a number of economic reforms including supporting Small and Medium Enterprises, Resolution 35 which aims to create one million private businesses, and increasing the private sector share of national GDP from 43% to 49%. However areas such as equity, particularly for minority ethnic groups, and the environmental effects associated with rapid growth such as air and water pollution still need particular attention for the country to fully prosper. 
Free Trade Agreements (FTAs) are seen as another driver of Vietnam's growth, with FTAs with Japan and Chile signed in recent years. The TPP was expected to boost Vietnam's GDP by 11% within a decade, according to the ISEAS-Yusof Ishak Institute. Given the TPP's uncertain future following the 2016 U.S. Election it is unclear if these economic gains will be fully realised. The economic reforms required in Vietnam as part of the TPP including environmental and worker protections are seen as positive steps forward for the nation. However it remains to be seen if the government will still push ahead with these reforms without the major driving force of the TPP to spur action.
The recent displays of commitment to the TPP by the Australian, Japanese, New Zealand, and Singaporean Prime Ministers in some form show that there is still optimism for TPP ratification, although it would be wise for Vietnam to plan for either outcome. Prime Minister Phuc has said that he hopes that the TPP will go ahead and has affirmed that Vietnam is willing to work with the remaining TPP members even without U.S. involvement. U.S. President Donald Trump has also expressed an interest in strengthening the relationship between the two countries. As the U.S. is Vietnam's largest export market this potentially signals continued strengthening relations regardless of the TPP.
Corruption remains a prominent issue in Vietnam with recent high profile cases involving the Vietnam Construction Bank and state-owned MobiFone. Although it is hard to quantify the full effects of corruption, Vietnam's score in the Transparency International Corruption Perception Index (CPI) has remained largely unchanged since 2012. Development and Policies Research Centre analysis estimates that a one point increase in Vietnam's CPI score will lead to a 0.57% increase in annual growth rates, mainly through investment growth. Therefore reducing levels of corruption is crucial if Vietnam is to achieve its ambitious growth targets. Prime Minister Phuc has promised to combat corruption but more significant reforms will be needed to accelerate economic growth.
Vietnam is just at the beginning of its journey as a middle-income nation and it will take time to reach high-income status. By one definition a country has 42 years before it succumbs to the middle-income trap. The outlook is positive in areas such as education, but more attention is needed in other domains such as agriculture and corruption. Similarly some influences are out of Vietnam's control, such as the TPP. Vietnam has the potential to accelerate its growth trajectory through strategic and timely economic reforms, and the time to make them is now. The decisions made today will determine the country's ability to bypass the middle-income trap and transition to a high-income economy in the coming decades.
---
Daryn Govender is a penultimate year Civil Engineering, Finance, and Economics student at the University of Auckland. He is currently completing an internship at KPMG Vietnam supported by the Asia New Zealand Foundation.