Terry Baucher says that families struggling to meet bills suffer from a lack of income, not over-taxation. Boosting incomes would be far more effective than an ill-defined tax break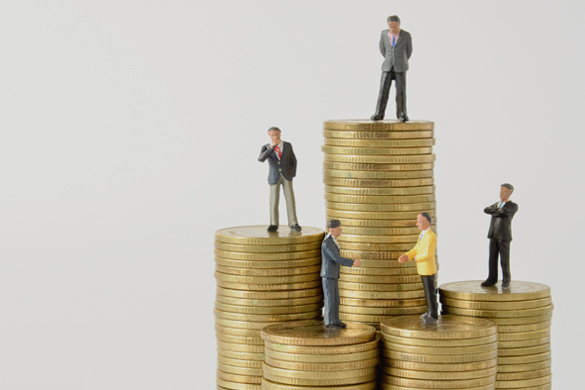 This is the eighth of ten articles in the Public Service Association's "Ten perspectives on tax" series.*
---
By Terry Baucher*
During the year ended 30th June 2016, the Government collected nearly $70 billion in tax revenue, or about $14,900 from every person in the country.1 That sounds like a fair sum of money, but how does New Zealand's tax burden compare internationally?
Very well it appears, based on the 2017 edition of the OECD's annual Taxing Wages report.2 According to the OECD, a childless single New Zealand worker earning the average wage had the second lowest "tax wedge" in the OECD's 35 member countries. One-earner families with two children had the lowest tax wedge in the OECD.
Behind the headlines
The low tax wedge is a combination of relatively low income tax rates, no social security taxes and transfers for social assistance, such as Working for Families (WFF) tax credits.
What the bald statistics hide is the effect of the "abatement" provisions for those receiving social assistance when they earn extra income. Under the abatement provisions, the amount of WFF assistance is "abated" by 22.5 per cent for every extra dollar of income over $36,350. This means that as income rises, the amount of assistance falls. This can have some dramatic effects. According to one Inland Revenue report in 2015, there were 4,000 families with an effective marginal tax rate of 100%.
In other words, every additional dollar earned was effectively lost through the combination of benefit abatement and tax. It's conceivable that more families will face this welfare trap as the abatement rate is set to rise to 25 per cent in the near future, together with a corresponding reduction in the threshold to $35,000.
The OECD survey looks at income tax, but what about GST? This made up $18.2 billion, or 26.1 per cent, of the total tax collected in the 2016 year. GST's percentage of the overall tax take places New Zealand second overall in the OECD .3
On average, GST or value added taxes represent about 20 per cent of tax revenues in other OECD countries. New Zealand's higher GST take is because it has no exemptions or variable rates, making it the most comprehensive GST in the world.
This is the result of the "broad base, low rate" approach to tax policy that governments of both hues have followed since the mid-late 1980s. A broad base with no exemptions allows lower tax rates, and the GST system – which is regarded as a model of this kind – best exemplifies this policy.
Countries seeking to introduce Goods and Services Taxes are encouraged to follow the New Zealand approach.
However, one problem with GST is that it is seen as a regressive tax for low income persons as they pay a greater proportion of their income in GST than higher income earners. This has prompted calls to zero-rate fresh food, for example, as a means of redressing this issue.
Such proposals address the symptoms, not the cause. Families struggling to meet the bills suffer from a lack of income, not over-taxation. Boosting incomes for low and middle income families would be far more effective than an ill-defined tax break.
The broad base low rate approach can also be seen with corporate income. Companies paid just over $11 billion in corporate income tax for the 2016 year. At 4.4 per cent of GDP, this is in the top five of the OECD.
However, the base is perhaps not as broad as it appears. The four Australian owned banks paid $1.65 billion between them in 2016, Air New Zealand $200 million and the New Zealand Superannuation Fund $538 million on profits of $559 million; an effective tax of 96 per cent!
The New Zealand Superannuation Fund is consistently one of the largest taxpayers in the country, having paid more than $4.6 billion in tax since its inception in 2003. More than $3 billion of this tax has been paid since the government stopped contributions in 2009. The New Zealand Superannuation Fund was established to help meet future superannuation costs, but it pays so much tax that it's already covering almost five per cent of the current cost of New Zealand superannuation.
Its colossal tax bills are very largely down to the vagaries of the financial arrangements and foreign investment fund (FIF) regimes, which operate as de facto capital gains taxes.
Social spending relative to the rest of the world
New Zealand's social spending on health, education and social security and payments including superannuation was $52.8 billion during the June 2016 year. At an estimated 21 per cent of GDP, it is in line with the OECD average.
$12.2 billion (4.9 per cent of GDP) of the total social spending represented New Zealand superannuation, with health costing $15.6 billion (6.2 per cent of GDP).
Treasury expects superannuation and health costs to rise to 7.2 and 8.3 per cent of GDP respectively by 2045. Although these future costs would be reasonable by comparison with other OECD countries, they still represent a 40 per cent increase from present levels.
Consequently, future governments will face mounting pressure to either raise taxes or cut services. Politically, cutting services or means-testing access to services and benefits has proved difficult – witness the abandonment of the New Zealand Superannuation Surcharge in the mid-1990s, and how the current National government retained popular social programmes such as WFF and interest-free student loans.
On the other hand, both Labour and National have successfully implemented increases in GST, and the Labour government was elected in 1999 with a specific promise to raise the top rate of income tax.
Lessons from overseas
New Zealand's "broad base, low rate" approach to tax policy is seen as best practice. Nevertheless, are there lessons from overseas tax systems for New Zealand?
Yes, in the form of a comprehensive capital gains tax (CGT). This would apply without the need to determine a person's intent. Its introduction should broaden the tax base to meet future health and superannuation demands and help address growing wealth inequality.
In a 2012 paper, Treasury saw "merit in a general capital gains tax…as possible revenue-raising reforms."4 Inland Revenue, in the same 2012 paper, was less persuaded; arguing that evaluating a CGT "would be a very substantial exercise". For the moment the politicians are siding with Inland Revenue.
What's remarkable about this debate is that the experiences of other countries' CGTs are discounted, with the difficulties for a New Zealand CGT viewed in isolation.
CGT has its complications, but those already exist in New Zealand's tax system in the financial arrangements and FIF regimes; probably the two most complicated parts of the current tax system.
The FIF regime is arguably the most loathed part of the tax regime. In 2006, when the latest incarnation of the FIF regime was introduced, Parliament's Finance and Expenditure Select Committee received over 3,400 submissions.5 Only two supported the changes.
New Zealand is practically alone in the OECD in not having a CGT. The United States has treated capital gains as income since it introduced a Federal income tax in 1913. The UK has had a separate CGT since 1965, Canada introduced its CGT in 1972 and Australia has taxed capital gains since 1985. There are decades of practical experience about the implementation and operation of a CGT available from other jurisdictions.
The absence of a CGT undermines the broad base low rate tax policy. If politicians and policy makers want to ensure New Zealand continues to have one of the lower tax burdens in the OECD, then this gap must be addressed. Otherwise future generations will face an unpalatable combination of higher taxes and reduced services.
---
---
*Terry Baucher is the director of his Auckland based tax consultancy firm Baucher Consulting which he founded in August 2004. This is the eighth article in the PSA's "Progressive thinking series, Ten perspectives on tax."