Siah Hwee Ang sees the growing aviation cooperation between China and Russia as important for both countries, one that will transcend their regular squabbles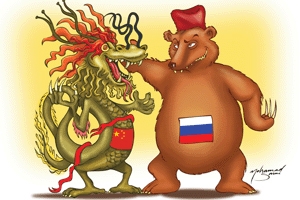 By Siah Hwee Ang*

Russia is one of the fourteen countries that share a border with China.
As with China's other neighbours, Russia's relationship with China has had its ups and downs. Tensions between the two are common.
One thing is for sure though: China's relationship with Russia is watched closely by Washington.
The colossal partnership between Russia and China has the potential to be seen as a great union, or as a possible threat.
Last week, China and Russia set up a 50-50 joint venture in Shanghai to build wide-body airplanes.
These jets will have a capacity of 280 seats and a range of 12,000 kilometres.
To put this into perspective, 12,000 kilometres will take us from Wellington to Los Angeles, and even from Wellington to Johannesburg.
The new airplane is designed to compete in the global market alongside Boeing Co. and Airbus Group SE.
Research and development, and all operations will be conducted in Shanghai.
Each year, Chinese airlines spend a lot of money buying airplanes from Boeing and Airbus to feed the country's booming growth in international flights.
Meanwhile, China continues to build more airports and establish new airlines, with both domestic and foreign airlines increasing their flight frequency in and out of the country.
The waitlist and associated waiting time for the delivery of airplanes from Boeing and Airbus continues to be long. Their websites show a backlog of around 7,000 airplanes each.
It is evident that a large part of the plan is to reduce some of the supply-side limitations, allowing the aviation industry to grow faster.
But at the same time, COMAC (Commercial Aircraft Corporation of China) the Chinese entity involved in the joint venture has had little experience in the aircraft business.
Only earlier this month, COMAC's single-aisle C919, China's first large domestic passenger jet, made its maiden flight.
Building wider-body airplanes certainly requires higher technological capabilities. COMAC is well aware of the challenges that Bombardier has faced.
So, China is being sensible in not going it alone, and probably doesn't have the luxury of spending time on development.
A partnership with another organisation, United Aircraft Corp, allows access to advanced technologies from the Russian side.
Perhaps this can be put down to having limited options as Boeing and Airbus cover off the industry in the US and Europe, respectively.
But a partnership between one current and one future powerhouse in technology can raise eyebrows.
The matter of fact is that the development of the new wide-body jet will take the better part of eight years. The maiden flight is planned for 2025.
It is quite perplexing that the timeline is so long, given that a lot of technology is already available thanks to Boeing and Airbus' extended presence in the market.
A possible explanation is that the venture could be aiming for an ambitious state-of-the-art type jet, and not one that simply replicates the models of the current players.
The first jets will be delivered in 2028 and seek to take away a 10 per cent market share from the equivalent Boeing (B787) and Airbus (A350) models.
That target is an ambitious one.
So, the airplane industry needs to keep an eye out for what could potentially be strong competition.
With this new addition, the aviation industry will soon see faster growth, a greater frequency of flights and even lower airplane ticket prices.
However, what might catch attention for now is that China and Russia are working more closely in the air space. A partnership in such a strategic industry signals both countries' intentions to align more closely for mutual benefit.
---
*Professor Siah Hwee Ang holds the BNZ Chair in Business in Asia at Victoria University. He writes a regular column here focused on understanding the challenges and opportunities for New Zealand in our trade with Asia. You can contact him here.