Simpson Grierson's Caroline Ferguson on how learning, unlearning and relearning is the way of the future; the upside of shared work spaces; the interaction between law and AI; the rise of freelancers and more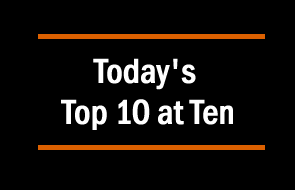 Today's Top 10 is a guest post from Simpson Grierson Business Transformation Manager Caroline Ferguson. 
Caroline focuses on how to best combine people, process and technology to enhance the delivery of legal services. Her Top 10 highlights some of the key shifts and trends in this area.
As always, we welcome your additions in the comments below or via email to david.chaston@interest.co.nz.
And if you're interested in contributing the occasional Top 10 yourself, contact gareth.vaughan@interest.co.nz.
See all previous Top 10s here.
1. First full year of Generation Z in the workforce.
Move over Millennials, 2017 has seen the first of Generation Z enter the workforce. Born in 1995 or later they make up about a quarter of the population so will certainly have an impact going forward. We cannot however forget that New Zealand has one of the highest rates of employees aged over 55 years of all OECD countries so we need to ensure we understand and support the needs of all workers.
2. $203b big data analytics market.
As the creation and consumption of data grows exponentially, the International Data Corporation (IDC) predicts that worldwide revenues for big data and business analytics will grow to more than $203 billion by 2020. Many organisations are however still at the very beginning of their data journey and it is not always easy to find the right place to start. Finding the right people with the right skills is key but this is not always easy given the global shortage of data scientists - once dubbed by the Harvard Business Review as the "sexiest job of the 21st century." It's great to see the likes of Tech Futures Lab offering brilliant opportunities to upskill in this area.
3. 31% of organisations addressing education, skills and training.
According to Deloitte's 2017 Millennial Survey, the most common issue with which businesses are engaging is education, skills and training. Given the pace of change this needs to continue to be a focus. In the words of writer and futurist Alvin Toffler, "the illiterate of the 21st century will not be those who cannot read or write, but those who cannot learn, unlearn and relearn."
4. 40% of the workforce will be freelancers in the next couple of years.
Numerous factors including rapid technological development and the continual push for more for less are having a big impact on how businesses operate and are structured. Multiple studies predict that the number of freelancers and contractors will continue to rise as companies hire on-demand to solve specific problems and access appropriate skills all whilst managing costs. It has been very interesting seeing the global growth of contract lawyer businesses. In addition to the benefits for clients, I love that this new business model also provides a more flexible way for lawyers to practice as they can pick and choose when they work.
5. 50% of web traffic comes from mobile phones.
According to the "Digital in 2017 Global Overview" report from We are Social and Hootsuite, mobile phones take a 50% share of all web pages served to web browsers. The time we spend on our mobile devices impacts on our expectations on how we should be able to work and do our jobs and this is driving organisations of all sizes to ensure they are well set up to support flexible and remote working.
6. 68% better able to focus while coworking.
Having worked in coworking spaces in various locations around the world and in New Zealand, I myself have felt this boost in focus and productivity. There does seem to be something magical about spaces filled with a collection of people all doing different types of work. It's been great to see the continual growth of coworking spaces in New Zealand, largely led by the team at Bizdojo. It's also been interesting to follow the rise of global player WeWork. I am not sure if it is still the case but at one point WeWork were the fastest growing lessee of new office space in New York. I believe that even large organisations with established offices would benefit from supporting their people to utilise coworking spaces as part of flexible and remote work arrangements. They can offer great alternatives to working alone at your kitchen bench and may even create business opportunities!
7. Video accounts for 70% of all internet traffic.
Nielsen has estimated that people aged 18 - 34 spend nearly 30 hours a week on digital devices with video occupying most of that time - with these sorts of statistics it is no wonder that video accounts for 70% of all internet traffic and Cisco predicts that this could hit 90% in 2020. With our love for video it's been great to see more and more companies embrace video to enhance client and employee engagement.
8. $8b Artificial Intelligence market growing rapidly.
There is no doubt that artificial intelligence is the topic of the moment. IDC predict that the AI market will grow from $8b to more than $47b in 2020. There has been a lot of press about robot lawyers taking over the profession but I agree with Professor Daniel Katz from Ilinois Tech - Chicago Kent College of Law, this is all about humans and machines. AI is already making many of the less exciting tasks lawyers complete more efficient and accurate so it will be great to see the potential of the partnership develop.
9. Only 9% of the 3b plus global workforce has access to workplace wellness programme.
Healthy employees are more engaged and more productive. A Harvard Business Review study also found that happy employees are on average three times more creative - a critical skill in current times. It makes complete business sense to look after your people and it is important that all organisations focus on creating environments that support people to be at their best and do their best work.
Global futurist Rohit Talwar has suggested that today's children could live to 120 and work to 100. In response The Times called it "the stuff of nightmares" - I am sure there are a lot of people who would think that way! But it could well be the reality and Talwar says the coming generations will need to prepare themselves to work in 40 different jobs - I think this reiterates the importance of point 3 above - learning, unlearning and relearning is going to be key.