Does Auckland have the infrastructure capacity to host the America's Cup? Alex Tarrant reviews two of the Mexican stand-offs involving central government, the Auckland Council, the Airport and Watercare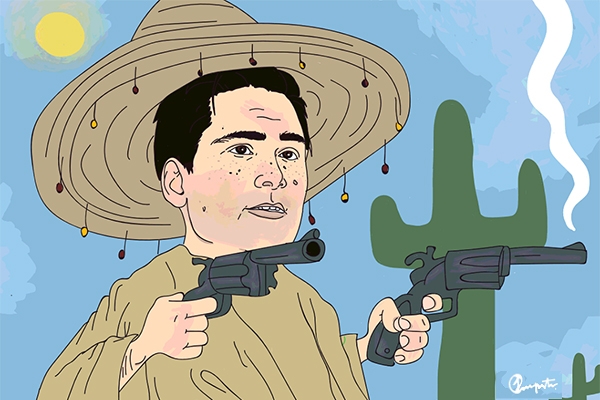 By Alex Tarrant
Emirates Team New Zealand's America's Cup win has certainly fired up the Auckland infrastructure debate (as if it needed more fuel). Every interested party is now reviewing their wish list trying to figure out whether their pet project could be completed in four years. Rail, roads, houses and water pipes.
The 2021 event (Auckland will also hold the Asia Pacific Economic Cooperation summit that year) might be a Godsend for getting even more Auckland infrastructure work on the move (if we can find the labourers needed – don't mention foreigners!).
But the multiple Mexican stand-offs between the Government, Auckland Council and other parties like Auckland Airport and Watercare need to be resolved. The key in each dispute is who pays for what, when, why and how.
This (rather long) column focuses on two of those stand-offs. Rail to Auckland Airport from the CBD, and cheaper, faster provision of water services for new housing in Auckland – including boosting incentives for cheaper densification. On Rail, there is a simple answer to get things moving if the project would indeed lead to benefits. On water, revised legislation debated in Parliament last week provides some hope.
Rail to the airport
Politicians were quick to jump on the success of ETNZ earlier this week and the expected economic benefits to Auckland from holding the Cup in 2021. The Green Party used the occasion to question the Transport Minister on whether Auckland would have capacity to host the event.
"Will the government start building rail to the airport sooner, if Auckland hosts the next America's Cup regatta, or will Aucklanders still have to wait 30 years?" Julie Anne Genter asked Simon Bridges.
Bridges' answers focussed on the current plan of protecting a sole purpose route that will originally be marked out for a busway to the Airport. This showed the government was prioritising the project, he claimed, being careful to add it was difficult to explain what the timeframe could be for progressing to rail. This would be driven by demand and usage numbers, Bridges said.
So why not just kick-start the project of rail to the airport? If central government were to lead on funding, couldn't others like the Council be given time to come up with their share? The reason this National-led government isn't making any firm commitments like this is down to the principle of, whoever benefits should pay.
Steven Joyce, Simon Bridges and other Ministers have in recent months been talking more about the use of value uplift taxes to help fund new projects – rates will be higher in areas that profit from increased transportation links, for example. These could be residential rates paid by homeowners in areas with improved access to the CBD from a new road, which would have boosted the value of their property. They could also be imposed on commercial businesses that benefit from more foot-traffic due to being closer to, say, a new train station.
The government openly admits that a value uplift tax would have been a perfect fit for Auckland's inner-city rail loop. But, because the loop was announced before Ministers could start spraying the idea around, they feel it would be a bit rude (think a vote-loser) to suddenly turn around and clamp such a tax on business owners close to where the new stations would be, regardless of the economics.
They have to find a project that hasn't yet started, and which would clearly benefit the areas linked by the project. Penlink has been talked about. I also give you the Airport-City rail link.
However, Bridges and Joyce are engaged in a stand-off with Auckland Airport. 'If you come to the table, then we will too.'
Auckland Airport would clearly benefit from any rail link with the city. So, Bridges et al are waiting for them to come to the party. If we're talking light rail – trams – then Dominion Road businesses and residential properties should also benefit in value uplift.
It's a stand-off though. If the airport argues against paying more because the benefits won't be that great, then the government can turn around and say, 'ok well that's a good argument for not needing to build the new connection'. If the government just starts funding the link itself, then it runs the risk of no-one else coming to the party. They also don't want to be seen starting the project with inclusion of value-uplift taxes that no-one agrees on - that's not the way this government wants to work.
In effect, the sticking point is a matter of principle. It's a principled Mexican stand-off. Or a prisoners' dilemma in a low-security prison.
Water pipe dream
The next stand-off is a key component in Auckland's housing debate. Water pipes. A couple of weeks ago I wrote about how the National Cabinet would love to take a swipe at the monopolistic, not-for-profit Watercare in Auckland. They're getting nearer to it.
The Local Government Amendment Act 2002 Amendment Bill (No 2) was introduced last year by former Local Government Minister Peseta Sam Lotu-Iiga. And boy was it popular. The Local Government Select Committee heard nearly 200 submissions on the Bill. They've now reported back with amendments. The Bill received a second reading last week.
The stand-off between local and central government on water pipes can best be summed up by a conversation between media and Local Government New Zealand a few weeks back. A lot of New Zealand's water pipe infrastructure was put in in the 1960s, we were told. Those pipes had an expected lifetime of 60 years, so we're heading towards an exponential renewals curve over the next 15 years for assets worth over $100 billion.
A couple of the journalists (including this correspondent) were a tad miffed by this. Did local councils know there was only a 60-year life span? "Yeah, they did," was the reply. ""The renewals curve is not a surprise. But it's here, now."
So why haven't councils planned over those 60 years to put replacement funds aside? The problem, we were told, was that in the 1960s a lot of the pipes were paid for by central government. Now, technically only local government is on the hook. "Under our current funding model, it's rates and debt [to pay for it]. The issue becomes, is that a sustainable position? Our view is it is not."
That's why local government is calling on central government to agree to a co-funding model for the replacement of water pipes nationwide that are coming to the end of their working life (even though this was all known about for 60 years).
I asked Local Government New Zealand chairman Lawrence Yule whether they'd had any indications from central government that this could be done. He said central government had always indicated a willingness to look at it "but only once you've made sure what you're doing currently is being done as efficiently as it can be."
It's a stand-off. Local government is refusing to consider how to fund replacement pipes until central government agrees to a co-funding model. Central government won't agree to a co-funding model until local government gets its own house in order and ensures water services operations are as efficient as possible.
The issue got to a point where central government decided to try and take the initiative. This is where the Local Government Local Government Act Amendment Bill (No 2) comes in. Central government clearly believes things aren't being done as efficiently as possible.
The Bill will allow various councils to band together to create Transport and Water Council Controlled Organisations (CCOs) to provide services across several local authorities. Scale. It will also give greater scope for re-organisation of CCOs. As now-Local Government Minister Anne Tolley put it in Thursday's second reading, it provides "an opportunity for the sector to show their local strategic leadership, which may require hard decisions about difficult options in order to secure a positive future for their communities."
Let's take Watercare. In its submission on the Bill (co-submitted with Auckland Council), it argued that since its first fully operational year in 2011/12, it has reduced the cost of water delivery to Aucklanders compared the rag-tag pricing run previously by individual councils pre-Super City.
That's true. The $1.30 per thousand litres was below the range of $1.31-$3.50 encompassing Rodney, North Shore, Waitakere, Auckland, Manukau and Franklin. Job well done. Scale worked. But since then, that cost has risen each year to $1.44 per thousand litres in 2016/17. That's not what central government (or Auckland residents) wanted to see.
A 2015 Cabinet paper introducing the Amendment Bill reveals what some Cabinet Ministers really wanted to do. The Local Government Minister at the time highlighted the potential benefits of requiring Watercare to have to pay a dividend ("distribute surpluses") to the Council. This could encourage more efficient pricing of water services and allow it better access to finance.
However, due to the prospect of the move not being supported by "the community," the idea was not included. Indeed, when the Local Government Select Committee reported the Bill back to the House in June, Section 70 was there prohibiting the distribution of surpluses by water services CCOs.
A pity. There is some exciting stuff in there, though. Central government is aiming to be imposing a number of requirements that I'm told are aimed at drastically changing the way Watercare operates.
The Productivity Commission's 2016 report, Using Land for Housing, helped. Looking at Watercare from a housing supply lens, the Commission raised a number of concerns and recommendations which will partly be tackled by the Bill.
Firstly, Watercare's Infrastructure Growth Charges (IGCs) do not recover the full costs of growth (new pipes for new housing), the Commission pointed out. Although initially this could produce benefits for new home buyers not paying the full cost for water infrastructure, deficits will need to be recovered from somewhere. Recovery from existing residents will reduce community acceptance of growth, limiting the supply of infrastructure-enabled land, therefore contributing to higher house prices.
Watercare needed to change how it calculates charges to better reflect the underlying economic costs of supply in different locations and for different types of dwelling, the Commission said. This linked in with criticisms of Watercare's model of charging flat fees.
"To the extent that certain types of development result in lower infrastructure costs than others, a flat charge will result in a cross-subsidy between different types of dwelling. This might result in a situation in which smaller and more affordable dwellings are cross-subsidising larger standalone dwellings."
The Bill requires Watercare to shift away from the IGC model to a development contribution model. It has until 30 June 2018 at the latest to figure out how to best make the switch.
Meanwhile, the Commission urged Watercare to consider development agreements, which would enable private developers to take responsibility for building trunk infrastructure. It referenced research that developers may be able to provide infrastructure solutions at lower costs than Watercare, particularly due to 'over specification' required by Watercare.
"Watercare notes that development agreements have a range of advantages (eg, they provide a mechanism for bringing in private capital into the provision of public infrastructure) and disadvantages (eg, the time required to prepare and finalise the agreements, especially if more than one developer/landowner is involved). The obligation to consider requests from a developer to enter into development agreements and provide the developer with a written response would not compel Watercare and other CCOs to enter agreements where there are good reasons not to. But a requirement to set out in writing why a development agreement may not proceed would provide clarity and transparency about the reasons for the decision."
The Bill doesn't appear to go as far as the Commission would have hoped, but it does provide legislation for Watercare to be able to enter into development agreements.
Finally, the Commission appeared horrified that for both Auckland Transport and Watercare, "supply of infrastructure to support growth is not reflected in either organisation's performance measures."
"While the primary accountability documents for Watercare and Auckland Transport (the Statements of Intents) are broadly aligned with the Auckland Plan vision, they do not give effect to the specific objective in the Auckland Plan to increase the city's supply of new dwellings," it said.
"Auckland Transport and Watercare's SOIs should be amended to include performance measures relating to the efficient roll-out of new infrastructure to support an increased supply of new dwellings.
"The regulatory and institutional framework around the water sector can be improved. Discipline and transparency around the pricing of water services, and better performance monitoring, would improve the ability of the water sector to support urban growth," the Commission said.
The Bill includes provision for Council input on CCO statements of intent and for performance monitoring. Each CCO – ie Watercare – must provide its shareholders the opportunity to influence the direction of the organisation, and must provide a basis for the accountability of the directors to their shareholders for the performance of the organisation.
And that performance monitoring? A local authority must undertake regular performance monitoring to evaluate a CCO's contribution to the achievement of the authority's objectives for the organisation, the desired results set out in its SOI and the overall aims and outcomes of the local authority.
What's yet to be seen, however, is whether the changes would have such an effect as to fix the pending funding crisis for water pipe replacement and extension. I would think not. But with this Bill, central and local government will both be able to tap the argument that councils and their organisations have reached, or will soon reach efficiency limits.
And that's the trigger for central government coming to the funding party.