National's boot camp policy a dog-whistle to Winston First voters as English and Joyce seek poll jump; Alex Tarrant says the policy is an insulting acknowledgement of the National Cabinet's lack of understanding on inter-generational poverty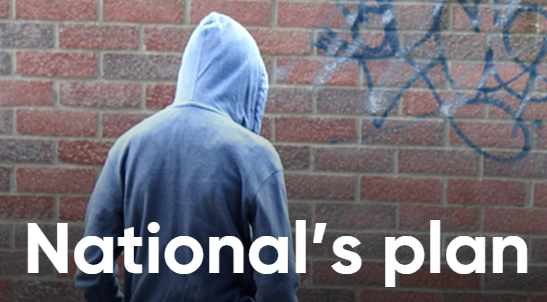 By Alex Tarrant
National must be getting very, very scared of Winston Peters.
I would hope that the release of such an outrageous Young Serious Offenders policy on Sunday could only be put down to the fact that National is three points below where it wants to be in the polls – as Steven Joyce said Sunday – and that it thinks it can nick this back from New Zealand First's strong 'boot camp' wing. Sadly, that doesn't seem to be the case - it's worse than that.
They're going to need more than a 3% swing. This policy will see more centre voters shift to Labour, following the Ardern-led flow over the past two weeks. It is easily seen for what it is: a let's-get-some-quick-headlines love affair with dog-whistle politics.
The dog-whistle insult was ironically thrown at National on Sunday by none other than Peters himself. New Zealand First's response can basically be boiled down to 'our boot camps will be better than yours':
"National created this problem by its lack of resourcing for the police and not recognising that many youth go off the rails at school. For many, school is not the best fit," Peters said.
"New Zealand First would take these youth out of school, before they get into bashing and threatening dairy owners, and give them a chance. Our Youth Education Training and Employment scheme would put them into paid training in the Defence Force where they would improve their literacy and numeracy and learn a trade.
"They'd have something to focus on, and wouldn't be wandering the streets looking for trouble. By 18 they would be work ready and valuable to our workforce," he said.
The staggering line in Peters' argument is that many of these young people go off the rails at school.
Perhaps he means while they're at school age? This may well be when many issues are first noticed. But if a child in Peters' words 'first goes off the rails' at age 12 then there would have been many, many years of poverty, neglect, abuse and lack of state and/or family support beforehand. And not just for this young person, but their parents' and grandparents' generations before them.
This is why, if it weren't for the polls, I'd be surprised National is entering this sort of dog-whistle policy territory. I had thought that all this championing of a 'social investment approach' to youth was a softening of the Right's stance on how to help the people these policies are targeted at.
Bill English regularly talks about these 'million-dollar children' – that by the time someone like the Serious Young Offenders they're targeting is in their early twenties, they've cost the state a million dollars in support, welfare, prison time and the like.
The social investment approach is supposed to be all about leveraging data held by the government to identify a 'million dollar baby' when he or she is born, or very young. It implied (to me at least) that National was researching different methods to identify when early intervention and support was required, an acknowledgement that a young person doesn't actually have any control over how they end up.
Alas, Sunday's policy shows that's not the case.
National's policy announcement begins by saying they're making great strides in reducing youth crime – down 31% since 2011, apparently. But: "There remains, though, a small group of around 150 young people who commit large numbers of very serious offences. It is clear more needs to be done to deal with this small, hardened group."
A Serious Young Offender apparently is someone the National Party can't understand. National seems to be confused as to why such people 'choose' to reoffend when we've told them that it's not a nice thing to do.
"These are young people who have been in and out of Youth Court but have shown no willingness or ability to change their behaviour. We are not prepared to just sit back and allow their victims to keep racking up until they reach adulthood," Amy Adams said Sunday.
The policy announcement shows signs of understanding: "In many cases, young people who offend have few good role models," Adams says. OK, a good start there – anything else?
But she continues: "…or are given the freedom to commit crimes. We will make changes to hold their parents to account, including by allowing Police to issue instant infringement notices to parents of children under 14 walking the streets without supervision between 12am and 5am."
Given freedom to commit crimes? What does she think happens? 'It's midnight now, son, so off you go, mum and I don't mind if you go and commit some crimes. Just be back by sunrise, mind, you've got school tomorrow.'
Issuing infringement notices or fines to poverty-stricken parents who were also failed by state and societal systems isn't going stop a 17-year old taking off day or night. 'Oh, so sorry mum – you got one of those infringement notices? My fault. I'll stay home and cook us all a roast dinner this evening.'
This is a multi-generational issue. If we're talking about it then it is because of failings under multiple governments. A fix is not sending 150 kids National Cabinet Ministers don't understand into Army training and then being surprised when another 150 (or more) just pop up. A fix requires society supporting policies that over two or three generations might mean that my grandkids aren't born into a country with an even larger poverty epidemic.