Allan Barber sees debt, environmental restraints, land use regulation, and market forces all moving to make growth in our dairy herd unlikely in the future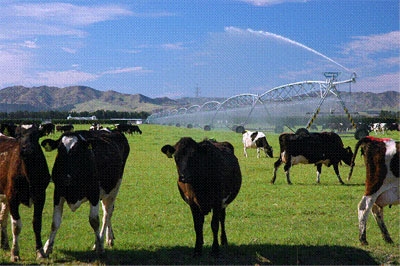 By Allan Barber
There are strong indications New Zealand may have already reached its peak cow population, if the recent halt to the rate of growth is sustained.
The total number of dairy cows increased sharply by 76% over a 20 year period from 2.9 million in 1994 to 5 million in 2015, an average of more than 100,000 a year.
Over the same period annual productivity per cow has increased by 100 kilos of milk solids or 38%.
Since 2013 the population has moved up from 4.9 million, briefly exceeding 5 million and has now dropped back to its current level of just above 4.9 million.
Although some people will no doubt claim this is merely a temporary blip in an irresistible trend which will soon reverse, as dairy farmers and investors get used to higher payouts again, there is an even stronger argument things may have changed permanently.
Fonterra's previous philosophy appeared to be to exert global dominance through ever increasing milk production, but the prolonged downturn in market demand for dairy produce, resulting in at least two years of prices below the cost of production, has put paid to that. Fonterra's focus has changed from volume to value growth, inspired by recent success with consumer and foodservice and the weakness of global demand for whole milk powder. Also the need to keep building milk powder drying capacity is an expensive way of producing what is essentially a commodity product.
The annual milk price is a blunt instrument which incentivises milk production rather than productivity. One observer has argued the 2014 payout of $8.40 per kilo in reality contained a substantial volume of supply that should have been paid out at a lower figure and consequently reduced the actual payout for the next two years. An alternative system of six-monthly payouts would have provided a better reflection of reality, although it would involve more administration and cost. It may be worth conducting an assessment of whether the effectiveness of an annual milk price with updates could be improved to provide better messages to dairy farmers.
A big reason the national herd may struggle to increase from its current level is $39 billion debt on farmer balance sheets. Banks were reluctant to put pressure on dairy farmers when prices were low, keen to avoid mass receiverships, preferring to see their clients farm through the downturn, but they may not be so tolerant now the payout comfortably exceeds the cost of production. The market for dairy farms is more robust than it was. It is also worth noting farm efficiencies have dropped the break-even point significantly from the much touted $5-5.25 per kilo of milk solids at the low point of the market.
In the early 1990s dairy farming was still predominantly a North Island phenomenon with only about 10% of the industry south of Cook Strait, most of which served the local market. But the removal of livestock subsidies led to a decline in the number of sheep and substantial land use change, further boosted by irrigation. By the 2015/16 year the South Island was home to 40% of the country's cows and produced 43% of the milk, although 73% of herds were still in the North Island.
The public resistance to irrigation by members of the public concerned about the state of the South Island waterways, perceptions of excessive use of water resources in pursuit of profits without appropriate payment, and objections to the greening of the countryside, especially in the McKenzie Country, are at least partly a reaction to the growth of dairy farming in the last 25 years. If unrestricted growth were to continue, dairy's public relations challenge would be tougher than it already is and the recent good work to capture hearts and minds costing Fonterra $20 million largely wasted.
There is a large discrepancy between North and South Island, specifically Canterbury, dairy farms which is demonstrated by a major difference in productivity: an average of 343 kilos of milk solids per cow in the North and 624 kilos in the South Island, explained by larger farm scale, use of irrigation usually in the New Year, and winter grazing which enables cows to calve earlier. [ See erratum below] There is also a big difference in farm size and cows per hectare between Canterbury dairy farms and the North Island and rest of the South Island.  However, the increased costs of irrigation tend to eat up a significant proportion of the additional income.
So a combination of environmental, economic and practical factors makes it difficult to see much more conversion from sheep and beef to dairy farming in the South Island. The trend to higher productivity per cow through better farming practice points the way for the future, while the dairy companies must focus on continuing to increase the value added content. Some industry participants are already predicting New Zealand has reached the peak of its cow population, but the future for dairy remains bright.
---
Erratum: The correct statistics for milk solids per cow in 2015/16 should be 357kg/MS for the North Island and 395kg/MS for the South Island with North Canterbury having the highest production at 416kg.
---
This piece was first published in Farmers Weekly. It is here with permission.