Worrying about the potential downside of smart machines can blind us to the exciting possibilities they may open up for us in the future, argues Darl Kolb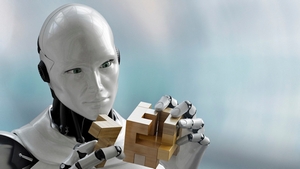 By Darl Kolb*
Dire warnings about the threats posed by the rise of intelligent machines are nothing new. But their growing impact on our daily lives is giving such warnings a new urgency. In the face of creeping automation, the question everyone wants answered is: will robots take my job?
"If your job is routine, no matter how interesting and intellectually demanding, you are at risk of being replaced with an intelligent machine," says Darl Kolb, Professor of Connectivity in the Business School's Graduate School of Management.
"Planes have flown with autopilot for nearly 100 years, and the list of professions under threat is rapidly expanding. If you think a computer can do your job, it probably can – and should."
In any case, for Kolb that is not the point. Intelligent machines are intrinsically better than us at certain things: they land planes more consistently, they make more accurate medical diagnoses, they outperform humans at complex board games, and they would be unlikely to attempt to enter the Auckland property market.
But, rather than see them as a threat, he says, we should view them as an opportunity for us to figure out what makes us human, and what humans are good at.
High on that list, says Kolb, is collaboration.
"Most of us find maths difficult because our cognitive brains are less developed than our social brains. As one neuroscientist put it, our comparatively large brains were developed to solve complex problems – but not the problems of thermodynamics. They were social problems, such as who was in charge of the tribe, and how to build inter-tribal relationships."
Computers excel at providing answers, says Kolb, but humans are better at asking questions. So, rather than imagining a Darwinian future in which we are locked in competition with ever more powerful intelligent machines, perhaps we should think in terms of a partnership that plays to the strengths of each.
"In this scenario, we would not just preserve, but continue to grow and develop, our human character traits of curiosity, courage, and compassion," says Kolb.
Along with programming skills, education should focus on the attributes that make us more resilient, more resourceful, and more ready to make the hard calls when analysis has reached its limits, he says.
Of course, things could still go wrong if we choose the co-evolution path. For a start, social changes may not occur fast enough to keep up with technological ones, and massive economic dislocation may trigger a social revolution – in which case, says Kolb, all bets are off. At the opposite end of the scale, the winner-takes-all tendency in technology may see one or two companies come to dominate robotics globally, stifling innovation in the sector. Then, there is the likelihood of something going wrong due to the very nature of complex systems – sociologist Charles Perrow's notion of 'normal accidents'.
But the opportunity cost of not choosing co-evolution could be worse. For one thing, we would miss a chance to reap productivity gains. The McKinsey Global Institute has calculated the productivity gain from the steam engine at 0.3%, and information technology in the decade to 2005 at 0.6%. It puts the contribution of artificial intelligence, robotics, and machine learning over the next half century at 0.8% to 1.4%.
Then, too, there is the missed incentive to redesign work itself. Organisations have scarcely taken advantage of mobile technologies, says Kolb, and if we don't make jobs more human, machines will end up doing them, which will worsen unemployment.
He offers some pointers on the way forward:
• Don't make it an 'us versus them' debate. Humans and machines win or lose together and, more importantly, the issue quickly becomes politicised when job losses are mentioned.
• Don't take empathy, compassion, and creativity for granted. Even as we are working to make machines more human, we must foster what makes us unique.
• Expect more from machines (and the people who make them). Co-evolution requires us, as humans, to lift our game. But we shouldn't settle for software and machine intelligence that make us act like machines.
---------------------------------------
*Darl Kolb is Professor of Connectivity at the University of Auckland Business School.
This article was first published in the October 2017 issue of UABS Insights, and is reproduced with the permission of the University of Auckland Business School.