David Hargreaves says other things need to happen first before we consider giving local government more decentralised power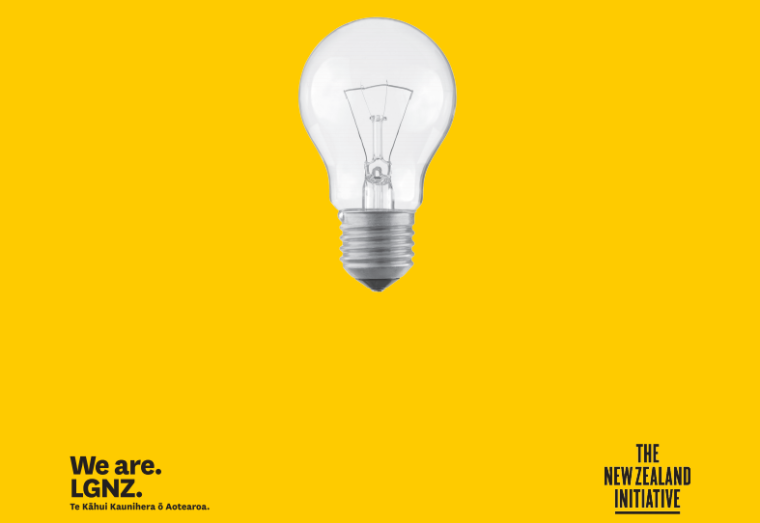 By David Hargreaves
Perhaps it was because the news came out during the weekend, but the moves by Local Government New Zealand, in conjunction with public policy think tank NZ Initiative, to seek to devolve more power and funding to local councils, got probably less attention than they deserved.
That actually worries me. Because you can be sure that Local Government NZ and the NZ Initiative will push hard on this.
We could end up with some form of decision being made to allow greater decentralisation of decision making and funding without a lot of us realising it is about to happen.
And I think it's something we all should be able to contribute to in terms of a debate and I think it should be very broadly looked at before any consideration is given.
On the face of it the idea of councils being directly funded (just what form that would take hasn't been specified at this point), rather than getting this through central government makes sense.
Localised decision making makes sense. In theory a local council knows what's right for its district and its people much more than the lawmakers in Wellington.
But I would be concerned that we are attempting to run before we can walk.
Now, in terms of central government, I certainly have some complaints about both the quality of our MPs and some of the decisions made. But Parliament with its various processes, such as select committees etc, does offer some sort of quasi-judicial check and balance regime.
What about at local government level though? Checks and balances? Accountability? I'm sorry, we might need more than just general assurances that everybody will be sensible.
I mentioned 'quality'. Most of us would probably personally know at least one or two local councillors. I've known a few in my time. All I will say without naming names is 'results may definitely vary'. Some of the councillors I have known and count as friends are very talented people. Some I wouldn't put in charge of the local raffle. And that's the essential problem. Local Government New Zealand will shrilly deny it, but I would say the talent pool for local councillors tends to be far too shallow for us to be comfortable - certainly if these people are being invited to make decisions much deeper than local essential services.
Most people will probably be able to find things their local council has done that are unfathomable to them, be it vanity projects on the part of certain councillors, or instances where vested interests have got alongside the council and managed to get one of their pet projects off the ground.
And the other thing is, too often these local councils may give very sensitive or difficult decisions the closed-door treatment, whereby the public (and media) get excluded and the decisions are made in secret.
Now that riles people up.
Firstly, you want to know that the people making the decisions are the highest calibre of people you can get and secondly that the decision-making process is, to use the well-worn cliche, a 'robust' one.
Okay, so, I'm being a bit critical of councils - and in a slightly sweeping way, which is sure to be unfair to some.
So, how about I have a bit of a go at us. We get what we vote for - or as far as the majority of Kiwis are concerned, we get what we didn't vote for because we couldn't be bothered filling out the voting papers and sending them back.
Despite the best efforts of Local Government NZ, with a 10-monthly awareness campaign, it was barely able to raise the participation rate for the 2016 local body elections. This is LGNZ's own graph charting the participation in each of the past three local body elections.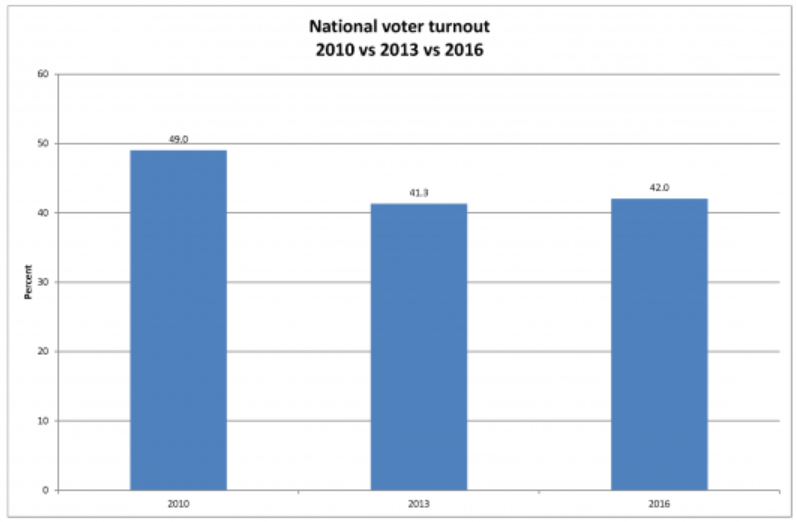 I'm sorry, I don't think any authority that's elected on the basis of 42% of the population has a proper mandate to be making far-reaching decisions in the community. 
This is where I say we need to start walking before we run.
Now, it might be that both LGNZ and the NZ Initiative believe that the public will get more interested in voting for local councils and also that those councils will attract a more consistent calibre of talented individuals if said councils are devolved greater power and funding.
But I think that's a dangerous thing to think.
Right now, I don't think our local bodies are vaguely in a position to take on greater power and funding responsibility. So, if we think greater devolution is a good idea - and I do genuinely think it's at least worth considering - then we need to ensure that the public is engaged and that the talent will be there. Also, we need to ensure that the decision making on a local level is 'robust' and not prone to shutting the doors in the face of the public every time something contentious is being discussed.
I said walk before you run, you could equally say put the horse before the cart. 
Before any serious consideration is given to undertaking the kind of increased local funding and decision making being promoted, we've got to ensure that local councils are genuinely representing the people they are supposed to - and a 42% vote certainly ain't that. And there's got to be a drive to get better quality people right through.
This is up to us. We've got to get more involved. And the prospect that local councils might be at some stage given more power is surely reason enough for more of us to get involved, heck not just in voting, but those of us who believe we have marketable skills that would be useful, well, we can stand for local bodies.
I'm not sure how we get this to happen. But it needs to happen before - NOT after - councils are given any more power. 
There would need to be all sorts of checks and balances put in place to ensure that while local councils can make local decisions, they do so in consideration with what goes on in the rest of the country too.
'Having the discussion' is another great cliche of the moment. But if these moves to devolve more power locally are going to be pushed - and you bet they will be (see LGNZ's proposed plan of action below) - then we as a general public need to be talking about it now.
Otherwise we'll wake up one day and find our local council has all these shiny new powers we didn't know about or particularly want them to have.
I reiterate: I'm not saying devolving more power and funding to councils is necessarily a bad idea. I am saying I would not want to see it happening right now with the inconsistencies of talent and decision making we see at local government level and the lack of public support for those 'elected'.