A kiwi start-up that lets you buy insurance via Facebook is taking on the Aussie giants that dominate the market. Jenée Tibshraeny examines its offering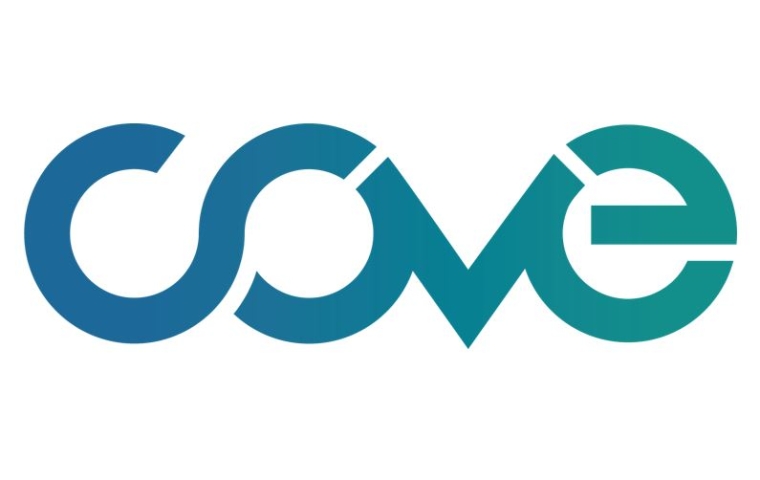 By Jenée Tibshraeny
Disruption, fintech, user experience, agile - the general insurance industry is among those that have trumpeted these on-trend corporate buzzwords more than they've implemented them.
With Aussie behemoths IAG and Vero swallowing about 72% of the general insurance market and New Zealand's Tower biting at another 5%, the industry is void of the competition that forces major innovation.
Sure, there has been some innovation. However bar IAG doing away with frontline staff sales incentives, this has largely been aimed at protecting insurers' balance sheets in the face of rising claims costs rather than improving customer outcomes.
I'm talking the move to sum insured, improving underwriting processes to more accurately price risk, selling products through retail brands and increasing minimum excesses.
Yes, it's in customers' interests for their insurers to be well-capitalised, but consumers haven't really enjoyed disruption in the insurance industry as much as they have in other industries.
This is perhaps until today (Friday), as Cove Insurance starts selling two products - comprehensive car insurance and mobile phone cover.
The Facebook Messenger format
The Takapuna-based start-up was founded last year by Andy and Rob Coon (the sons of Sovereign founder Chris Coon) and Tower's former CFO, Brett Wilson.
It is unique from both commercial and consumer perspectives.
As I explained in depth in June, Cove's products are underwritten by underwriters at Lloyd's of London, giving it the ability to enter the market without a huge balance sheet of its own.
And quite remarkably from a consumer perspective, Cove sells its products through Facebook's Messenger app.
What this means is that instead of filling in a form online to get a quote, Cove's chatbot goes through the questionnaire in a conversational style via Facebook Messenger, in the same way you would have a private conversation with a friend on Messenger.
The questions are still the same as when filling in a regular form for a quote. The point of difference is the format, style and tone.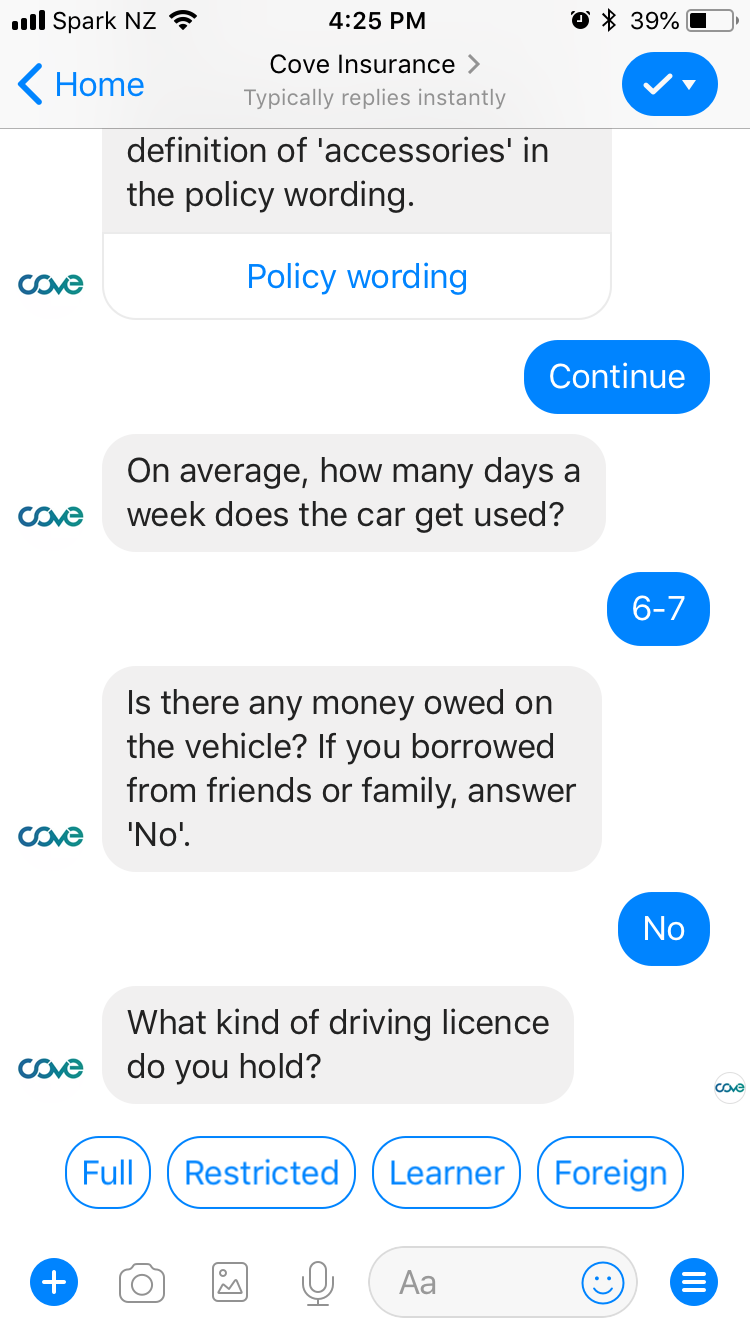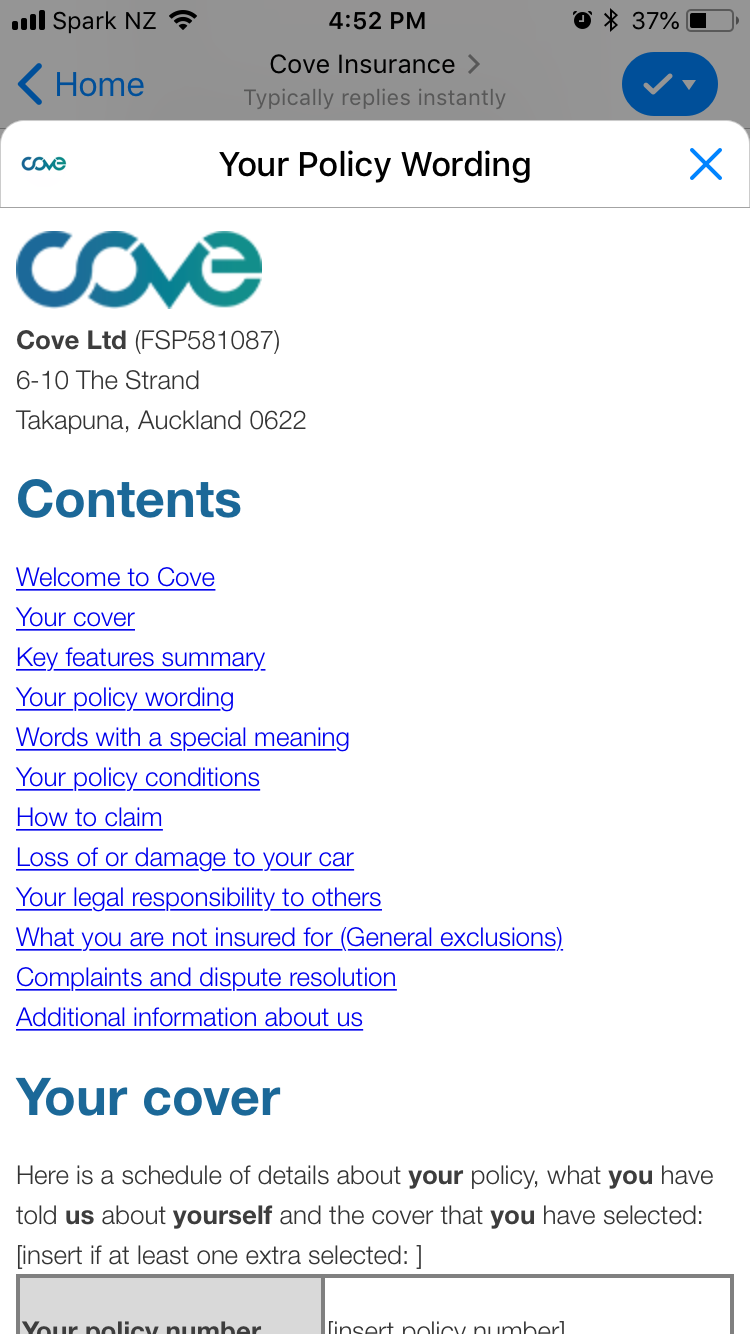 When it comes to making a claim, Cove once again prompts you to use the chatbot.
Eventually Cove wants to get to the point where claimants can upload a video of them explaining their loss; its technology analysing this and in most cases settling the claim immediately.
A not so mysterious mystery shop  
There seems to be a lot of interest in Cove's model; the June story I wrote receiving 11,889 views from all corners of the world.
Now that it has launched to the public, I thought it would be a good time to get some quotes and put the chatbot to the test.
Note I am of the generation that takes to Facebook Messenger quite naturally, but have a job that requires me to think unnaturally critically about insurance.
These are my initial observations:
- The Messenger model shows its value if you get a quote using a mobile phone. It picks up your name, phone number and email address from Facebook, so you don't have to spent time typing them in on a fiddly phone keyboard. It can also pinpoint your location if you enable your GPS.
Because Cove goes through one question at a time, as opposed to showing you the entire application form, it is very mobile friendly. When accessing a large computer screen and keyboard, I still find a traditional application form more intuitive as I can see what I've filled in and how far through the process I am.
The thing Cove needs to be mindful of, especially if it broadens its offering to more complex products, is that it doesn't become too relatable that people lose sight of the fact they're entering into a contract, which if they breach, could see their claims declined. Cove needs to ensure its customers don't use the same blasé approach they might use talking to their friends on Messenger, when talking to their insurer on the same platform.
- The real person who stepped in when the chatbot couldn't answer my question was great. She provided a good answer without breaking the law and providing financial advice. My criticism is that she took a few minutes to respond - the chatbot in the meantime making an irrelevant comment. People using Facebook Messenger expect instant responses, so even slight delays could prove problematic.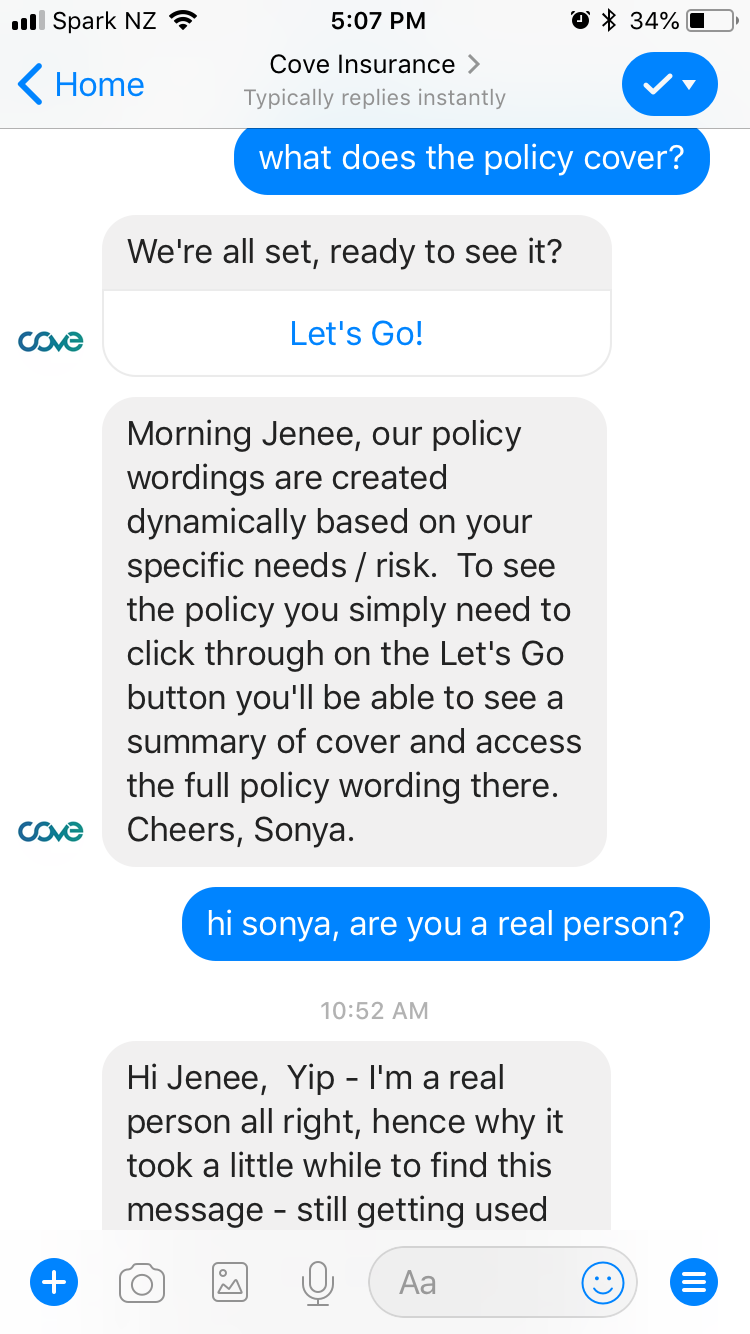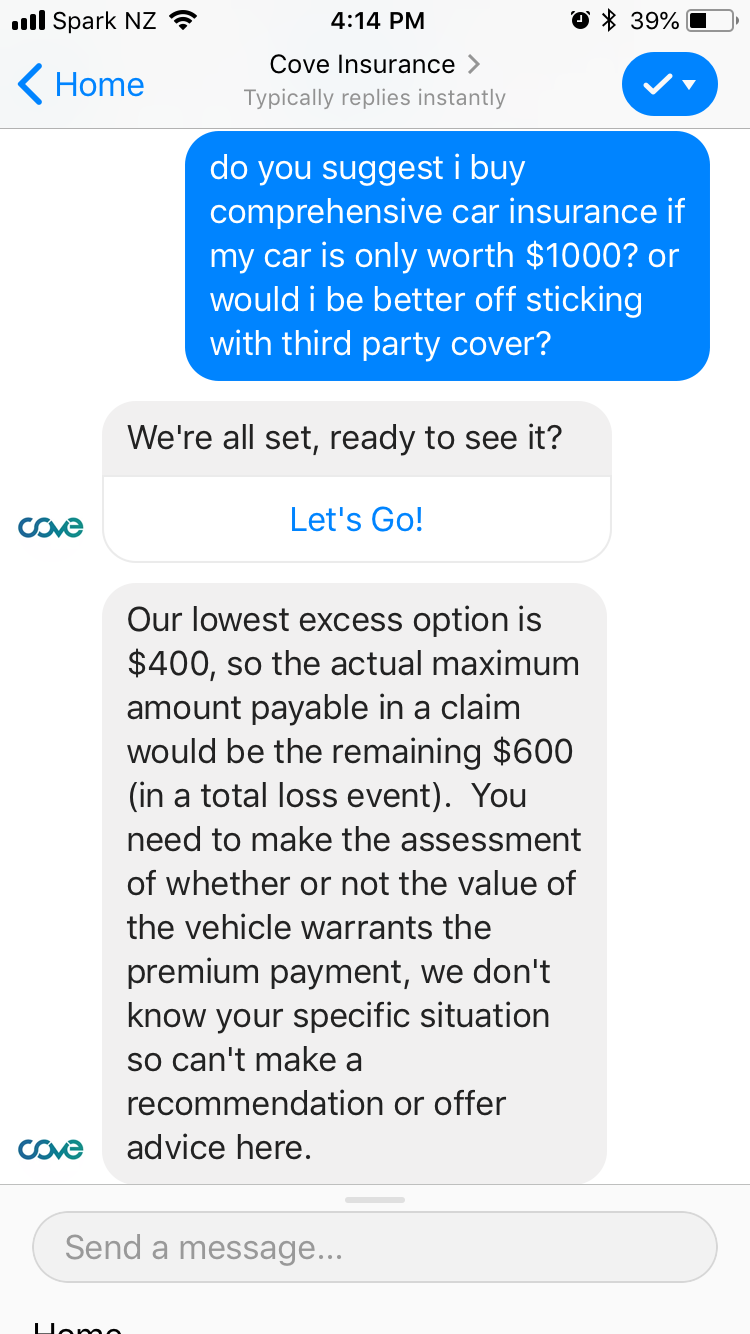 - As for the quality of the products on offer, Cove's comprehensive car insurance is on par with others in the market. The only thing is that it doesn't cover drivers under 21. This puts Cove on the back foot compared to the bulk of its rivals. It also seems counterintuitive given young people are Cove's target market.
Based on the very brief, unscientific test I did, the cost is on the more affordable end of the spectrum.
- Looking at its mobile phone cover, I am dubious about this as I don' think it's worth paying to insure such a low value item. Weirdly, Cove is of the same mind as it wouldn't let me insure an older model iPhone 6, due to it being worth less than $500.
Nonetheless, I appreciate Cove eventually wants to enable people to insure multiple items, so offering mobile cover is a step in that direction. This is an appealing offering that fills a gap in the New Zealand market.  
- What's more, Cove's monthly subscription style model is great in giving people flexibility and control. 
- From a privacy perspective, I am not phased by Cove communicating with customers via Facebook's Messenger. This doesn't give it access to private information on your Facebook page, nor does it price its products based on whatever's on your Facebook page.
I am no IT expert, but don't believe Messenger is materially less secure than the likes of Gmail, WhatsApp or my GP's computer system for that matter. 
- Finally, until Cove gets its feet off the ground, we won't know what it's like when it comes to settling claims. This will be the real test.
Earning credibility to successfully disrupt
Coming back to where we started, the oligopoly that is the insurance industry is ripe for competition. We can be proud a Kiwi start-up has come up with a clever way of cracking in.
Being a coverholder at Lloyd's gives Cove the financial backing and accountability it needs without being directly regulated by the Reserve Bank.
Yet simply being a disrupter is not good enough. Look at where Youi's "disruptive" model saw it end up - in court for mis-selling its products.
Unlike the South African executives behind Youi, Brett Wilson and the Coon family behind Cove understand the New Zealand market and have reputations to uphold locally.
Nonetheless, Cove faces a tough task using a popular, but controversial medium (Facebook Messenger) to earn credibility and disrupt the industry. 
Like traditional insurance companies, its conduct will largely fall into a regulatory void, so it needs to take responsibility for its actions.
I wish it well and hope to see its growth spur more genuine consumer-centric innovation in the market. 
*This article was first published in our email for paying subscribers. See here for more details and how to subscribe.