Rodney Dickens says warning bells are starting to ring over the level of new tourism and hotel building. The risk is for a substantial overshoot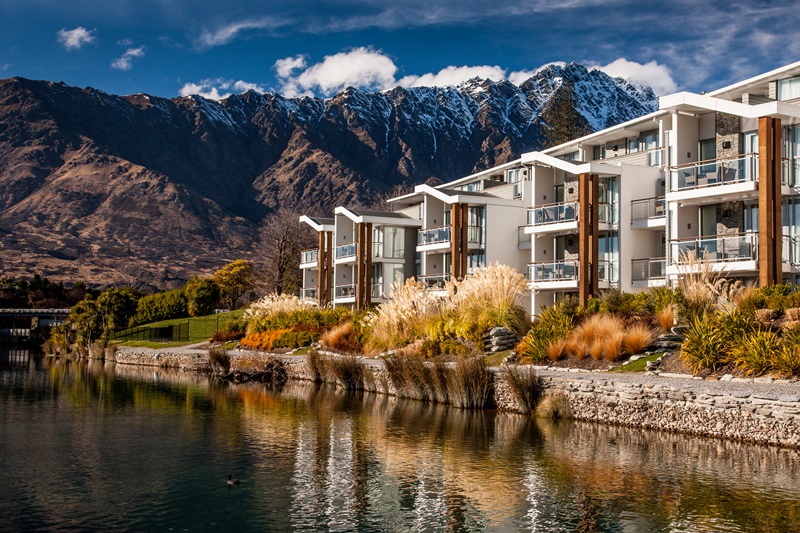 The national tourism boom is flowing through to a major increase in the building of hotels and other short-term accommodation and rising room rates with around the normal lags.
At face value plans for building lots more hotels seem justified. The consensus view seems to be that tourist numbers will continue to grow, meaning lots more hotels and other short-term accommodation will be needed to avoid a shortfall of accommodation hindering growth in tourist numbers.
However, a consultant has warned that an oversupply of hotels particularly in Auckland could develop and have a negative impact on returns. 
Tourism, accommodation building and room rates
Accommodation building is booming as a normal response to the tourism boom. A boom in the building of hotels and other short term accommodation is underway as measured by the value of consents for hotels et cetera (black line in the chart below). This is a normal response to the tourism boom that has driven a large increase in the occupancy rate in commercial accommodation excluding holiday parks (red line, chart below).
The best fit is with the occupancy rate advanced or leading consents by 20 months. It makes sense that it takes a while for an increase/fall in the occupancy rate to flow through to an increase/fall in consents for short-term accommodation.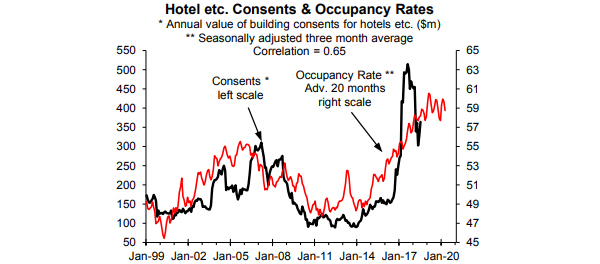 Equally, it takes a similar period for an increase in the occupancy rate to flow through to higher inflation in room rates (next chart). The best fit in the next chart is with the occupancy rate advanced or leading annual inflation in the CPI component for accommodation services that should reflect room rates, by six quarters. Higher room rates make building accommodation more financially viable.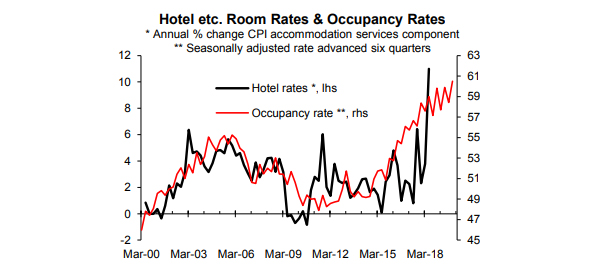 There is justifiably a supply response to the boom in tourism but as with almost all such responses they inevitably overshoot. On the one hand there is the idea that if you "build it they will come" but this view misses the point.
A fundamental problem with commercial building cycles, including apartment building cycles, is that normally too many people respond to the increase in demand. The scale of the subsequent increase in supply is only justified if demand keeps growing at a solid pace. Even if growth in tourist visitor numbers slow somewhat the supply response can result in oversupply that undermines returns.
One consultant is starting to warn about this risk, contrary to the consensus view that lots more hotels need to be built.
Warning bells about the threat of an oversupply are already starting to ring
The consensus view seems to be that tourist numbers will continue to grow strongly almost indefinitely meaning lots more hotels et cetera need to be built to keep up with growth in demand. But nationally domestic guest nights in commercial accommodation excluding holiday parks appears to have peaked in 2016 while there is a hint that guest nights for international visitors may have also peaked (next chart).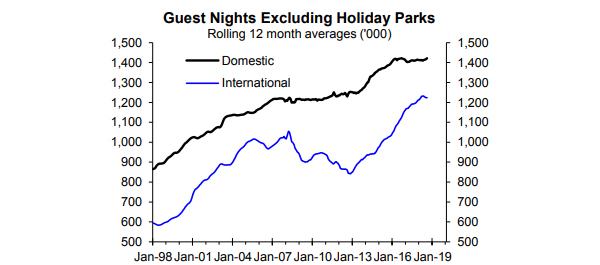 Based on weekly foreign visitor arrivals growth largely ended around April with the weekly numbers for 2018 since then on average little changed from those in 2017 (the next chart). Maybe the stalling of growth in tourist visitor arrival numbers is temporary but it shouldn't be a complete surprise given the past behaviour of international visitors (i.e. the stalling of growth between 2005 and 2007 that occurred before the financial crisis in 2008/09 (blue line, chart above).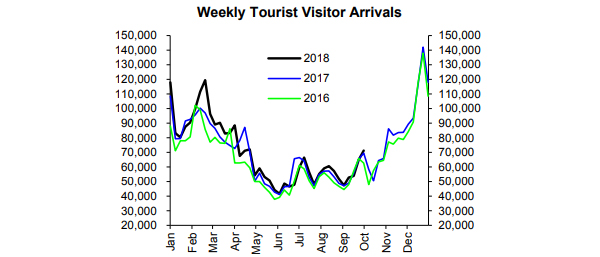 I don't profess to understand exactly what drives tourist visitor arrivals other than the generalities like growth in Asian appetite for tourism. There used to be a reasonably close link between the exchange rate and tourist numbers but that link is largely broken so it is questionable whether the fall in the NZ dollar this year will help much.
There is an interesting relationship between net migration and net tourism that has lasted for too long for it to be a coincidence (next chart). Net tourism measures how many foreigners are in the country at any time less the number of NZ residents temporarily overseas while net migration measures the net flow of permanent and long term migrants between NZ and overseas.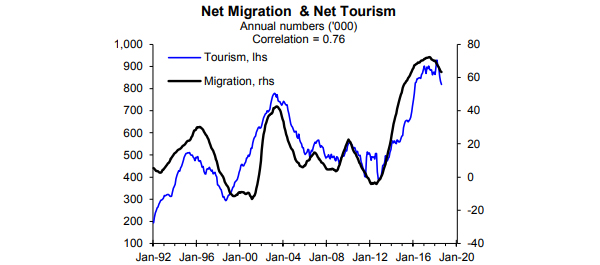 It probably isn't a coincidence that net tourism and net migration have started to fall at roughly the same time much as occurred after the previous booms in the first half of the 2000s. It seems that around the same time the permanent net flow of people turns up or down the temporary flow driven mainly by tourists does the same. As covered in our housing and building reports there are good reasons for expecting further sizable downside in net migration. By implication that implies that net tourism will probably fall further with implications for the current hotel et cetera building boom.
The fall in net tourism is more because growth in the number of NZ residents heading overseas temporarily has continued while growth in visitor arrivals has largely stalled. The chart below shows that weekly departures by NZ residents overseas temporarily has generally continued to grow this year compared to 2017.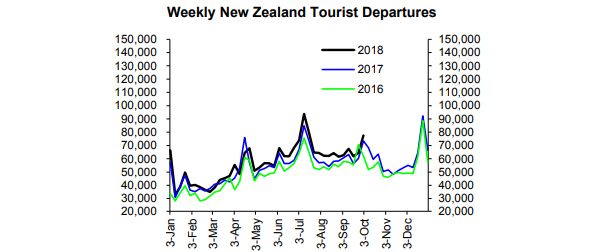 In terms of the local supply of accommodation net tourism is important rather than just visitor arrivals. If more NZ residents holiday overseas rather than in NZ as the numbers say is occurring it has an impact on occupancy rates. This is in the context of domestic bed nights still being above the level of international bed nights nationally (right hand chart previous page).
In Otago - dominated by the Queenstown in terms of tourism - there has been a moderate fall in domestic guest nights while growth in international guest nights is showing a hint of stalling (next chart). I spent much of the last week in Otago talking with local builders on a range of issues including the potential impact of tourism on building. Interestingly, some of the local old-timers warned me that the tourism boom and the related boom in building wouldn't last; which was consistent with my analysis. I see no reason why this cycle will be much different from past ones.