David Hargreaves suggests that if we want to get something positive out of this week's National Party meltdown, we should urgently consider changes to the way our political parties are funded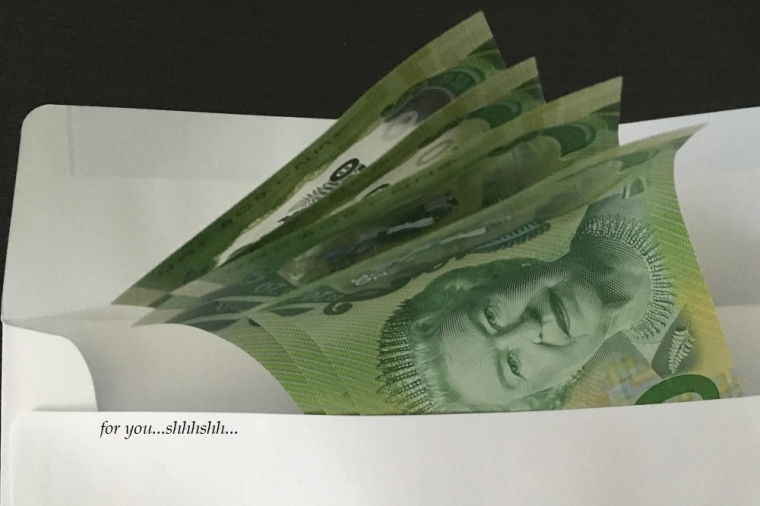 By David Hargreaves
Even very bad things should be looked upon as an opportunity.
And if the outrageous goings-on within the National Party in the past week lead us to have a serious re-examination of the way we fund our political parties, then good will have come from bad.
But I hope we do have a look at this issue. Dispassionately. Put aside all the torrent of rubbish that's been pouring out of Parliament and really have a cold, hard look at how our political system is funded.
The reality is that the seamy atmosphere generated by the allegations around recent donations to the National Party is nothing new. There have been 'issues' before. And nobody should think that this issue is a National Party issue. Because it isn't. Nor should we think it's a problem in any way unique to New Zealand, because it sure as hell ain't. In reality we are a lot 'cleaner' than many places - but that doesn't mean we should in any way congratulate ourselves.
The system itself is one that leaves an unpleasant taste in the mouth, and always has for me.
Contributions to political parties are styled as 'donations', but really this can be a misnomer in so far as how, certainly I, consider the concept of a donation - which is to give money expecting nothing in return.
Now there's no question some political donations are made on that basis. Some of the bigger companies have a policy of giving money even-handedly to the big political parties simply to assist the political process.
Seeking influence
But there's no question also that these 'donations' can be used by those making the donation to seek influence. If a donation 'buys' the people giving the money access to the political party concerned (such as dinner at someone's house) then the opportunity is there to carry influence.
So, you get the situation in which the person making the donation wants to be able to influence proceedings - without the public at large knowing that - while the party receiving the donations doesn't want the public at large to know that they are getting money from places that might suggest they are being subjected to particular influence.
There has to be obvious concern if particular vested interests are pumping money into political parties in order to seek influence. Now that could be say religious groups. It could be people from other countries - and what if other countries are seeking to assert their so-called 'soft power'?
This all has to be taken very seriously.
We want to have every confidence that our politicians are saying and doing things because they genuinely believe those are the right things for this country - not because they are in some way beholden to people standing in shadows stuffing money into envelopes.
Wide open to corruption
I don't think this country is corrupt and I don't think our political system is corrupt. But the point is, the way it's all set up at the moment leaves us wide open to the prospect of corruption and of unscrupulous people 'making donations' that buy favour and political policies.
It's the lack of transparency about the current system that's the real problem.
I'm no fan of political parties. I'm a fan of good governance and good government. If we could do that without political parties at all, I would be delighted.
But we do have political parties and they are the ones that fight elections and they do need money.
I increasingly think 'donations' should be banned. I think it should be illegal for anybody to contribute money to a political party.
Okay. Obvious question immediately arises. In terms of how the political parties are funded, would it be possible for some sort of levy?
All right, another tax, I hear you grumble. But could we just direct maybe some of the tax take towards a realistic pool of funds that are allocated to political parties to allow them to operate? Of course, we've already got public funding for election campaigns. This would extend that concept out to the day-to-day operations of political parties.
Even-handed
It would be quite even-handed and mean that no political party would enjoy a 'moneybags' advantage over its competitor. I mean, if one looks at the US Presidential elections, it often seems to come down to who is the biggest whiz at getting donors to cough up. It's not quite 'buying' victory, but possibly quite close.
There would be problems with my suggestion. How do you decide who gets how much money, for example? That's the argument we've already got when it comes to the way the system operates now. It is devilishly hard, for example, for a party outside of Parliament to get into Parliament at the moment because they don't get access to the state funding for election campaigns that parties already in Parliament do. 
We've had sugar daddies such as Colin Craig and Gareth Morgan attempting to bankroll fledgling parties into the House and failing.
So how would a system such as I suggest work for fledgling parties? Well, good question and it would require some thinking out.
I honestly think though that this is the way to go. Buy, hey, what do you think?
Our current system of 'donations' looks increasingly anachronistic. It's quaint. "Oh, my good chap, here's $500,000. No expectations on my part. You just run a jolly good party and do as you please." Yeah, right.
Let's be open and transparent. Let's be certain that when our politicians open their mouths and say things they are not parroting the words of someone who's just handed them a big fat envelope.
As I say, if some sort of solution to this problem does emerge from this week's shemozzle then good will have come from very bad.