Katharine Moody on the MAD doctrine, plaudits to Winston Peters, how science makes environmental controversies worse, fighting climate change by not focusing on climate change and more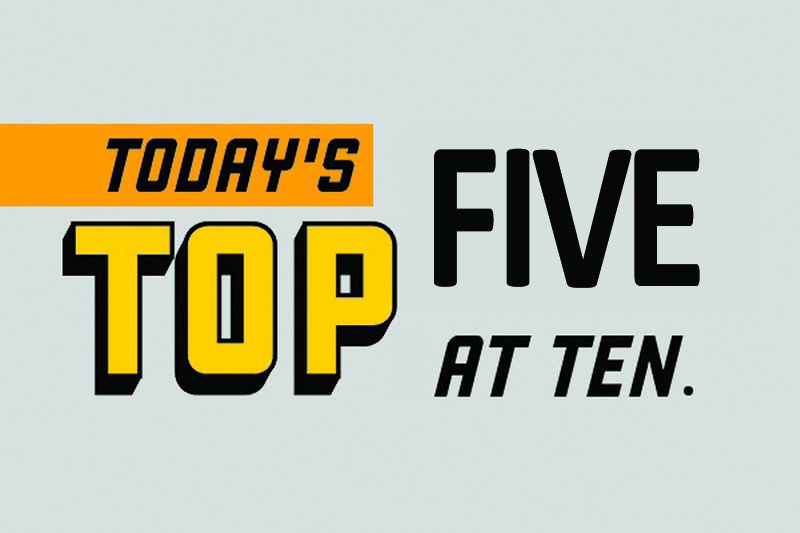 This week's Top 5 is from is from Katharine Moody, a senior tutor at Massey University's College of Humanities and Social Sciences in Palmerston North, who comments on interest.co.nz as "Kate".
As always, we welcome your additions in the comments below or via email to david.chaston@interest.co.nz.
And if you're interested in contributing the occasional Top 10 yourself, contact gareth.vaughan@interest.co.nz.
1.  The MAD doctrine and climate change.
In the 1960s, the United States government came up with a solution to nuclear holocaust, aptly called the MAD doctrine.  To save the planet from nuclear war, we needed more nuclear weapons.
Now we have the New Zealand government telling us that the solution to our atmospheric pollution, is to continue to pollute (whilst planting trees or buying credits from someone else who planted trees).  
This solution to climate change is called "offsets" and frankly, it's MAD too, especially when the number crunchers tell us it just won't work. 
2. "Sometimes the stuff at the end of cows can get into your ears and contaminate your thinking." 
Plaudits above to Winston Peters for simplifying the debate on the Zero Carbon Bill.  Many in the agricultural sector are trying to ground their argument for lower methane reduction targets in the complex science of climate change, citing the Parliamentary Commissioner for the Environment's recent study.
But really, their objection has nothing to do with climate science at all and everything to do with being denied the ability to continue to pollute (via the use of those "offsets" discussed above).
Jeremy Baker of Beef + Lamb NZ talks to Newsroom:
"Amid the flurry of press releases [on methane targets], there was little discussion of New Zealand's third major greenhouse gas: nitrous oxide, which comes mostly from livestock urine and fertiliser. Nitrous oxide would have to shrink to net zero by 2050, just as carbon dioxide from cars and coal will - and Beef + Lamb NZ's Jeremy Baker told Newsroom his industry was ready and willing to do this, despite the challenges.

Crucially, nitrous and carbon emissions can be offset by tree planting on farms and elsewhere, but methane can't as the proposal is for gross cuts, says Baker."
In other words, if solving the climate crisis involves any requirement to actually pollute less, it just doesn't work for Jeremy's constituents because;
"At the moment the only option is to reduce the herd."  
I take from that, that according to Beef + Lamb, stock reduction is not an option – just as reducing nuclear weapons was not an option for the US powers-that-be.
3.  How science makes environmental controversies worse.
Daniel Sarewitz suggests that "nature resists unitary characterization" and that, rather than needing more science as a means to resolve our environmental conflicts, what science has already provided us with is an "excess of objectivity".  Elsewhere he explains:
"There is plenty of science to go around. You don't really need to distort the science.  All you need to do in many cases is find the 'right' science.  That is not an indictment of science or scientists, but a statement about the complexity of reality and the difficulty of defining problems in very narrow ways… The scientific finding never tells you what to do.  That is always determined by what you are trying to achieve; and what you are trying to achieve is always guided by values and interests."
So, what are we trying to achieve with this climate change legislation? If it is to become a beacon of global citizenship, then the UNFCCC framework and its corollary IPCC science, is the 'right' science for us. 
But if we want to improve Aotearoa/New Zealand's environment, then it is not.     
4. Fighting Climate Change by Not Focusing on Climate Change.
I'm not a fan of time-bound slogans introduced by politicians wanting to 'save' someone or something. The Smokefree 2025 campaign, for example, is so lucrative that government surpluses have come to rely on this punitive tax.  
In 2011, when the time-bound target was adopted, had the government chosen to raise the purchase age of tobacco products by one year every year, you would need to be 26+ years old this year to legally purchase these products, and 32+ years old in 2025. 
Point is, government can improve both society and the environment through regulation without a punitive price mechanism.  Every year that we don't raise the legal age of purchase is another year the tobacco industry grows new addicts.
And there is a disturbing parallel between Smokefree 2025 and Zero Carbon 2050  ̶  hardship associated with the regulatory decisions will disproportionately punish the already impoverished in our society, as James Shaw explains on the Zero Carbon Bill;
"Households that are in the lowest 20% bracket for income may be more than twice as affected [by the Zero Carbon Bill], on a relative basis, than those households with an average income."    
An alternate, and perhaps less punitive approach, to lowering our GHG emissions is called climate pragmatism.  It has three regulatory objectives:
accelerate energy innovation,
build resilience to extreme weather, and
pursue no regrets pollution reduction measures.
Pursuing water quality improvement in New Zealand is one such no regrets pollution reduction measure, that will co-benefit our GHG emissions trajectory.  No one will regret having fewer algal blooms and a restoration of our clean green international reputation.
5. Payment for ecosystem services.
One could argue that the coalition Government's billion trees programme combined with a strengthened NZ ETS (carbon market), is a form of payment for ecosystem services. 
But, if it is, it's the wrong one for New Zealand to my mind.  Pinus radiata is a cake-and-eat-it-too approach with respect to climate change.  The "offsets" planted today, will have likely been harvested by 2050, and they degrade, rather than enhance, our natural ecosystems.
I would rather government subsidies were spent on the regeneration of permanent, native forest cover that actually enhances our biodiversity, through providing habitat and food for our endemic wildlife, alongside the planting of specialty tree crops.  
If we pursued climate pragmatism and the associated no regrets pollution reduction measures, regenerative agricultural practices would be particularly relevant in transforming both our environment and our economy. 
As rural land owners convert hill country pasture back to permanent native forest, reverse engineer drained land to wetlands, and convert fertilised pasture to organic, it seems sensible to me that government should assist farming through this needed transformation by way of payment for these restored ecosystem services. 
Examples of the 'right' kind of science and the real solution to climate change for Aotearoa New Zealand is found here and here.  It's called the family farm.