Brendon Harre has a proposal to increase the quality of New Zealand's housing with respect to energy efficiency and seismic risk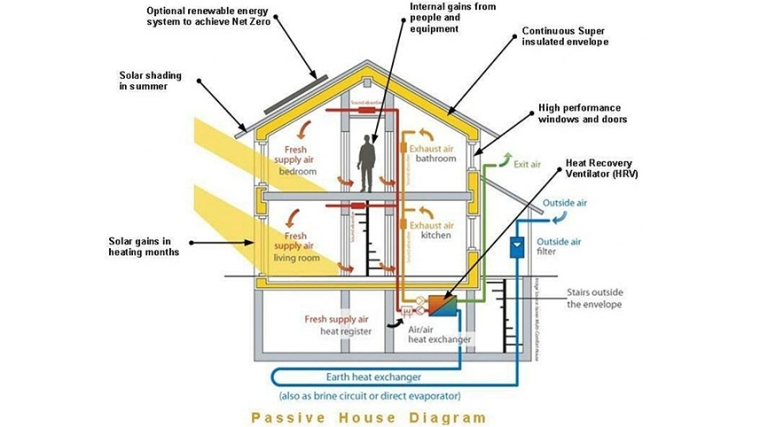 KiwiBuild is in need of a reset. Shamubeel Eaqub the author of Generation Rent discusses in a podcast what he thinks has gone wrong with KiwiBuild and his wish-list for fixing it. Future Proofing the Housing Market would be my suggestion direction for the reset of KiwiBuild.
In my previous paper -The Housing Productivity Story -that was about the need for New Zealand to respond to the twin challenges of the housing crisis and climate change, a Interest.co.nz reader contributed with a video describing an innovative project in Heidelberg, Germany that performed brilliantly in both aspects, by building a 100% renewable district.
One of the key features of the German initiative is house builders can access low cost 1% interest loans up to the value of 75,000 euros if they are constructing energy efficient buildings. In the Heidelberg example the whole development of 5000 homes plus addition commercial and industrial buildings are all being built to the passive house standard.
This is a good idea because although these energy efficiency features can add 15% to build costs, in the long-term energy efficiency savings outweigh the cost.
If New Zealand implemented a 'future proofing' housing construction policy not only would it help the housing and urban development sector meet the countries carbon zero by 2050 target, over time there would be a gradual improvement in the quality of our housing stock, which is notorious for being cold, damp and unhealthy.
A difficulty for implementing this policy is it would be highly regressive because of the nature of New Zealand's housing market.
Since the 1980s the building industry has shifted from building for the lower and medium income quartiles to focusing on the upper quartile. The lower two income quartiles now only receive about 5% and 10% of the new builds.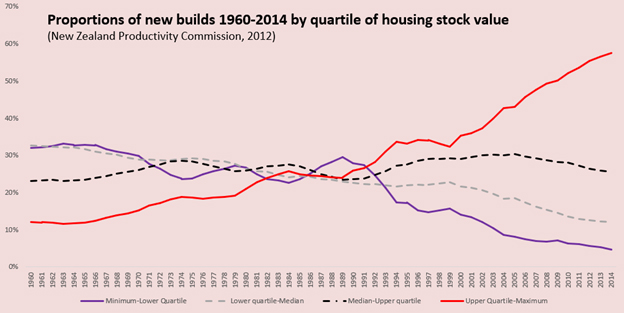 Source: Revitalising the production of lower value homes: Researching dynamics and outcomes by Kay Saville-Smith Fig 3. Which had updated data from the original Productivity Commission graph from 2012 -Fig 0.6
The intent of Kiwibuild is to encourage the building industry to change its business model to be more responsive to housing demand from lower income groups. So far the industry has been reluctant to make this change.
KiwiBuild's 'buying off the plans' initiative has a well publicised slow uptake. Hopefully KiwiBuild will be more successful once the new Ministry of Housing and Urban Development is better established and the legislation creating a Housing and Urban Development Authority is passed this year and the enabling powers are passed next year.
A Construction Future Proof Fund could help KiwiBuild and the building industry improve its business model to be more responsive to lower quartile income groups housing demands.
The construction fund could have a legislative remit to issue low interest construction loans to developments where there is a mix of housing sizes, types and ownership models, that target the different segments of housing demand. For instance, developments that include subsidised state housing for the lower quartile, affordable build-to-rent housing (ideally with security of tenure) for the lower-median quartile and affordable KiwiBuild owner-occupied housing for median income households.
This approach would fix the regression problem of construction subsidies being taken up by developers and builders whose business model only caters for high income households.
The Construction Future Proof Fund could be an alliance between a bank -say KiwiBank and the Energy Efficiency Conservation Authority.
The government could contribute government expenditure to this fund for the purpose of lending for the construction of energy efficient homes -say up to $50,000 at a fixed 1% interest rate p.a over 20 years. A rough calculation of the maths of the difference between market interest rates of around 4% and a fixed 1% interest rate, extrapolated over the lifetime of the loan, indicates $200 million of funding per year could assist in the future proofing of something like 10,000 to 20,000 newly constructed energy efficient homes a year.
Some market purists will say this is a subsidy for house construction, but it is a much smaller subsidy compared to the accommodation supplement payments to tenants and landlords which totals $1.5 billion. The accommodation supplement was last increased in the 2017 Budget by the previous government.
The accommodation supplement is criticised because it benefits landlords more than tenants, as it increases demand but not supply for housing. The more inelastic a cities housing supply is, the more the supplement is capitalised into higher house prices and higher rents.
There is evidence that New Zealand cities have very inelastic housing supply so improving rental conditions by increasing the accommodation supplement will be of little benefit for reducing inequality. Providing a subsidy on good quality construction for lower income housing would help assist in improving housing supply elasticity. This would also have wider benefits, including for productivity, workers and city-based productive firms as I detailed in my previous paper - The Housing Productivity Story.
Construction subsidies should be tied to defined and measurable quality targets. If there is insufficient quality standards then the government risks repeating The Great British Housing Disaster of the 1960s where many government initiated housing complexes had to demolished due to defective building standards, as the UK construction industry responded only to the 'numbers game' of quantity targets.
New Zealand currently has very lax energy efficiency building requirements, being able to leapfrog past generations of overseas building standard improvements to the most efficient standard could have the same effect as developing countries bypassing landlines and going straight to widespread mobile phone use.
The proposed Construction Future Proof Fund should also be seen as an investment in decreasing housing related health costs and an investment in a just climate change transition for the housing sector.
A similar approach could be taken to future proof seismic risk. The New Zealand building code constructs buildings to a standard that protects life but not the building itself, which post-quake often means the building has to be demolished. Buildings though could be constructed to survive earthquakes with only a little extra expenditure.
Subsidising the construction of 'quake proof' buildings would be helpful for transitioning to a greater variety of multi-unit housing typologies. Especially as multi-unit buildings are often considered high risk by the insurance industry. Insurers in New Zealand have moved to risk-based pricing which means $thousands more in higher premiums for high-risk properties. This has had led to community discussions about managing risk, construction standards, climate change altering risk profiles and so on. In the long-run subsidising the construction of 'quake proof' buildings could be a net saving for New Zealand, as the cost of recovering from earthquakes is reduced.
If the government had an established mechanism to subsidise the construction sector, then when New Zealand experiences an economic downturn it would be in a better position to support the construction industry. This mechanism would make it easier for the government during times of economic uncertainty and slowdown, when the private sector is under-investing in construction, to temporarily increase its contribution to the Construction Future Proof Fund to counteract the under-investment from the private sector.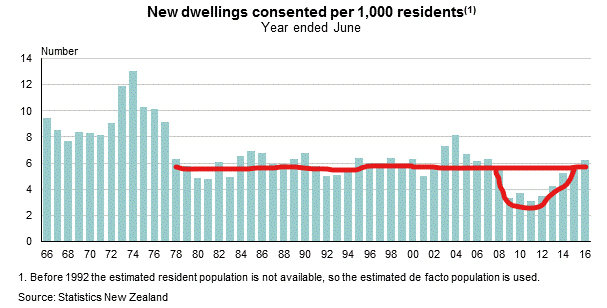 Underbuilding can be seen from 2008 to 2015 , when New Zealand's building rate halved -from a long-term average of about 6, down to 3 dwellings per 1000 residents
If the previous government had supported the construction industry in the five years of slowed building after the 2008 Global Financial Crisis, New Zealand's subsequent housing crisis would not have been as severe as it was.
If the construction sector is less subject to economic uncertainty, it is more likely to adopt a business model that makes long-term investments in its workers, supply chains and plant to improve productivity.
Overall, there are clear benefits for New Zealand from future proofing the housing market. A Wellbeing Budget approach which takes a holistic view of societal costs and benefits should be supportive of this proposal.
---
See Ben Pitkan-Douglas comment in the original post where he confirmed that $50,000 was the additional cost to construct a passive house in Christchurch in 2017.
---
This is a repost of an article here. It is here with permission.