Amanda Morrall looks at the pros and cons of renting your house out for Rugby World Cup. Your experience?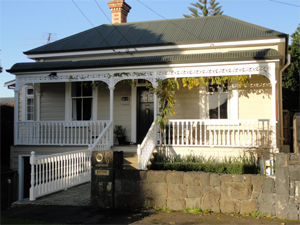 By Amanda Morrall
Banking on making a small fortune during  Rugby World Cup by renting out your house and shacking up with the in-laws for a week?
Before you surrender the keys -- and your sanity -- do your homework, be realistic and remind yourself of this one cardinal rule of the rich: there is no such thing as easy money.
A quick scan of Rugby World Cup accommodation listings on Trademe might suggest otherwise, but self-imposed exile may have a cost beyond what you think you'll be collecting.
Let's start with advertising.
The two main internet stops for World Cup accommodation (www.80minutegame.com and www.stayinnz.com) charge NZ$99 and NZ$80 respectively to buy a piece of their web real-estate.
On a rental of NZ$10,000 a week it's hardly anything to cry about. But you have to ask how realistic is NZ$10,000 per week, how much of that gets eaten by tax and other downplayed expenses and what kind of work is involved in exchange for your rugby tourist dollars?
Those wanting to wash their hands of the headaches that go along with playing hotelier, you can kiss good bye to as much as 20% of the rent. 
That's the commission charged by one of the leading Rugby World Cup we-rent-it-for-you agents who spare you the dirty work by taking care of airport pick-ups, cleaning, deposit taking, rent collection, and nice welcome greetings for foreigners who we want to return to New Zealand not having felt like they were being gouged.
Visiting U.K.  sports journalist Peter Bills made enemies (and a few allies with Kiwis) when he warned the nation that it was at risk of being labelled an international rip-off over what he felt were over-the-top prices, on virtually everything a tourist could expect to blow money on.
Whether Bills was right or wrong about prices relative to other countries is debatable. What's more certain is that New Zealand is under pressure to perform, and not just on the pitch.
Amid a global recession where tourism -- and certainly the attendance of international sports games -- has become a luxury and with earthquake-fears giving many pause for consideration about NZ has a destination, good first impressions will be paramount.
Right, so you lower your expectations and go through a property manager outside the RWC-branded internet channels. You can then expect to cut your commission charges in half.
A random survey of a few Auckland-based property managers found rates of 7% to 10%. 
Their argument is it's not you paying but the deep-pocketed foreigner. You can't really separate yourself from sticker-price because of the ripple effects that move in all directions. Price it to high, and you'll staring at an empty room or house. Price it too low and you've playing Goodwill ambassador.
Taking one for Team New Zealand is noble but probably not the end goal on this occassion.
So you find a happy medium, a price that won't scare tourists witless, a property manager willing to lower their cut because a small piece of the pie is better than none.
How to you land the model short-term rugby fan tenant, one that won't pull a Stanley Cup moment and start a riot in your lounge over a tragic bad play.
Your advertising dollars may go a long way here. Some property managers (if you're going that route) will build it into their costs, others slide the bill back your way. 
Unless you live with a search optimization genius, this is one expense you probably don't want to scrimp on.
Realtor Darin Cobb, who decided to undertake rugby rentals as a sideline during the World Cup, said while interest is starting to pick up, the expected volume of traffic in rugby real estate is less than enthusiastic.
Cobb has six Auckland properties on his books (including a rental property of his own) that he's looking to let. "Inquiries haven't been that great'' he admits.
Herne Bay Premium property manager Laura Sheppard makes a similar observation. The five luxury rugby lets on their book haven't generated much interest.
While the asking prices could finance an overseas holiday  (NZ$4,200 to NZ$14,000 range) Sheppard believes it's not so much the rent but the term of the lets on offer that are turning would be tenants off.
Whereas some of the high-end Kiwi letters are looking to let their home out for the entire time the World Cup is on (Sept.9-Oct.26), prospective tenants are looking for two-days on average, a week at the most, says Sheppard.
Cobb points out the same disconnect between short-term rugby visitors and long-term viewing tenants.  Among his clientele, there is a two-week minimum stay.
Competing with hotel prices on day rates is tough, especially if you want make the experience a financially worthwhile one.
If rugby landlords are calling all the shots, one of the reasons might be that for many, whatever rent that happen to make during World Cup is just gravy.
Both Sheppard and Cobb said home owners they are working for aren't doing it because they're hurting for cash. They just happen to be out of the country at the time.  No quality time with the in-laws for this bunch.
In a way that bodes well for the more moderately priced rentals on the market and for those home owners who can play property manager by day and retreat to the sleep-out at grandma's by night.
It's a taxing affair to be sure cleaning house to a standard the likes of which haven't been seen since move in on day one. And then of course, you can't forget about tax.
Don't forget the tax
Right, so you're prepared to play the gracious host or hostess, play hotelier, get the home to a standard of cleanliness not seen since you moved in and pretend the possibility of something getting trashed doesn't bother you.  Just don't forget about the tax man.
Unlike the U.K, where you can earn rental income of £4,250 without having to pay tax on it, Inland Revenue counts every dollar as income, and it gets taxed as such.
The IRD has been banging on about this one for at least a year now.
But surely, there's a way around it?
Wishful thinking says Auckland tax specialist Terry Baucher.
"The IRD is watching this closely. They've taken the view that this is a commercial opportunity,'' he says.
If stern messages and warnings are to be believed, the IRD will be monitoring websites with rugby accommodation lets so they can keep tabs on the hidden economy.
Martin Scott, Group Manager Assurance for the IRD said the department doesn't frown on entrepreneurs so long as they are honest about it.
"We know accommodation is at a premium during some big events, and people can see it as a chance to make some extra money...There is nothing wrong with renting out your home or some rooms, but people just need to be aware of tax obligations. Any rental income is taxable and should be returned in the tax return for the income year in which it's derived," he said.
Those caught trying to duck out on the tax bill face penalties and interest on money owed.
Don't forget the insurance
It's not altogether bad news. Certain related expenses are deductible; including property manager fees,  and insurance. With respect to the latter, it's a call you'll want to make.
Regular home insurance policies don't cover rental situations so if something gets broken you'll be dinged.
Costs vary depending on the insurer. Tower Insurance informs that there is not additional costs for those homeowners who have their insurance with the company already but an excess of $400 applies if a claim is made. 
Don't take a punt on a rugby rental making you rich. Do the math first. Besides New Zealand hoteliers could use some business.
Hospitality Assocation of New Zealand CEO Bruce Robertson wouldn't disclose booking rates short of saying they're still lots of room at the in. If he was worried, he wouldn't admit it.
"While we know that people are coming because of the number of tickets that have been purchased, some have to yet to book their accommodation. It would be nice if they did.''
What's on the market?
Before you rent:
Insurance tips from State and NZI.
obtain satisfactory written or verbal references about a tenant prior to selecting that tenant
have a written tenancy agreement stating the terms of the tenancy including the rental period, rent payable and bond
collected a bond in advance in case there is a loss not covered by insurance that needs repairing at the end of the tenancy
conduct a pre and post tenancy property inspection with the tenant present
we also recommend that the tenancy agreement includes a provision to 'contract in' to the residential Tenancies Act as short-term holiday tenancies are otherwise not covered by this legislation
customers that have high value items, especially those with sentimental value, should store these off-site while their home is tenanted during RWC