United Future's Dunne calls for revamp of Govt Superannuation policy that would allow payments from 60 years of age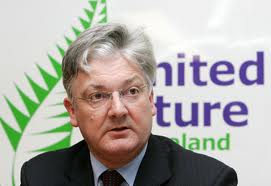 United Future leader Peter Dunne is calling for KiwiSaver to be compulsory and for a revamp of how Superannuation can be paid out, unveiling a policy that would allow people to be able to claim Super from 60 years of age.
Dunne, who is also Minister of Revenue in the current National-led government, is under threat in his Ohariu-Belmont seat in Wellington, with Labour's Charles Chauvel and National's Katrina Shanks thought to be closing in fast.
Today Dunne called for people to be able to claim Super from 60, although the regular payments from then would be lower than if a person began claiming Super at 65. Likewise, if a person decided to hold off until they reached 70, Dunne's policy would see them receive higher Super payments than if they had signed up earlier.
 "Kiwis would then be able to manage their retirement age and lifestyle – choices they currently do not have – and it would be cost neutral with the current scheme," Dunne said in a media release.
 "Each year below 65 that superannuation would be claimed down to 60, would see a small reduction, and each year over 65 up to 70, it would be enhanced. The sustainability arguments around superannuation, and whether it should be 65 or 67, then become redundant," Dunne said.
 "People can then do their own maths and work out what works best for them based on their lifestyle and aspirations," he said.
'Index for inflation before inflation figures'
Meanwhile, Dunne also called for a change in the way Super payments were adjusted for inflation, saying that the formula should be calculated on forecast changes in the Consumers Price Index (CPI) and wage rates over the next year.
"Currently adjustments are made after the event, creating a time lag that cheats superannuitants of their full entitlement. Any unforeseen changes to inflation or wages would be adjusted each April, in favour of superannuitants," Dunne said.
The numbers (taken from Dunne's release)
Questions and Answers:

What is the current cost of superannuation to the country and what are the future projected costs?

 Treasury, in the Budget Economic and Fiscal Update 2011, forecasts the expense of NZ Super in 2011 to be $8,833,000,000. In 2010, it was $8,290,000,000.

 In the same document, Treasury forecasted the expense of New Zealand Superannuation in 2015 to be $11,666,000,000.

 While there are no official forecasts beyond 2015, Treasury projections are:

2020:               $15,979,000,000

2030:               $29,652,000,000

 How sustainable is UnitedFuture's superannuation policy?

The changes would be cost-neutral for government at whatever level of uptake at any age from 60 to 70.

Individuals will be free to choose what works best for them. If neither earlier nor later retirement suits them, they could stick to the current retirement age of 65 at the current level of superannuation. It is all about choice that is not there today.

Is it anticipated that larger number of people would take super earlier than 65, or move it out further, and why?

We have not anticipated either, nor do we intend to. It would be entirely up to individuals, based on their circumstances, to decide what works best for them. The formula is cost neutral to government on the current costs of superannuation.

If people are happy to work beyond 65, they would have the opportunity to delay their superannuation and receive a higher level when they do claim it up to the age of 70.

People choosing to retire earlier than 65 would receive a lesser rate of superannuation to reflect that they will potentially be drawing it for longer.

The two underlying principles of this policy are choice and cost neutrality. We want to provide people with increased flexibility around when they retire, without leaving them or government, out-of-pocket.

Anecdotal feedback suggest that more and more people still feel capable and motivated to work beyond 65 and many do that now.

The Numbers:

Give people the option of choosing to receive New Zealand Superannuation at a reduced rate from the age of 60, or at an enhanced rate from the age of 70, if they delay uptake till that time.

What it means in dollar terms based on today's superannuation:

Single Rate

60 = $248.79

61 = $264.68

62 = $281.57

63 = $299.54

64 = $318.66

65 = $339 per week (current rate)

66 = $372.90

67 = $410.19

68 = $451.21

69 = $496.33

70 = $545.96

Couples Rate

60 = $383.11

61 = $407.56

62 = $433.57

63 = $461.24

64 = $490.98

65 = $522 per week (current rate)

66 = $574.20

67 = $631.62

68 = $694.78

69 = $764.26

70 = $840.69
(Updates with figures)