Victoria's Secret bogus reward offers exposed; The 'problem' of too much money; Top 10 Happiest jobs; Is failure the Secret to Success?; Cheap as chips credit unions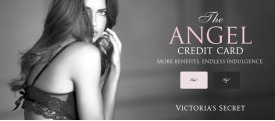 1) Victoria's Secret thin credit card policies
One of my pet peeves is loyalty cards. It's not the free stuff I object to but all the unnecessary and quite often lame purchases you're incentivised to make in order to get the freebies.
Half the time, it's rubbish. Plus, I hate forking over personal information and also carting around all these cards that you inevitably can't find when it comes time to collect that carrot that's been dangled.
I was delighted to come across this item from sooverdebt.com exposing how shrewd retailers are at this game. The debt-intolerant writer exposes some of the lame offers and tactics employed by famed intimate garments maker Victoria's Secret.
I have an even better savings plan ladies. Get the blokes to pay.
2) Too much money?
Having too much money is hardly a "problem" however if you are a debt-free individual there are obvious challenges these days about where and how to invest it.
Buylikebuffett.com writer details his own dilemma here.
3) Top 10 Happiest jobs
Modern psychology has it that job satisfaction is driven to a large degree by social interaction at the workplace.
By that measure, McDonald's should have the happiest workforce on the planet.
Curiously, McDonald's was not on the Christian Science Monitor's top 10 list of happiest jobs. Neither were journalists, although writers and artists made the cut mainly due to their autonomy.
Surprisingly, 65% of financial service sales agents reported to be blissed out on the job. Their happiness was attributed mainly to their salary.
I love my job - today.
4) Falling up
What does it take to get ahead, financially and otherwise? New research suggests that high-achievers who focus solely on the getting good grades at the best schools may in fact fizzle later on.  Mainly because they don't know how to cope with  the inevitable set backs and failures in life. This feature article from New York Times contributor Paul Tough looks at what one educator in the U.S. is doing to revolutionise learning in schools.
5) Credit union competitiveness
Credit unions have a long way to go yet to muscle in on the banks however mainstream acceptance is improving as people become more familiar with their offerings.
This Wall Street Journal article looks at some of the features that make credit unions an attractive and worthy alternative to banks.
See also this article by yours truly about how and why credit unions in  New Zealand are building their profile.
Here's Bernard Hickey talking to Brian Branch, CEO of the World Council of Credit Unions, about how credit unions fared through the Global Financial Crisis.