Social barometer finds 9/10 Kiwis satisfied with life; highest satisfaction levels among the young and elderly and over $70K a year lot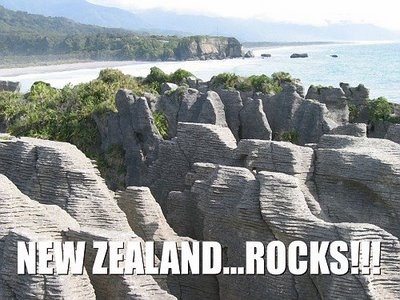 By Amanda Morrall
Despite perennial complaints about New Zealand's low wage disadvantage, life satisfaction in the land of the Long White Cloud is surprisingly high.
Statistics New Zealand, in its latest General Social Survey gauging financial and emotional well-being, reports that nine out of 10 New Zealanders purport to be "satisfied" with life.
Principal statistician Paul Brown said the result was comparable to other developed countries including Australia, the United Kingdom, or Canada.
Whatever financial insecurities Kiwi's may feel, relative to more prosperous OECD nations, would appear to be compensated for by social currency.
Nearly all (96%) of people surveyed indicated they could get support from others in a time of a crisis. As well, more than 90% had seen friends at least once in the last four weeks and more than 80% having seen family they didn't live with.
Life satisfaction rates were broadly the same across the country.
Brown, in his commentary notes, said the biggest differences related to age and income levels with life satisfaction reducing with decreased household income most sharply for those living off less than $30,000 a year.
"People on lower income households were also more likely to report feeling unsafe walking alone in their neighborhood at night and to say they had 'fair to poor' health than people in higher income households.''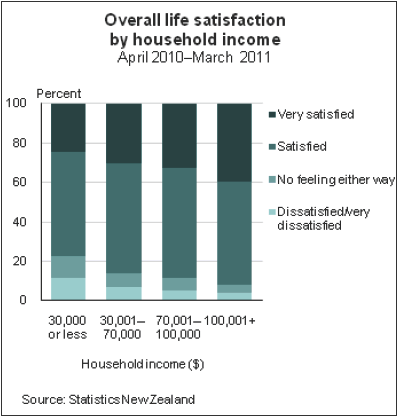 Young and free, old and wise
Money aside, the older and younger tend to be the happier.
Brown said work and life responsibilities associated with the mid-life were likely drags on relative life satisfaction.
However, tiresome mid-life burdens, they paled compared to the colder reality of unemployment.
Among the unemployed,  46% reported not having enough money to meet their everyday needs. They were also twice as likely to feel they had been discriminated against in the last 12 months than employed people and those not in the labour force. Feelings of social isolation were also more rampant among the unemployed.
Single parents were also markedly less satisfied, at least compared to standard family models.The survey found that one-parented householders were more than twice as likely to say there were either "dissatisfied" or "very dissatisfied" with their lives.
This demographic was also more likely to report not having enough money to meet their daily costs and also having to deal with problems related to their house or flats, most likely to because they were renters, another factor that correlated to lower satisfaction.
People living in rented premises were twice as likely as those living in their own house to be unable to meet their everyday  needs. Complaints related to poor housing standards and feeling of social isolation were also rife among renters with 53% experiencing one or more "major" problems relating to their house or flat, compared to 28% of owner occupied dwellings.
If home ownership bodes well for one's social connectedness, it also does wonders for the community. People in owner occupied dwelling were far more likely to have done volunteer week in the last four weeks, compared to renters.
The $30K contentment  cut-off
The questions that springs to my mind is the worrying implications for those who do not adequately plan for their retirement. Those lucky enough to receive the New Zealand Superannuation but with no other income could find their life decidedly unsatisfactory if money is the issue.
The pay out rates below explains why.
|   | Weekly | Fortnightly | Annual |
| --- | --- | --- | --- |
| Single, living alone | $333.75 | $667.50 | $17,355 |
| Single, sharing | $307.67 | $615.34 | $15,999 |
| Couple, both qualify (total for both) | $511.06 | $1022.12 | $26,575 |
| Couple, both qualify (each) | $255.53 | $511.06 | $13,288 |