Cash in the bank is good but not great if it's not doing much; Do you know where you are going?; The value of good advice; Clueless in retirement; Money leaks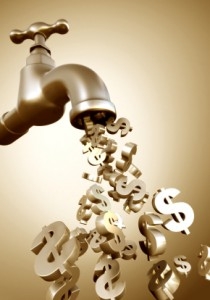 By Amanda Morrall (email)
The personal finance blogosphere was a bit thin today so I thought I'd share five money themed mistakes as well as some constructive links.
1) Cash in the bank
Without a doubt, money in the bank is a good feeling. Over a certain threshold a hoarding mentality seems to set in where you're determined not to touch it and to make it grow. That's all well and good but if it's parked in a general savings account, you're missing out on a valuble growth opportunity. Those percentage points do make a difference. (Find out how much with our deposit rate calculator here).
Obviously, the finance company sector fiasco has left investors feeling deeply suspicious as well as broke, but that's a poor excuse not to explore the full slate of options out there.
Here's a link to one of the most popular destinations at interest.co.nz, our rates comparison table for one to five year term deposits.
And further, here's a link to a matter you will want to be familiar with before chasing that higher return that looks too good to be true -- Credit Ratings.
2) Not knowing your objectives
I appreciate how complex humans being are but in general terms it seems to me we can be roughly divided into two camps: drifters and destination-seekers. Both have their merits and shortcomings. Drifters, while sometimes aimless, seem to enjoy life a bit more while destination-seekers, at the expense of having a good time, tend to hit their target a lot quicker. 
Knowing what you want out of life is as essential a part of personal finance as budgeting. You need to know what you want and where you are going, so you can in turn map out a plan to get there. I'm always amazed by the number of individuals (people in their 30s and 40s even) who confess to being clueless about their objectives.
Take time to listen to the music but find your purpose in silence. No link required.
3) Not consulting an expert
I'll undoubtedly get beat up for this by some of the regulars but it's a risk I'm willing to take. There are very few individuals smart enough to know how to get from A to B financially.  The majority trip through life assuming money will take care of itself with a regular paycheque and vague plan.  A good financial planner is helpful in so much as clarifying where you are, pointing out your weaknesses and putting you on a path to financial independence.
Here's a link to the Institute of  Financial Advisor's website and their tip sheet on how to choose a financial advisor.
4) Overlooking the inevitable
Once upon a time, retirement saving wasn't such a big deal (at least for those satisfied with a modest income in old age) because of Government securities. While it's possible those safety nets may be in place for Gen X, Y (and those coming after them) current conditions do not bode well. 
Self-saving for retirement has become increasingly important and yet there's not many who a) know how much they'll need in retirement b) have a plan and c) seem all that switched onto what savings they do have in that regard.
Take a minute today to find out what your balance is on your retirement fund, if you have one, and do some math on how much you think you'll need. Here's our retirement calculator.
And here's a link to the official KiwiSaver website where you can get a detailed list of how much you've paid into your plan, with a breakdown of Government and employer contributions as well. If you've registered already on the IRD website, it's the same username and password. If not, you'll need to take a minute to register yourself.
5) Money leaks
I once sat through a financial planning session with a couple (I was the financial fly on the wall reporting how they could improve their situation) and was shocked to discovered they had a $8,000-$10,000 money hole. I'm not talking about debt rather disappearing dollars that they simply couldn't account for. The disappearing act seemed to fall on hubby's side of the ledger.
The financial planner involved didn't seem all that surprised. I expect that in their line of business, they hear horror stories of couples and individuals grossly mismanaging their money.  When two become one financially it can be especially tricky keeping track of personal expenditures particularly when you throw in a few children and life gets real busy.
But a hole that size, and even those much smaller, needs to be plugged. Identifying money leaks is a fundamental part of personal finance. If you're not one for spreadsheets, ask your bank about tools they offer for tracking. And while you're at it, give their senior manager hell for not allowing independent money tracking software system and apps to penetrate your account. New Zealand's banking sector needs a swift kick in the butt for putting up barriers to all those great apps out there that serve as a virtual plumber.
6) Vipariti Karani
And because Bernard asked, here's a very simple yoga posture that helps with fatigue, stress and lower back pain. It's also a gentle hamstring stretch. Vipariti Karani is more commonly known as "legs up the wall" but is also referred to in the inner yoga circle as the "fountain of youth" pose. Most seasoned yogis I know look 10 years younger than their age, so this is one to bookmark, and more importantly try at home provided you don't suffer from high blood pressure (a possible contraindication).