Personal finance editor Amanda Morrall with a Christmas message on giving and five ways to do it without breaking the bank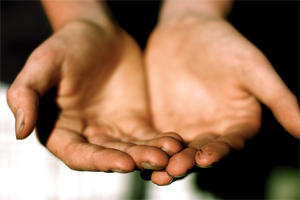 By Amanda Morrall (email) or on Twitter @amandamorrall
As it is Christmas, I thought it was fitting to write on the subject of giving.
I had initially wanted to write about five worthy charities but there are simply too many good causes out there to narrow the pool down to five. Instead, I thought I'd write about five ways to give that can be just as meaningful, if not more.
1) Time
I believe this to be the most valuable gift above all. It is finite, precious and it is increasingly scarce amid the busy-ness of modern life. 
With whom and how you choose to spend your time, is one of the most important decisions you can make.  Never underestimate just how valuable it is when you are fully present.  Be miserly (okay maybe just careful) with your money but give generously with your time to a worthy cause or person.
2) Knowledge
Another great way to give, whether rich or poor, is sharing knowledge with others. I have been blessed with many great teachers in my life. The best have been those who have shared with me their wisdom, be it financial, culinary, literary or otherwise, without the expectation of anything in return. 
3) Blessings
In this secular age, blessings seem to have lost their way in the world. They periodically show up at the dinner table on special occasions or at else at a church altar for those shrinking number of attendees. Blessings of course are way more bountiful than many realise chiefly because they are often in disguise. 
Someone shared with me a very touching story the other day that drove home the impact a blessing, or in this case the lack of a blessing, can have. Banish the scrooge this year and offer up an unexpected word or gesture to fill humanity's wishingwell.
4) Thanks
Thanksgiving is a North American tradition. Somewhere along the way it got turned into a food fest, which is all well and good. The expression of thanks can take many forms but if it only results in you getting fat, you've missed the point. Take the time out to verbalise it and take care to aim it at a deserving target.
5) Money
Money is a poor substitute for all of the above but it can work wonders.
In fact, many a money guru out there prescribes regular donations as part of an overall wealth creation strategy. This not necessarily a religiously rooted practice. If you're not in the position to give, don't beggar yourself by doing so and if you are then give with grace -- and don't forget to ask for a tax recipe.
Happy Christmas to all.
Thank you for all the entertaining, kind, witty, constructive and helpful comments and for visiting our site.
Amanda