A Green Christmas; The retail lag on gold prices; A thin sparkly veneer; Do male bankers know how to talk to rich women?; DIY Real Estate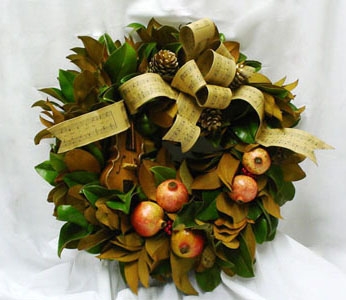 By Amanda Morrall (email)
1) A Green x-mas
With nine days left to go, I have managed to avoid the Christmas mania. Heck, I still haven't even got a tree. At this rate it'll be a green Christmas in more ways than one. I'm thinking about decorating my mandarin tree instead. I still have a few scraps of wrapping paper from last year which also served to wrap a number of birthday presents for children's parties throughout the year. I don't think the kids noticed.
For other tips to make this Christmas a green one, check out this post from Good.com.
2) Gold
Gold prices slipped below US$1,600 an ounce earlier this week, the lowest price since October. Those looking to catch a break on prices at the jewellery store in time for Christmas might be disappointed because of the lag time between market and retail prices. (Checkout our new gold and silver section here to follow the price movements and other news).
Wall Street Journey smartmoney blog looks at the relationship between the two here.
3) Pass the polish
Just how bad is it in the U.S.? Bad enough that women looking for a cheap hit of retail therapy are passing over lipstick, from pre-GFC purchases like hand bags and shoes, in favour of an even more economical pick-me up; nail polish.
According to this post, also via good.com, sales have surged a whopping 65% since 2008. It's enough to rub the polish off even the most tenacious retailer.
4) Are male bankers in the dark?
Do men know what women want? Apparently not, at least when it comes to banking needs. In the U.S., Australia and other markets, banks are looking to bring more women into the fold at senior levels in order to appeal more effectively to growing numbers of women with big bank accounts and money to invest.
According to this Bloomberg article, female millionaires are on the rise. Check this out:
About 27 percent of millionaires worldwide were women in 2010, compared with 24 percent in 2008, according to a report released in June by Capgemini SA and Merrill Lynch Global Wealth Management. Women controlled an estimated $20 trillion globally as of 2009, a figure that is expected to rise by an average 8 percent annually through 2014, according to a July 2010 report from the Boston Consulting Group.

About 42 percent of wealthy women surveyed by BCG earned all of their money from their own salaries and bonuses, the report said. Women's $12 trillion in total earnings was projected to rise by 50 percent to $18 trillion in five years, a separate BCG study from October 2009 said.
Jacki Zehner, a former partner and managing director of Goldman Sachs Group Inc. (GS) and co-chair of Women Moving Millions, said financial firms have so far failed to take advantage of this niche market. She said the first to the line could hit pay dirt.
"I don't see anyone that's really shown a full commitment to the high-net-worth women market," Zehner said. "There's just a huge, huge opportunity for a firm to really do it well."
5) DIY real estate
Over the years, I have bought and sold two homes privately. It wasn't without a few hassles and headaches however, it was a huge saving. Know your market, do your research and don't be in a rush.
Here's a few websites to get you started.
http://www.homesell.co.nz/realestatesites.php