Maybe I'll take up smoking; The end of money; Six ways to pay off your mortgage faster; 43 lessons in life; Why the 40-hour plus work week is wrong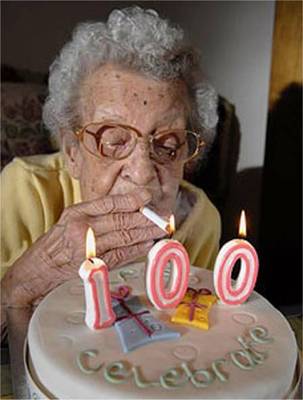 By Amanda Morrall (email)
1) Older and poorer
If my grandmothers are an indication, I can expect to live into my '90s. I'm not so sure that's a good thing, especially after reading this piece from Guardian Money about the financial burden of increased longevity. The article looks at old age care and costs from the perspective of a sandwich generation offspring expected to subsidised her mum who has outlived her savings and is forced to make due on a pension. Perhaps I'll do my children a favour and take up smoking. Joking.
Here's an excerpt:
Question of the day:  if you live to be 100 (and you just might), could you make your money last that long?  Could you pay for all of your own expenses, accounting for inflation, the cost of care giving, and ups and downs of the market?

Sit down with your financial planner and do some calculations.  Be smart. Be realistic. Planning ahead can make all the difference.  Few of our parents anticipated  such longevity, but we boomers must consider it to be quite possible. If we're a rather rebellious generation, let's rebel against financial dependency for our futures.
2) The End of Money
Some of you might remember Francis Fukuyama's "The End of History." I remember it was on the required reading list way back when I was studying political science as an under grad. It was a catchy title even if his projections didn't come true.
One wonders the same about David  Wolman's "The End of Money.'' According to this Guardian book review, the title is a bit misleading as Wolman sidesteps the question of the end of money and explores instead the realities of a cash-less society.
3) Negative equity
I discovered a new term to describe a negative equity home; an underwater mortgage. This is where you owe more than what your house is worth. Not an enviable place to be. Forbes Money Builder assembled a number of calculators for those trying to figure out how long it'll take to get back above water. You can find them here.
If you're not underwater, but looking to dive into the property market,  you might want to check out our mortgage calculators below. For example, 40% of Australian home buyers who bought in the last two years are now currently under water.
4) 43 lessons
Life's lessons are never ending. In celebration of his 43rd birthday, a getrichslowly blogger decided to share 43 of his most powerful teachings thus far. Proof positive wisdom does come with age. I found them all poignant and relevant.
5) The 40-hour grind
Traditional work structures and conventions are slowly dissolving as assumptions about them are debunked. This article is bound to add more fuel to the fire. Jessica Stillman, writing for inc.com looks at why the 40-hour work week actually isn't as productive as it's been made out to be.
Apparently it just makes us more grumpy and tired than anything else. I don't know if Tim Ferriss's "Four Hour Work Week" is the necessarily the answer but I would agree with Stillman's argument pointing to flaws in the system we have come to accept as the standard.
To read other Take Fives by Amanda Morrall click here. You can also follow Amanda on Twitter@amandamorrall