Janine Starks looks at liquefaction risk and rebuild prospects and insurance what ifs in the event of a quake in the capital. Your view?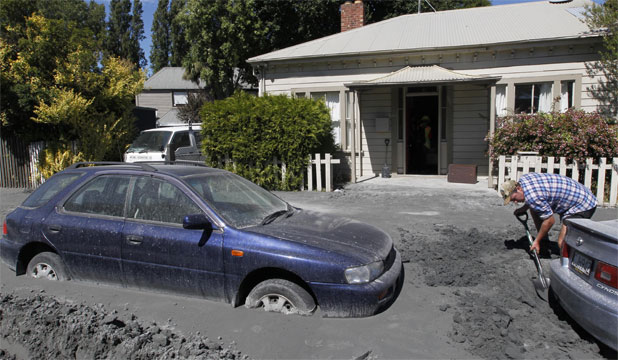 By Janine Starks*

From my mailbag:
I live in Wellington, but follow the earthquake issues quite closely for obvious reasons.  I'm increasingly worried about whether the government and insurance companies are actually talking to each other about rebuilding on liquefaction damaged land.  The decision should be totally connected to whether insurance will continue to be available, but it doesn't seem to be.  I am beginning to wonder when Wellingtonians with sections that might liquefy will be hit with insurance issues (then the squawking will start). 
 
I hear that insurers are starting to tell some homeowners they won't guarantee their insurance if they rebuild, or if they try to sell their house.  Is this true? Shouldn't the government be negotiating with insurers on voters behalf?  If this was closer to home in Wellington, they'd be taking more notice.
Christchurch's liquifaction mess is a large forewarning for Wellingtonians.  While many of them sit on hills and worry about land-slides, they would be unwise to ignore liquifaction.  It only takes a couple of minutes of sniffing to find websites such as Koordinates.com or the Greater Wellington Regional Council site, with reports and maps.  Liquifaction could impact many people living in the CBD, Petone, parts of the Hutt and various flat coastal pockets. 
It would seem like a natural progression for insurers to start looking at properties in the capital on a more granular basis and adjusting excesses and coverage for this risk.  Given the insurance issues in Christchurch, it wouldn't be surprising to see areas of Wellington revalued by prospective buyers. 
The Green goblin 
It hasn't fully dawned on Wellingtonians that the government can 'green-zone' areas that have been battered multiple times, leaving them with the prospect of deserting their land (to protect their remaining equity), or ploughing their equity back into the brown-silt, while their insurer proceeds to place restrictions on their policy, or refuses to insure them at all.  What sane buyer would sign up for that risk in an earthquake prone capital?    
You would think that the decision to rebuild on liquified land would be closely intertwined with the insurance industry's willingness to provide on-going unimpeded cover. 
If the cost of full cover is not economic, or the terms of insurance had to be significantly altered to make it affordable, it would seem unreasonable to expose homeowners to that risk.  Biting the bullet and moving them from that land would protect future generations and taxpayers. Reality is never that simple.
With the last liquifaction event only three months ago, it's understandable insurers can't be pinned down.  Without site specific geo-tech reports, they don't fully understand the risk they are pricing.  Those reports will take years to complete, therefore future insurability will remain fluid for years. 
Government and insurers out of synch
The government and insurers are dancing around each other making public statements that they are 'talking' and 'working closely', but neither side seem to want to tell us what they are talking about or who is doing the talking.  All we can hope is that mystery CEOs are talking to mystery MPs and telling them why they are scaring the bejesus out of homeowners on liquified land, by telling them they're not very keen to provide insurance, even though the government says it's ok to rebuild. 
There are plenty of examples around Christchurch where insurers are making it clear they are considering withdrawing or making major changes to policies.  The Parklands Action Group, in the east of Christchurch recently put out some information.  Here are a few of their gems:
1.    State insurance: "advised one customer that although they may be required to rebuild on the existing section, they will not guarantee insurance on a new home". 
It would seem fairly daft to contemplate rebuilding when your insurer is threating to remove the cover.  This is an example of how residents are trapped between insurers and government decisions not lining up.
 
2.    VERO: "has been analysing land and written to customers advising that some areas will not be able to start rebuilding for many years (four or more)".
Quite sensibly, VERO run a risk model and are repairing from West to East across Christchurch.  Why would any insurer with a commercial brain, go ploughing into places like Parklands any time soon?  It's in their interests to delay as long as possible and the skill shortage will serve them well in allowing that delay to occur.  In the mean time, people become trapped within the problem.
 
3.    AMI: "have written to their customers informing them that IAG will only guarantee continued insurance for 2 years".
It bamboozles me how AMI customers haven't had heart failure and taken to the streets in protest.  An insurer can cancel a policy at any time, so it might sound reassuring that insurance will be in place for two years. 
In reality, cancelling policies would cause a brand implosion and loss of market share around New Zealand as trust is destroyed. Cancelation wouldn't be used by an insurer planning a long-term future in the market. 
By IAG adding the two year clause, it is not reassuring in the slightest.  They are sending up a smoke signal that their new AMI customers are on notice.  From a brand-protection point of view, if they do cancel these policies they can tell the rest of New Zealand they were honest and never gave a full comittment. 
AMI seem to be running a different risk model to other insurers; my anecdotal reports indicate they are active in repairing some high risk areas in the east.  Perhaps the model is to 'fix it up and get out', handing the baby to IAG as quickly as possible.  If I was an AMI customer with a home that was liveable, I'd rather sit tight at the back of the government-guaranteed building queue, rather than risk a quick repair and hand-over into IAGs two-year heart-stopping policy, which they just might cancel if seismic activity continues.
4.    "We will support our existing customer" is now common insurance blather that many residents in high-risk areas are hearing from their insurer. 
What it means is that they feel an obligation to support you (and protect their brand), but won't insure a new buyer.  It clearly causes a complete loss of equity if no one else can live in the home.  Why would they do this, given the risk is on their books already?  I can only imagine that they don't want to be labelled 'socially irresponsible', but commercially they have no responsibility to any other buyer and the impact on value is not their problem.    
Yes, I agree the government should be negotiating with insurers on behalf of homeowners.  Sticking families back on high-risk land without guaranteeing ongoing insurability takes away their freedom and traps them. 
Lets hope Wellingtonians never find themselves in the same boat.  And if they do, at least the volume of their squawking will not be dulled by the Cook Strait winds.   
Email questions to starkadvice@gmail.com, subject line: Financial Agony Aunt.  Anonymity is guaranteed.   
*Janine Starks is Co-Managing Director of Liontamer Investments. Opinions in this column represent her personal views and are not made on behalf of Liontamer.  These opinions are general in nature and are not a recommendation, opinion or guidance to any individuals in relation to acquiring or disposing of a financial product.  Readers should not rely on these opinions and should always seek specific independent financial advice appropriate to their own individual circumstances.